We'll make a confession — we love to cut up books. It may sound barbaric, but there is something immensely satisfying about cutting up a book that you were forced to read in school, or a book that you totally hated. These books find new life in mixed-media canvas, card making projects, and art journal pages. No scrap goes to waste and beautiful artwork is created in the process.
Best Places to Find Old Books:
Thrift Shops
Library Sales
Flea Markets
Estate Sales
Your Bookshelf!
We know what you're thinking — a true book lover can never destroy a book! These books all had a long life before they were repurposed and they were frayed, tattered, and ready for the trash heap. There are some books that are off limits (Jane Austen will never meet her end like this), but these mangled books are finding a new way to share beauty with the world, and we think that excuses the desecration of a few novels. Here are some amazing ways that Stampington artists have transformed books into extraordinary pieces of artwork.
1. Backgrounds
Book pages and text can provide an excellent backdrop for your artwork. White-wash the page with a little gesso or leave the beautiful antique look of the page out on display.
Enjoy the Little Things Project
Artwork by Lynne Moncrieff
Inside Somerset Apprentice Autumn 2016
Artwork by Autumn Simmons Clark
Inside The Stampers' Sampler Spring 2016
Artwork by Cheryl Dossey
Inside Somerset Studio Sep/Oct 2016
Finding Roots and Wings Project
Leave a Little Sparkle Project by Sarah Donawerth
2. Altered Book Art Journals
If you have a book with only minor shelf wear and are looking for a way to breathe new life into it, an altered book art journal may be the perfect place to start. For these pages, the text peeks through the paint just a bit to add texture and interest to the page.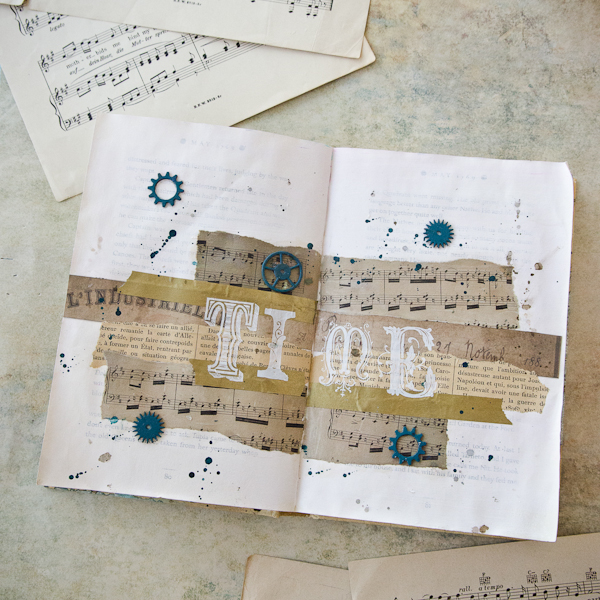 That Look of Otherness Art Journal Page Project by Sarah Donawerth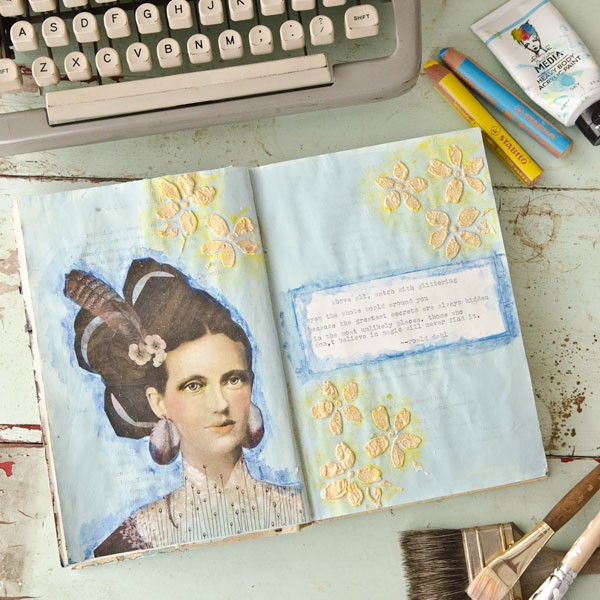 3. Embellishments and Cut Shapes
Book text can provide instant texture and pattern to your artwork. Use a paper punch or die cut machine to create beautiful patterned shapes that will accent the work, or tear, rip, and shred book text to provide a mixed-media touch to your next project.
Artwork by Kasia Krzyminska
Inside Art Journaling Summer 2015
Love's Delight Card Project
Artwork by Darlene Maciuba-Koppel
Inside Somerset Life Winter 2017
4. Resin Paper Jewelry
Resin paper is addictive to make and easy to use in jewelry making. Simply mix resin according to the instructions and paint it over the paper to create this durable, semi-translucent paper that can for all projects, from mixed-media to jewelry making.
Artwork by Lynne Moncrieff
Inside GreenCraft Magazine Spring 2017
5. Book Clutches
Once you've gutted a few books, repurpose the covers into a book clutch that's big enough to house your wallet, or even your tablet. Install a zipper so that you can zip it up and take it anywhere.
Artwork by Paige Kline
Inside Haute Handbags Autumn 2016
6. Wallpaper
Feeling extra adventurous? Don't save your book pages just for little projects -- use it as wallpaper! Use a wallpaper paste and a clear acrylic sealer to preserve your favorite stories on your walls forever.
Carol Darilek papered the side of her island with book pages for her home studio.
Inside Where Women Create Spring 2017
7. Book Sculptures
Paper doesn't have to be flat. These artists created assemblage art sculptures using the pages of a book.
Artwork by Su Blackwell
Inside Somerset Studio Jul/Aug 2016
Artwork by Elizabeth Howard
Inside Art Doll Quarterly Spring 2016
What's your favorite way to use books in your artwork? Leave a comment below!