It's no secret that adding plants to your indoor space can offer a host of benefits. By releasing oxygen and absorbing carbon dioxide, plants naturally freshen up the air around us, and they're known to eliminate harmful toxins. But did you know studies have shown that indoor plants may improve concentration and productivity? That simply seeing plants can not only help us feel more calm and relaxed, but also improve our ability to deal with stress?
Humans have a deep connection and craving for nature, but it's not always possible to get outside for long periods of time. Thankfully, more and more people are finding ways to bring the outdoors in. We love how plants can make our surroundings more beautiful, livelier. It's incredible to think that when strategically placed in our studios or work areas, plants also have the capacity to boost our creativity.
Today we're sharing our favorite plant-filled studio spaces from the pages of In Her Studio magazine, so you can enjoy some of the interesting ways plants influence and complement the creative process. Maybe this is just the inspiration you need to add a touch of greenery to your own creative nook, office space, and more!
In my studio ...
... I am in my attic asylum, my secret garden, which often changes depending on every season and my mood. I am an artist, illustrator, graphic designer, and realizer of various handicrafts. I moved from a city to a village, from the Czech Republic to Poland, where I live close to nature, which I love very much. I like to create in my studio, among treasures of nature, surrounded by many plants and items in which my memories are still alive. They are my inspiration. I love the moment in the mornings when I open the door to my studio with a cup of delicious coffee in my hand. I sit down and move into a wonderful world of fantasy. Every day while creating, I have a loyal companion there — my lovely dog, who takes me for a walk when I lose track of time in my studio.
— REGINA SZCZESC (@REGINALAND.ART)⎟ IN HER STUDIO AUTUMN 2019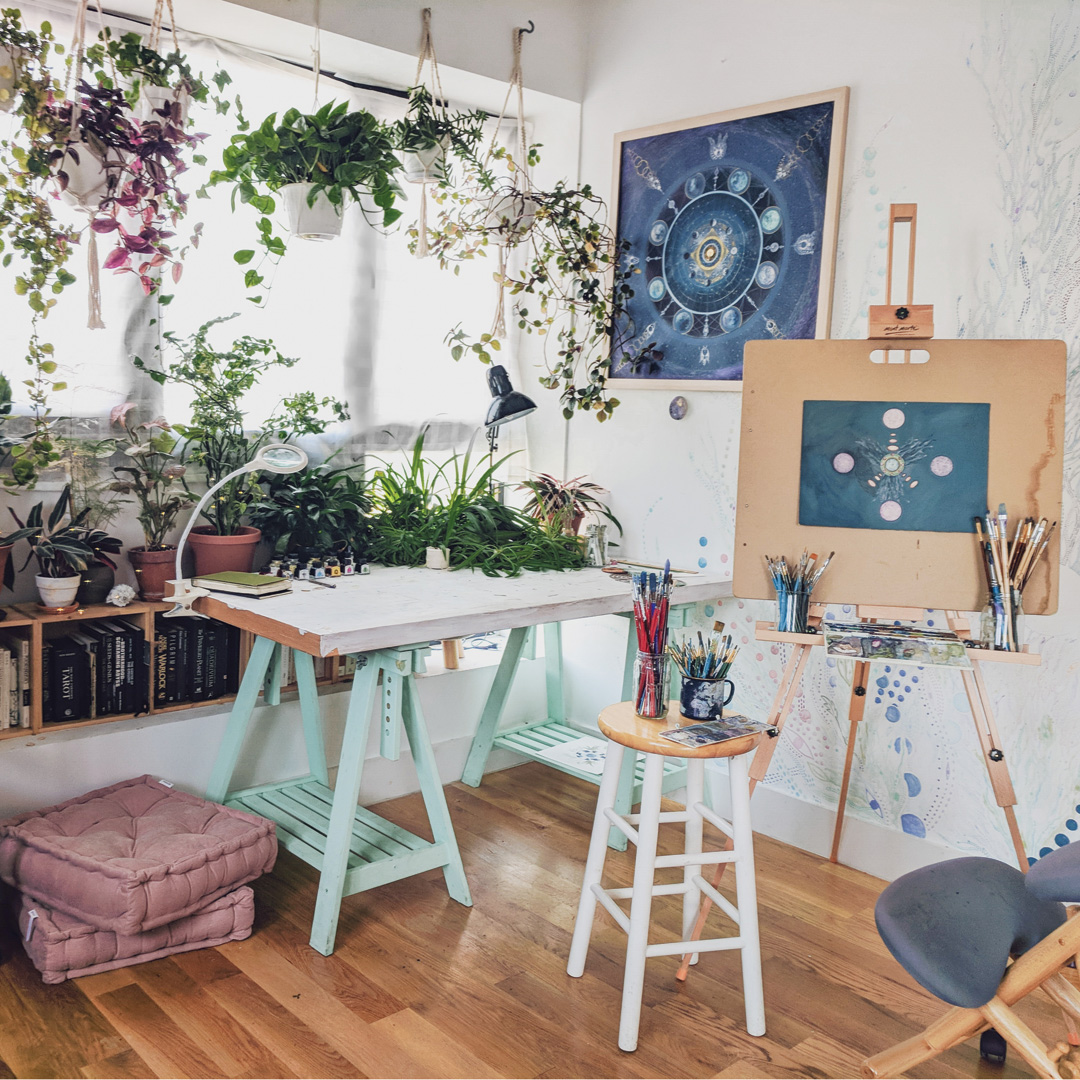 My Creative Jungle in the City
Going from working on my window-less bedroom's floor to having a large, natural-light-filled art studio made me realize something — doing things with intention and being grateful for what the present offers us really pays off. I could focus on how my life and career could be better in so many ways, but focusing on what I have right now and the infinite possibilities it offers is so much more fun, real, and interesting.
Having a home studio made sense because I wanted my studio to feel welcoming, like a loved home does. The space is a bright, Zen, creative jungle with plants everywhere, art supplies kept visible, and decor that feels like a yoga studio. It always smells like tea and palo santo, and my fluffy, loving cats swirl around quietly. I felt called to make a creative space that inspired an openness of the heart and that felt loving, calm, and relaxed.
Just as the ocean tides have a cycle, part of the artistic cycle is that sometimes we hit a creative block or feel afraid that our creations won't be good enough. Having a routine full of things that chase those feelings away is very helpful. When these negative feelings appear, I dedicate myself to other activities. I love my plants, and having to show up for them every day helps me realize that I can keep on going even on the hardest of days. I also love being in nature, not only when creative blocks appear but also for inspiration and clearing out my mind. Whether taking a hike, going to the beach, visiting the botanical gardens, or having coffee by the river, nature is my biggest inspiration. It is so beautifully insane that we all live on a rock floating through space and that we are able to create and feel and love.
— CARO AREVALO(@CAFEINACOLI)⎟ IN HER STUDIO AUTUMN 2019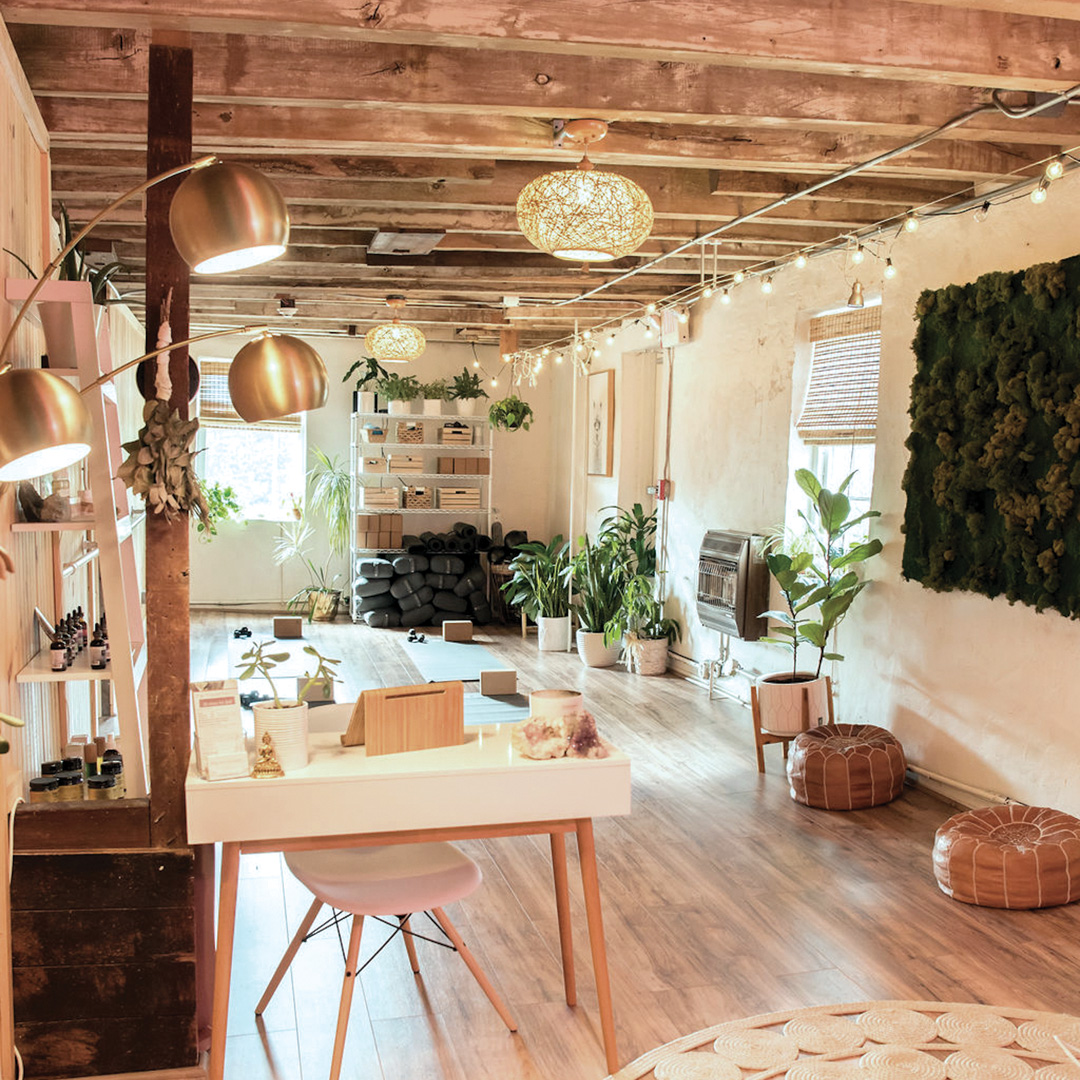 Creating Movement
There it was … a room in a historic landmark where every beam in the ceiling could tell a story, opening up like blank pages in a book to help me tell mine.
The story I wanted to tell in creating this space was one of healing and nourishing. I wanted to build a community for like-minded people and give them a place to escape — a place where they could release energy and breathe a little deeper and easier.
I wanted to let the studio space play a role in the physical work of healing along with yoga and movement practice. When you walk into The Movement, you will see the historic wooden framework and windows of the Old Mill Building adorned with an abundance of lush, vibrant plants, a representation of the present working in unison with the past — in other words, you're never too old to grow!
Growth not only happens with our studio plants but also through our classes, which are designed to encourage personal growth for each individual, both physically and emotionally. We offer everything from yoga to barre and pilates, as well as more intricate outlets like live music flow yoga, nutrition circles, and healing sound baths.
I want people to be well in every possible way, so it is my goal to make sure there is always something for everyone to feel connected to.
— CHRISSY FRASCELLA (@THEMOVEMENTBYCF)⎟ IN HER STUDIO SUMMER 2019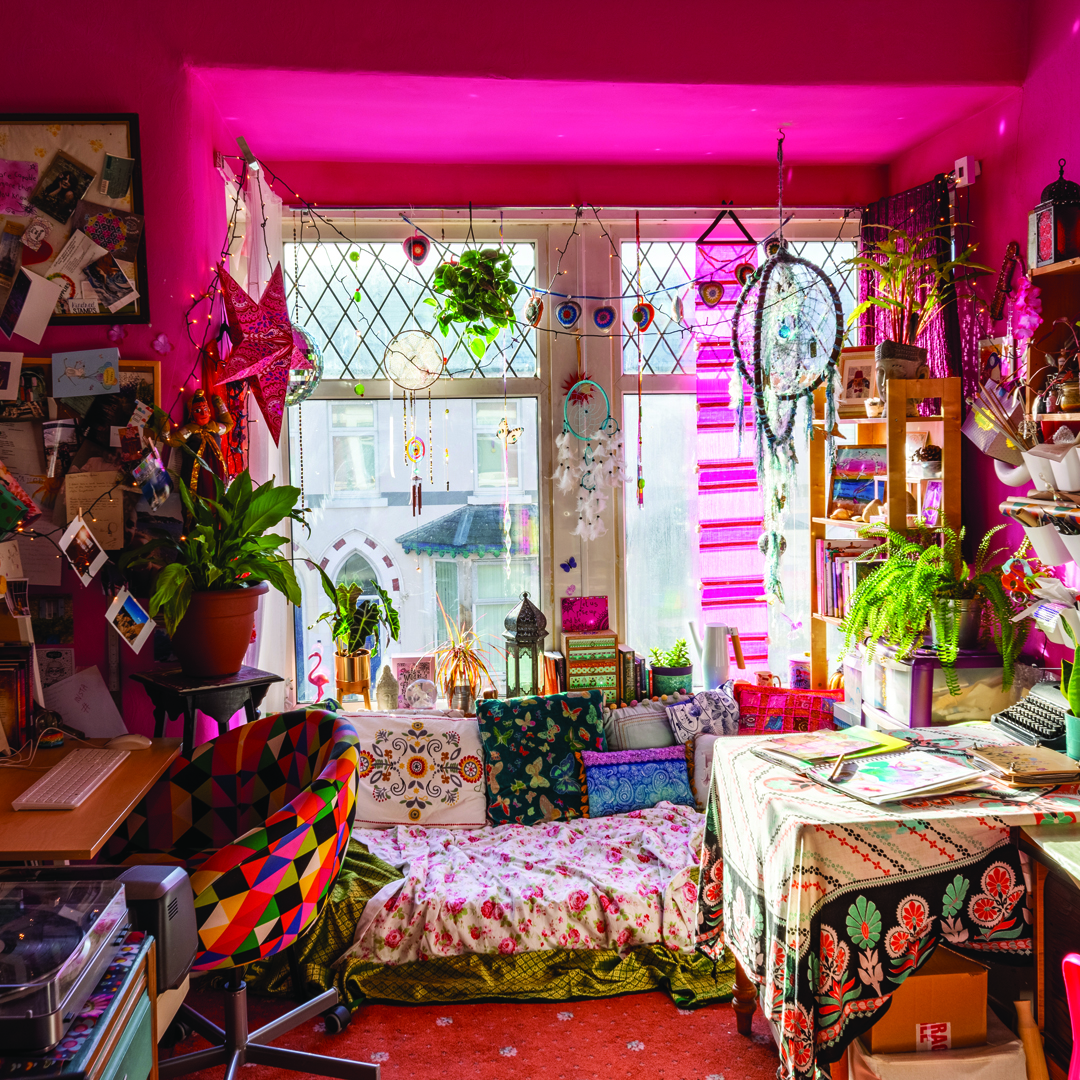 A Positivity Artist Shines Her Light
Ever since I was a little girl, I loved spending time in my mum's back garden. It was full of flowers, plants, and creatures that made my imagination soar and my creativity blossom. When I create, I lose myself in the moment, time disappears, and the only thing that remains is the joy and magic pouring out of my heart onto the page or canvas. I get excited when a piece is nearly finished because I can't wait to share it with the world. Pure joy and contentedness, simple things, daily rituals, learning, growing, and loving — that is what I feel is important in this world and in our lives.
For nine years I created from the dining table. Wishing I had a studio, I would trawl Pinterest for ideas and to dream over other women's creative spaces. After finding a new home with a space to call my studio, I bought hot-pink paint as soon as the landlord said it was ours. This bright color covers the walls, while the chimney and alcoves have beautiful duck-egg-blue wallpaper emblazoned with roses, butterflies, and birds — a perfect reminder of my mum's garden.
If you are looking to create your own cozy studio, spend some time looking around places like charity shops and car boots to pick up a bargain. Wait until after Christmas to buy extra fairy lights when they are cheaper. Approach other creatives to do swaps, including plant swap groups, which is a fun and easy way to increase your plant collection. I think it is super important to carve out your own space for creation, so even if you have a little table in a corner, really make it your own by decorating the space and filling it with things you love. I also recommend making yourself a vision board on Pinterest to imagine what your dream studio would look like — really imagine it, and one day it will be yours.
— DOTTY DELIGHTFUL (@DOTTY DELIGHTFUL)⎟ IN HER STUDIO SPRING 2020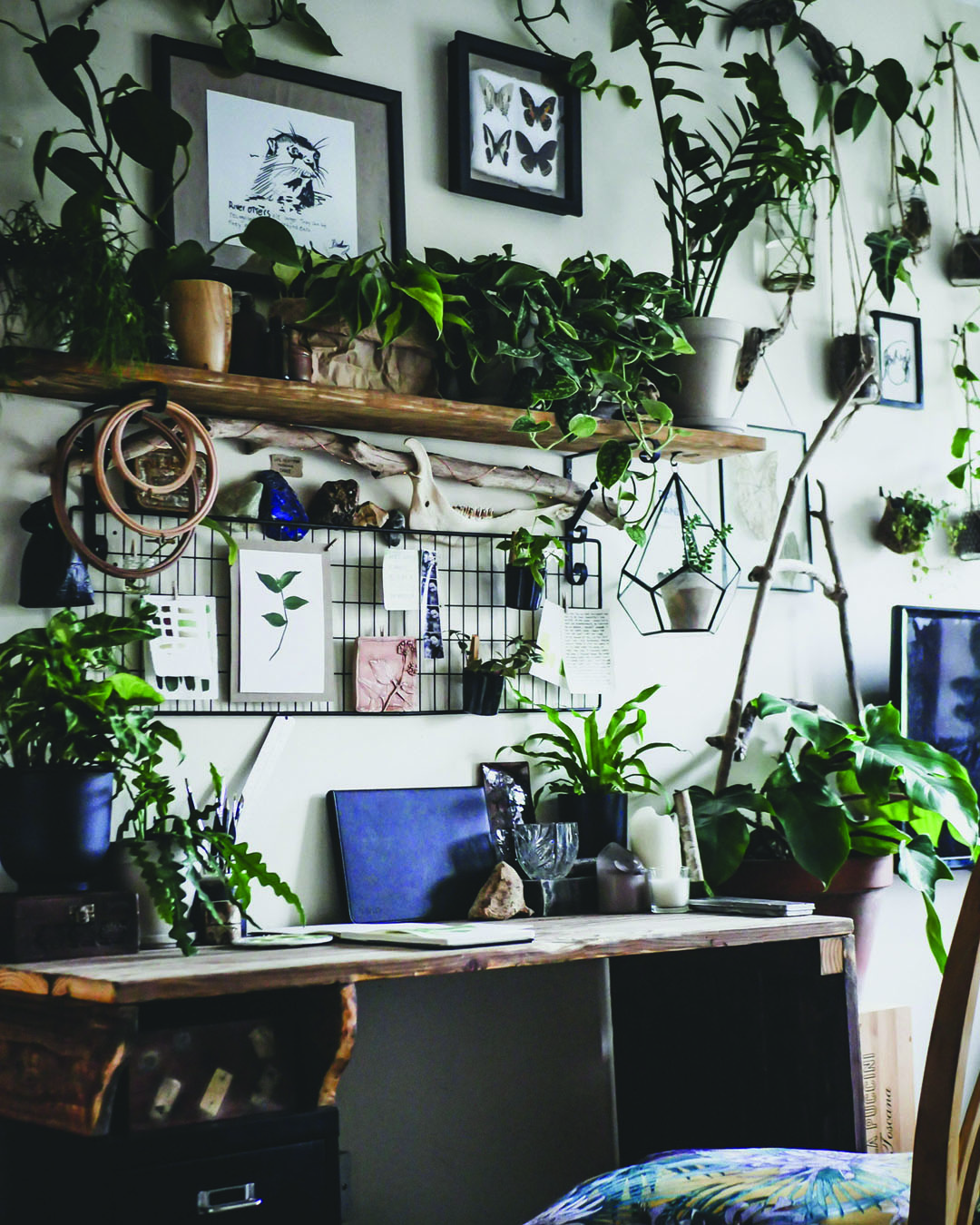 In My Studio …
… it feels like stepping into my own little jungle. I switch on the fairy lights, turn on my favorite podcast, and zone out from the world. Most of my artwork is focused on plants, so I have surrounded myself with green inspiration. A lot of the pieces in my workspace are handmade, thrifted, or repurposed, which is an important aspect for me. My dad created my bespoke desk, and my wire display is from an old fire guard. All in all, it's a peaceful place full of character where I feel the freedom to create at my own pace, and for that I am so grateful!
— ANNIE BOSMA (@ABOSMADESIGN)⎟ IN HER STUDIO SPRING 2021
Making the Most of the Space You Have
My first studio was a tiny yellow garden desk in the corner of my bedroom. I had found the desk on Craigslist; it had one small drawer, which was all I needed for my pad of paper and cheap set of paints. It was 2013, and I was living in my first rented home in Nashville. My sister and I were in our early 20s and had just moved to town to pursue music careers. Throughout my seven wonderful years of living in Nashville, it didn't take long for the truth to become clear: My truest love was for painting, not music. As I began spending more and more time painting, it quickly became the number-one way I wanted to spend all my free time — and then all my time, period. So until 2018, I continued to create art on a desk in the corner of my bedroom.
Fast-forward to now, I'm living back in my home state of New Mexico. My husband, Dan (my favorite souvenir from Nashville), and I own our first home together, and I finally have a room in our home I can dedicate entirely to being my studio! We live in a 1979 pueblo-style townhome, and I'm so grateful for a warm, cozy space like the one I have. All the rooms in our home have exposed wood ceilings, and my studio has the brightest natural light you've ever seen. Because of that great light, my studio ends up being where I keep many of our houseplants. Depending on the time of year, it can start to feel a little bit like a jungle in my studio, and I love it. In addition to the plants, when I work our two dogs, Pablo and Osita, are constantly underfoot, so I always have plenty of happy company!
— SHEALEEN LOUISE (@SHEALEEN LOUISE)⎟ IN HER STUDIO SPRING 2021
We hope you enjoyed these snippets of some of the gorgeous, plant-filled studios from the pages of In Her Studio!
You might also like ...