Featuring some of the most charming displays and planned arrangements we've seen, these studios take the compartmentalized storage one can only dream of to the next level. We hope these functional cubbies from the pages of In Her Studio will inspire you to continue to artfully organize your creative space.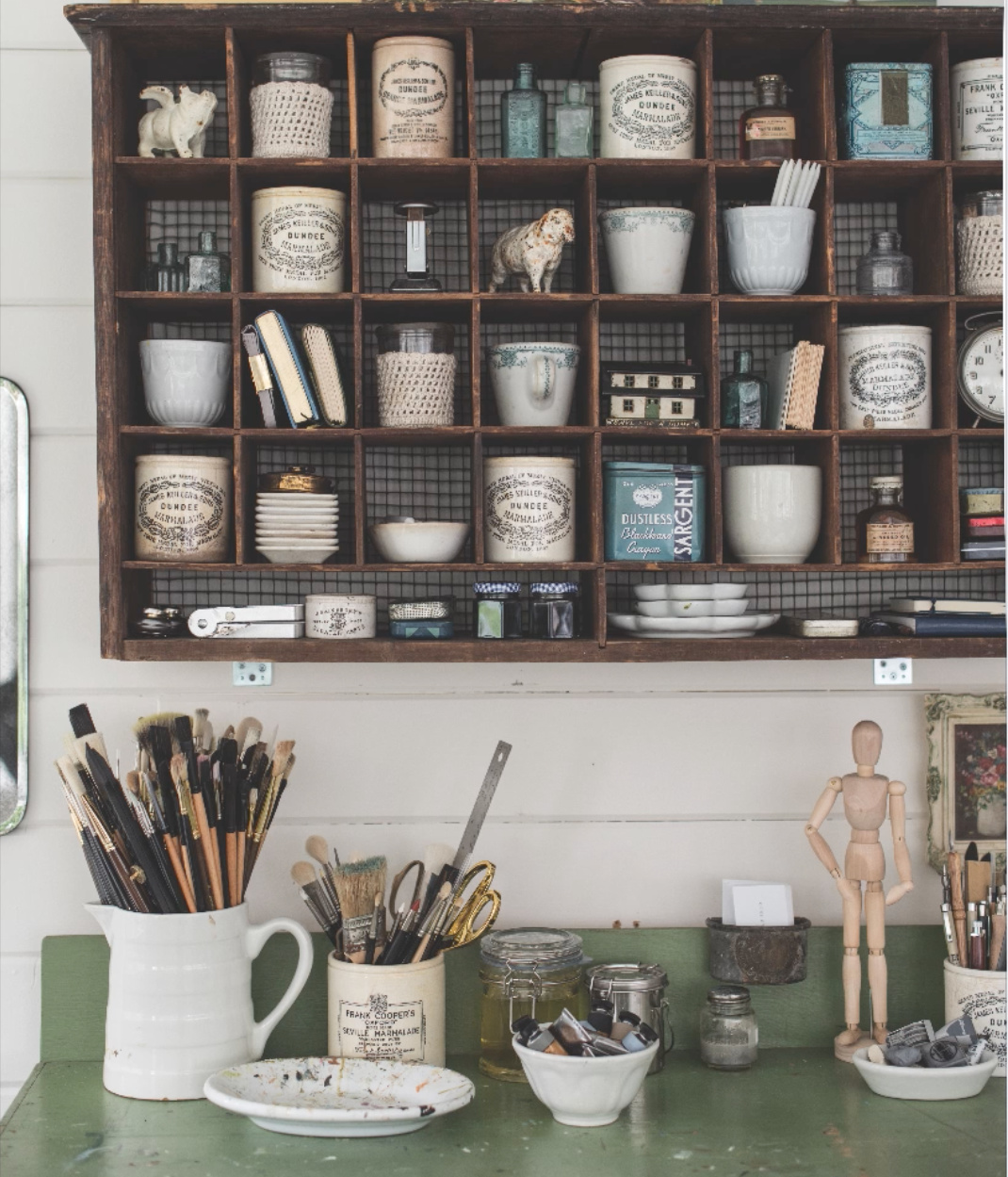 A Haven for Creativity
When I'm in the studio, I'm there to focus specifically on something creative, which can include painting a piece of furniture, drawing or sketching product or fabric designs, mixing colors for my paint line, styling a photo shoot, or painting a portrait, still life, or landscape. Because of the wide variety of my creative work, I ask my studio space to do a lot. It has to store a plethora of mediums and supplies, and it has to transform into a backdrop for a YouTube video tutorial one day and a paint studio the next.
In order to accommodate all of those activities and the gear that comes with them, I have hunted out pieces that offer maximum storage but fit with the vintage aesthetic of the space. An antique hardware counter houses craft supplies, art materials, and papers for all of the mediums I work with. An antique oak cabinet found at a local flea market holds my art and design book library, as well as bulkier supplies in the lower cabinet. You'll find me at my reproduction drafting table when I'm sketching or using watercolors; it is a heavy piece, but it is on sliders so I can scoot it out of the way for a photo shoot. The place where I probably spend the most time is at my counterweight studio easel. The bulk of my oil painting supplies are at the ready, stored in the drawers of a green rolling cabinet.
— MARIAN PARSONS (@THEPAPERVOYAGER)⎟ IN HER STUDIO SPRING 2019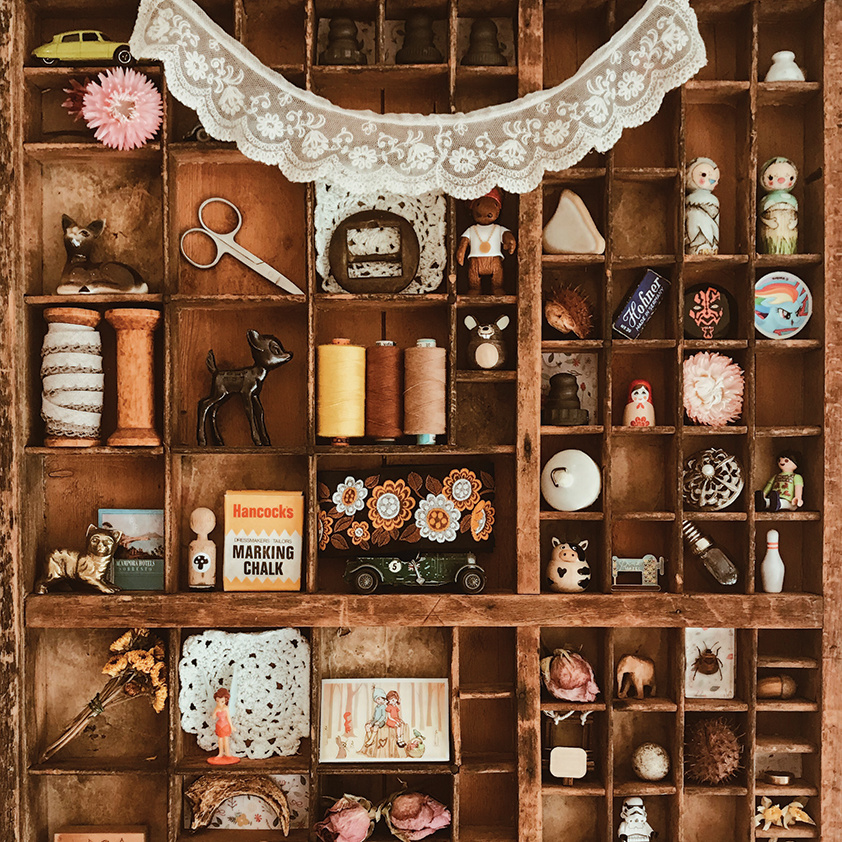 Stepping Back in Time
Before creating my studio, I worked from a corner of our bedroom, which was not ideal, but I waited patiently until I was able to create the studio of my dreams. Space is tight, as it is the size of a single-car garage. I have a sewing table, a desk for the over-locker for finishing seams, a large cutting table, and places to store fabric, patterns, and books. Until recently I had clothing rails, but they took up too much space. I bought some plant-hanging brackets from the hardware store and hung them upside down; they make perfect storage for garments on hangers and paper patterns. It's amazing how anything can work using a bit of innovation.
If you, too, work in a very small space, be organized, get rid of what you don't need, and use Pinterest for ideas and clever storage solutions. The great thing is that you don't need a big budget to set up your studio; make use of what you already have, repurpose, and reuse. Look around for people giving furniture/containers/shelves away that you could use, and apply a coat of paint or some new knobs to freshen them up. I built a business from the corner of my bedroom where I made a mess, got in the way of everyone, and some days cried because I wanted a better space to work in, but I did it! And you can too!
— LAURIE COLLINS (@AWOODLANDGATHERING)⎟ IN HER STUDIO SPRING 2019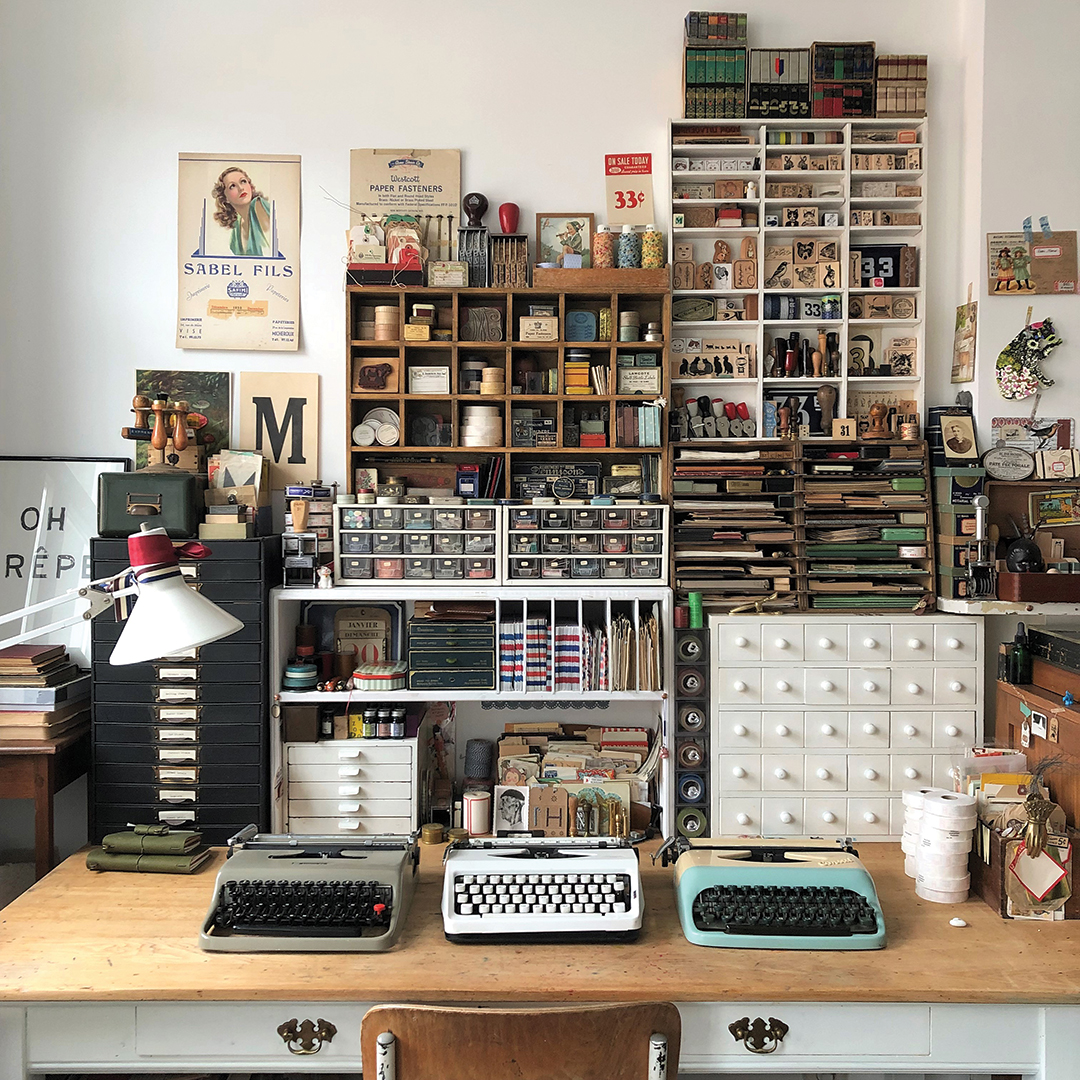 The Happy Corner of a Paper Lover
My studio combines all my vintage treasures into an appealing and inviting area to inspire creativity. Although it is filled to the brim, it is the most (complexly) organized part of my house. Every single drawer or shelf is filled with a large collection of vintage ephemera, mostly French, Dutch, and American, as well as stationery supplies like rubber stamps, decorative tape, Japanese papers, pens, wax seals, stickers, envelopes, notebooks, and more.
I have many creative outbursts and some of them come and go with time, but collecting vintage ephemera has always been constant. There is so much history that can be revealed from an old piece of paper, a book, a letter, or school papers. While today receipts are plainly printed, back in the day there were gorgeous invoices with drawings and beautiful fonts that were handwritten with a fountain pen. The musty smell of these old papers and books is just simply addictive to sniff.
— MENW HURKENS (@RIPPELS_PAPERLOVER)⎟ IN HER STUDIO SUMMER 2019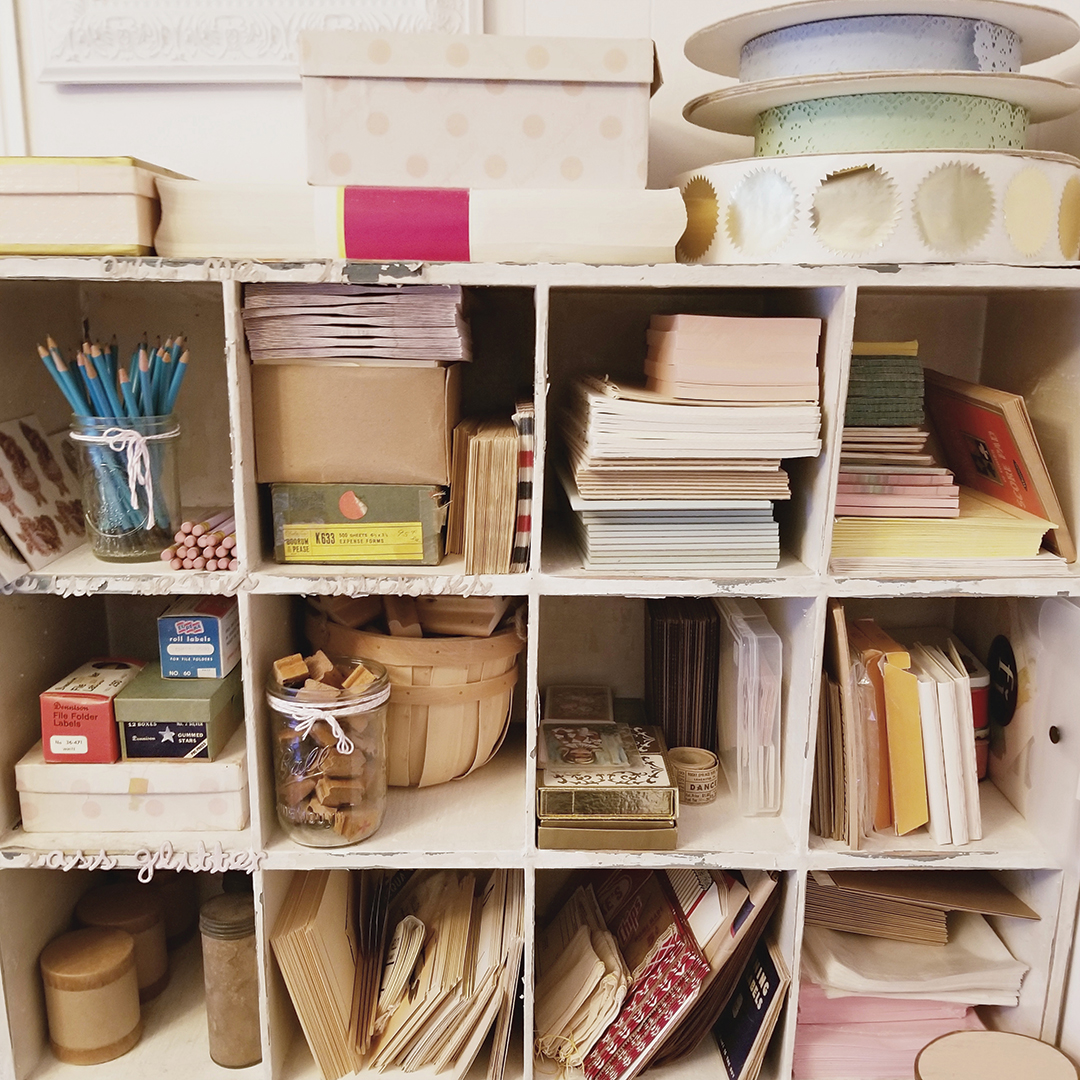 My Little Pink Studio
As my business and creativity have grown, I've accumulated a lot of supplies, which has always been the biggest challenge in cultivating this beautiful, inspiring space while also making sure it is functional. Luckily, pieces like my antique school lockers (that hold everything and more … like the wardrobe leading to Narnia!), shelving cubes, dressers, and armoires have allowed me to create a system that stores it all. Every type of supply or themed project is categorized and sorted in a way that means I never have to hunt for or lose what I need; it's all at hand, ready to create.
— CERRI CAMPBELL (@LITTLEPINKSTUDIO)⎟ IN HER STUDIO WINTER 2020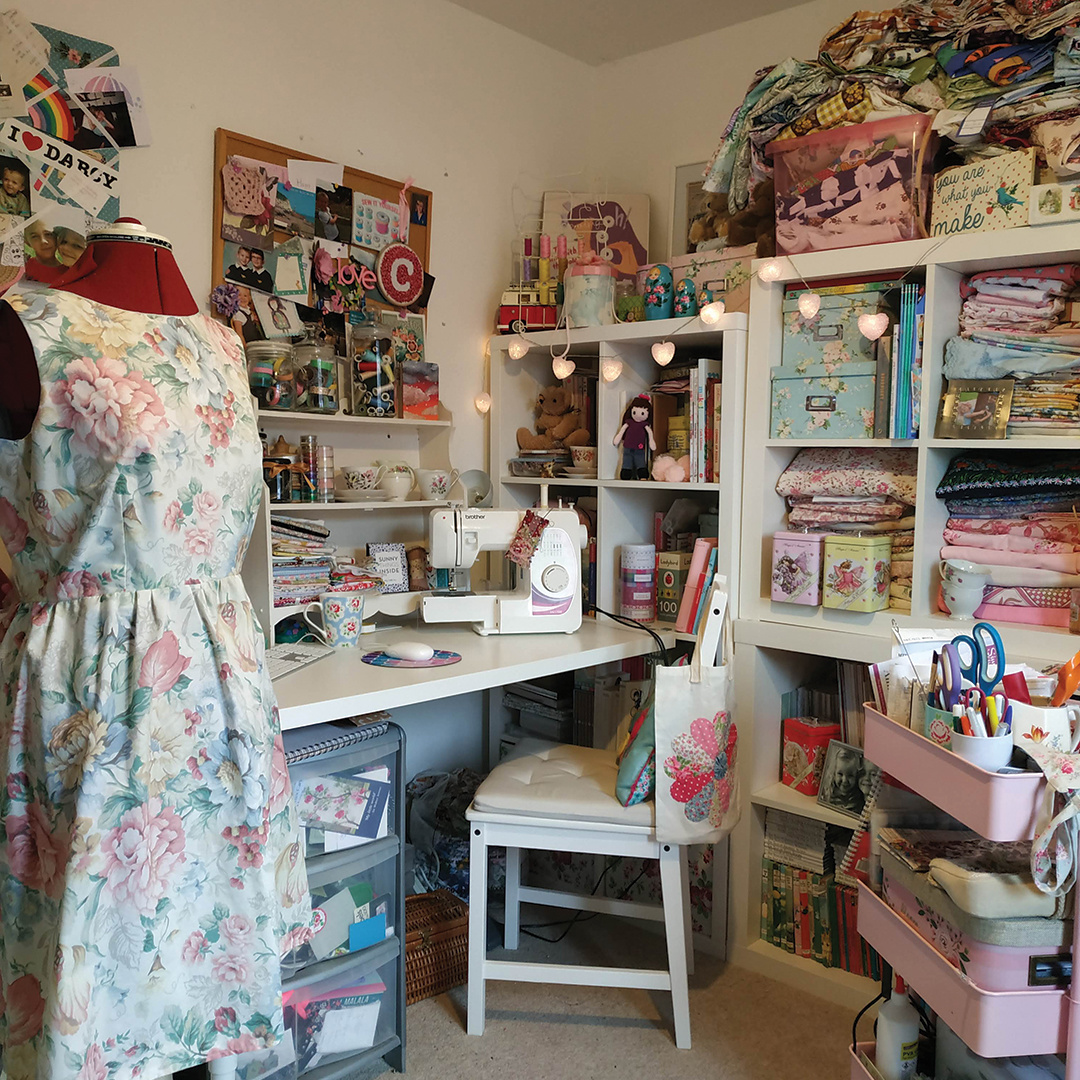 In My Studio …
… I sit serenely, cup of peppermint tea in one hand and perhaps a delicious snack in the other. It is my corner sanctuary in a busy family home, somewhere I can pour out my frustrations and stresses of everyday life, and channel them into something creative. All around me are happy snippets from my life, cheesy mementos, and cherished photographs. Alongside my happy memories reside my vintage treasures discovered on thrifting trips. I'm at peace in my little space, ready to create, surrounded by joyful things. I'm inspired by my colorful collection of textiles, most with past stories from previous lives. I adore my vintage fabrics and delight in giving them new life as a dress, skirt, or other accessory. My space is multi-functional, as I draw, paint, and write here too. I am grateful and happy in my studio.
— CAZ FAITH (@CAZFAITH)⎟ IN HER STUDIO SUMMER 2020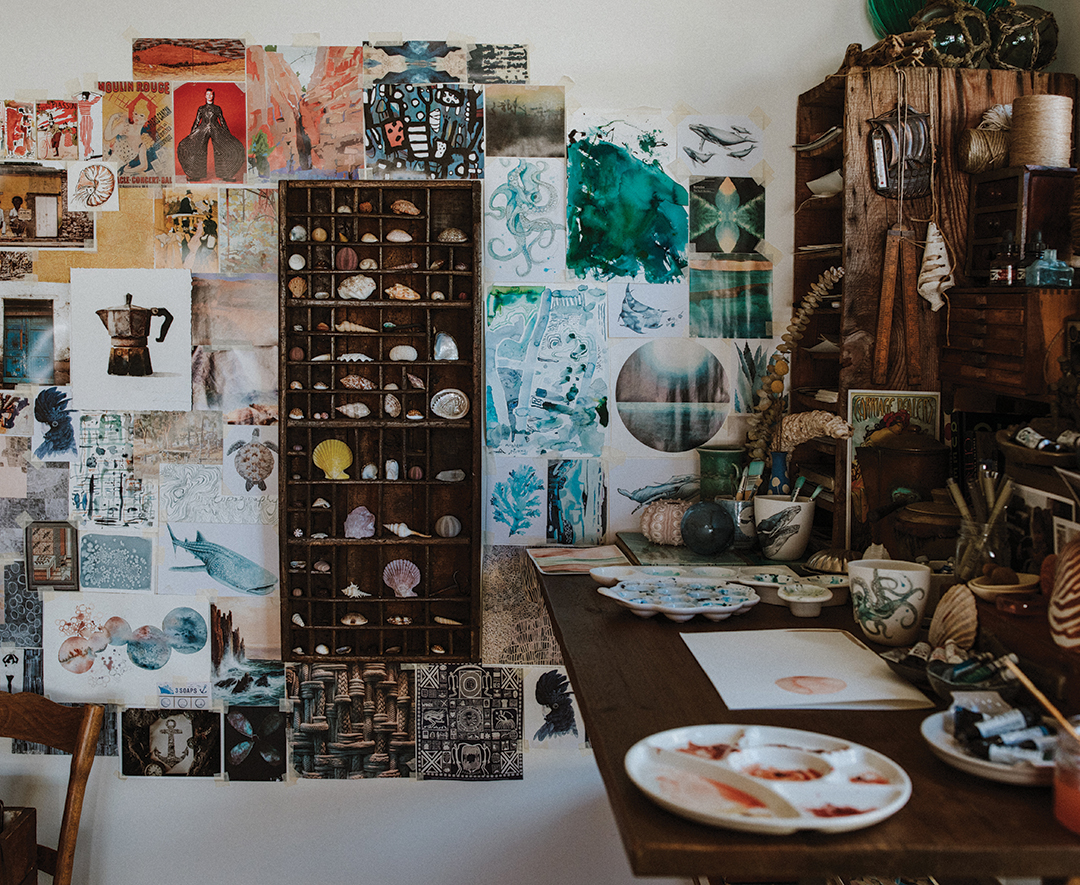 The Marine Maximalist
Countless pots of richly pigmented ink and tubes of watercolor paint in every blue hue imaginable. Paintbrushes stand to attention in an eclectic assortment of old glass bottles and repurposed ceramic vases. Stacks of pigment-encrusted paint palettes form a haphazard tower atop wooden boxes and secondhand art books. A jumbled array of illustrations, children's painting experiments, and magazine cutouts spill over the adjacent wall, lapping at a mounted letterpress tray filled with beachcombing treasures. An antique wooden drafting desk acts as a cherished centerpiece around which everything else is arranged and rearranged. All of this forms my studio space — a sun-soaked nook of boundless inspiration, bursting forth from a corner of the living room in our cozy family home in the coastal suburbs of Perth, Australia.
— SOFIE HAYES (@SOFIE_SEYAH)⎟ IN HER STUDIO WINTER 2021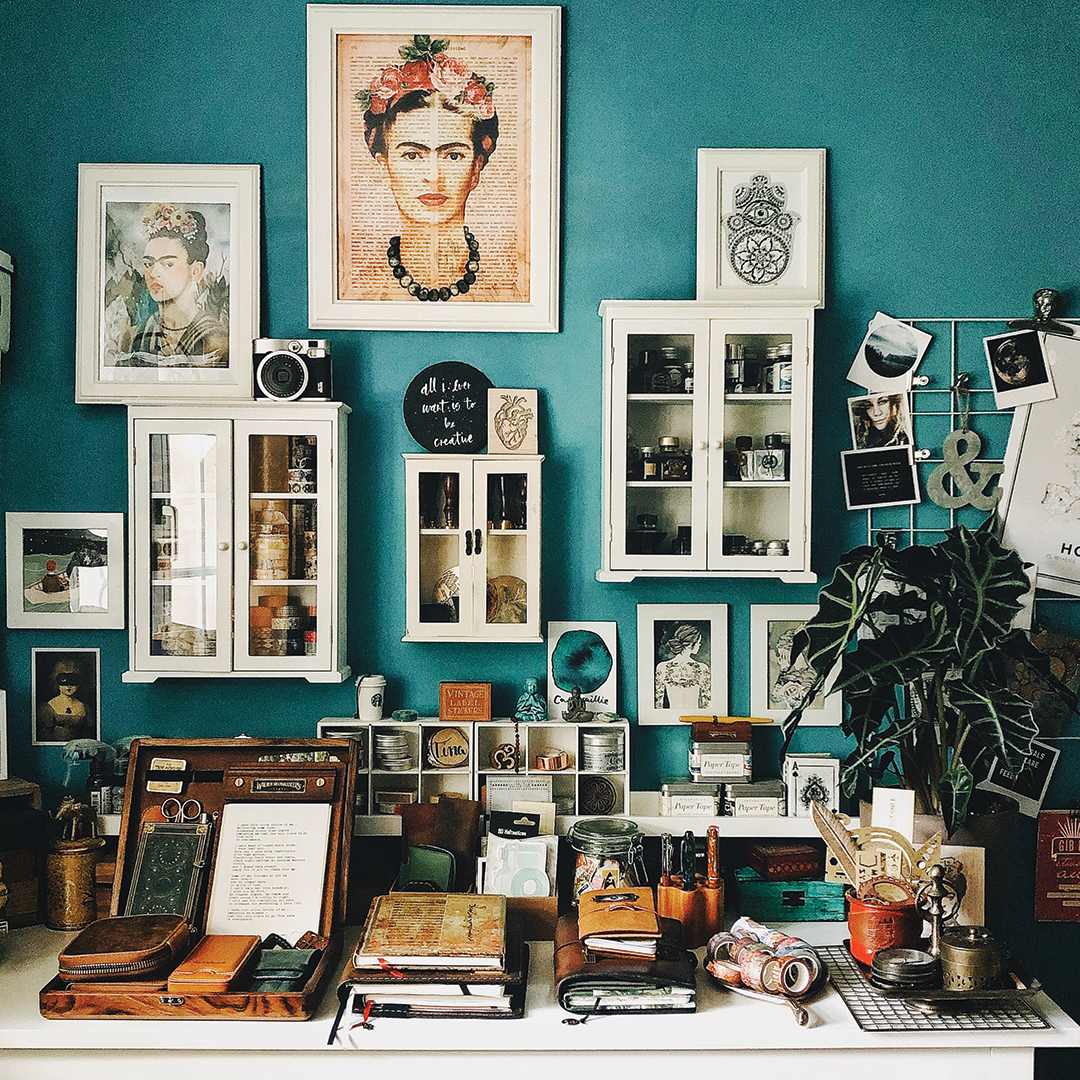 In My Studio …
… I step into another world — a world full of inspiration and endless possibilities to start a new creative adventure. A teal wall is decorated with framed art, handmade leather goods, and tiny white cabinets, racks, and wooden boxes that hold precious vintage papers, leather journals, or elegant writing instruments. I am surrounded by books, art, and magazines. This is my quiet respite for contemplation and a safe space for creation. Various colors and supplies invite me to give my creative soul a space to express, to exist, and to grow. Writing and creating here helps me communicate more effectively and openly, allowing me to learn more about myself and how I feel.
— MARTINA WINKEL (@THEPAPERVOYAGER)⎟ IN HER STUDIO AUTUMN 2020
Distressed Vintage Crate Storage
I love all things vintage, especially vintage soda crates, so when my coworker Johanna Love saw this beauty at Goodwill, she knew I would be head-over-heels for it.
Being the kind soul that she is, I was thrilled when she purchased it for me. Immediately, I hung it up on my wall at home to store knick knacks. Although I adored the rustic brown color, I decided to whitewash it to match my recent home décor renovations. In this case, whitewashing worked especially well because the original "character," marks, and writing on the sides showed through.
You can learn more about how I whitewashed the crate here.
— VANESSA SPENCER (@VAZZ_S)⎟ STAMPINGTON & COMPANY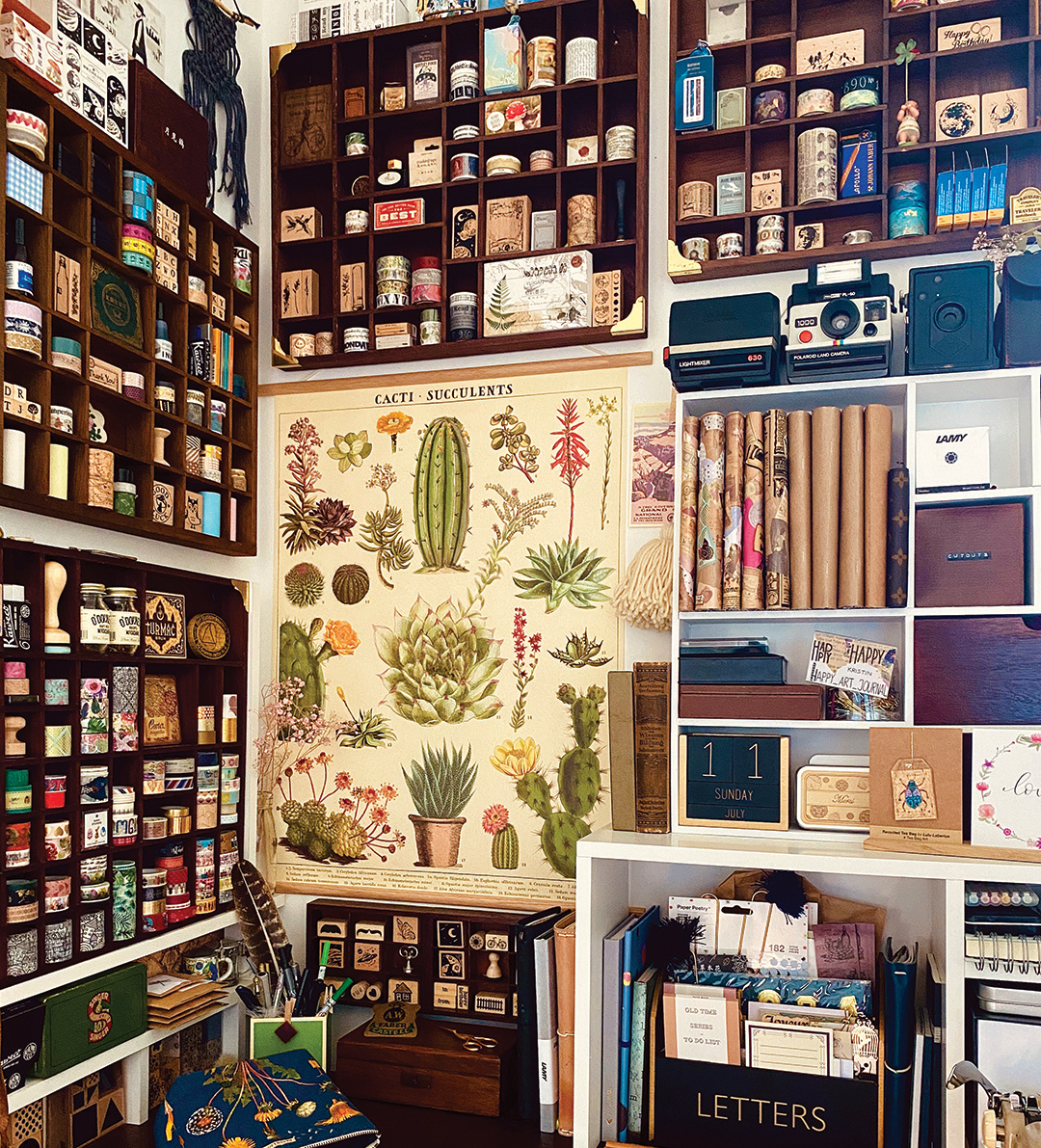 In My Studio …
… I am in my perfect spot. Before, it was a white corner without anything in it. No windows, no noise, no distractions from the outside world. I started decorating, and it instantly felt like creating a work of art. Without a specific vision in mind, I gave myself just one rule: to fill up the white spaces completely. The white walls reminded me of life — a brand-new canvas waiting to be filled with my experiences, feelings, and love. Starting out with only one type case, I began to put all my heart into this studio. It grew alongside my creative journey, and now it is filled with beloved, carefully chosen pieces. I have created a place not only for my creative work but also for my true self. Whenever I'm in my studio, my mind is calm, open, and free — and then inspiration strikes me.
— KRISTIN (@HAPPY_ART_JOURNAL) ⎟ IN HER STUDIO WINTER 2021
We hope you enjoyed these beautiful storage solutions from our published artists! It's wonderful to know that organization can be both functional AND inspiring when you surround yourself with the materials and knickknacks that you love.