Hobbies can be an expressive form of meditation — something you do to create a bit of peace and joy in your soul. And while some find peace and mental clarity in a garden or favorite book, your creative space can also be a sanctuary of sorts, somewhere you go to calm your mind and replenish your spirit.
Whether it's bright light streaming in through a window, sweeping views of nature, a purposeful grouping of pillows, or minimalist approach ensuring everything is in its proper place, this selection of creative spaces has an intrinsic calming effect that would help any artist feel more centered and focused.
Keep reading for an exclusive peek inside some of Our Favorite Zen Studio Spaces from the pages of In Her Studio magazine. We hope you gather inspiration from the combination of colors, soft textures, natural elements, comfortable nooks, and optimal uses of light our published artists have expertly applied.
And who knows? You might just stumble upon something you'll want to add to your own creative corner to enhance your focus. Enjoy!
Serenity in a Weaving Shed
I grew up in a creative family and was always encouraged by various family members to make — it just stuck and now I don't know what I would do without it. Creativity features in so many parts of my life, and I even married a creative guy who is also from a creative family. I am at my happiest when I am making and it has the power to instantly change my mood.
I work as a freelance graphic designer, so my day-to-day work changes. In my spare time I love weaving and teach it across the UK. My studio space is where I work on my weaving but it's also where I can relax and shut myself off for a few hours — it's a nice little hideaway from busy everyday life.
The shed is mainly a weaving shed, so I have filled it with wool and my wall hangings. It's full of items made by my family, too, which all provide inspiration. The tapestry cushion was made by my grandma, all my looms are made by my dad, the knitted cushion was made by my mum, and I also have a few bits made by some friends in there. We made the daybed and desk ourselves, and one of my favorite parts of the shed is the wool shelf because it makes everything so easy to access. It was also a lot of fun to make! When I am in the shed I feel serene being surrounded by all my favorite things, and the view from the window is also so calming.
— LUCY ROWAN (@PEASANDNEEDLES)⎟ IN HER STUDIO PREMIER ISSUE

In My Studio ...
… there are no walls. I hear birds chirping and the sound of my children laughing. I feel the gentle breeze and the sunshine peeking through the clouds. I take my studio wherever I go, as I've realized my studio is more of a feeling than a physical place. Like so many over the last couple of years, I've been forced to transition, find new rhythms, and find a new normal. My surroundings have changed from a traditional studio, to a makeshift workshop in my garage, and now to a creative space in a new home surrounded by beautiful gardens. These changes infuse my creativity and challenge me to find inspiration and beauty in all that is around me.
— LEAH MARTORANA (@SHEPAINTSPROMISE) ⎟ IN HER STUDIO WINTER 2022
A Studio for My Soul
If you slip through the back entrance of our early 1900s house, and over to the far corner past a pantry of snacks and soups, you'll find the steep, narrow staircase leading to my attic studio — easily missed yet sacred to me. When I climb those steps, I feel like I'm walking into the pages of a children's book, where only enchanted and delightful things exist, yet all so dear and familiar. The studio, at a glance, is an eclectic collage of my artistic soul, full of wonder and wildness, softness and play.
I'm greeted by light streaming in the skylights of the angled ceiling. A Moroccan tea set invites me to start the day slowly. A quaint sofa beckons me to sketch among fluffy blankets and pastel cushions. Clusters of art supplies and floral patterns inspire from every direction, gently scattered about just as I left them the day before. There is my book collection that is ever growing, my mom's vintage sewing machine that I learned on as a young girl, souvenirs from my travels, and special gifts from friends and family. If I'm not feeling creative, I wander about and tidy up, laying my hands on all the supplies, seeing the colors, and looking at art I've made. Discovering forgotten sketches and reconnecting with memories and artifacts always leads to a creative spark.
— GINGER DEVERELL (@GINGERDEVERELL) ⎟ IN HER STUDIO SUMMER 2023
A Raven's Creative Nest
Your studio is where your life sends you … though I must admit, these wise words are based on the famous Army saying, "Home is where the Army sends you." As an Army spouse, I learned quickly that everything was temporary, including my studio. In over 27 years and 17 moves from coast to coast and beyond, I've set up a creative nest wherever I was sent: in spare bedrooms, basements, large utility closets, and carports. Now semi-settled in our post-Army life, reflecting back, I credit this vagabond lifestyle for fostering my perseverance, bravery, and creativity, which have made me the artist I am today.
— LESLIE CAMPBELL OF @RAVENWORKS_STUDIO ⎟ IN HER STUDIO WINTER 2020

When setting up your own studio sanctuary, wherever that may be, Leslie Campbell recommends keeping this list in mind.
Raven's Nest Essentials
Smell: I always keep my essential oil diffuser going, and it's usually the first thing people remark on when they enter. Fresh air works, too!
Touch: I display my favorite vessels filled with small works of art that people can pick up and touch. Adding shells, dried flowers, etc. keeps people connected with nature.

Sight: A lot of color through art and cards from friends brightens the studio and my day, and offers inspiration.

Taste: I provide adult beverages for our Fourth Friday Art Walks. A little champagne goes a long way!

Sound: Create a playlist to promote a creative environment. Use nature's soundtrack to help with concentration.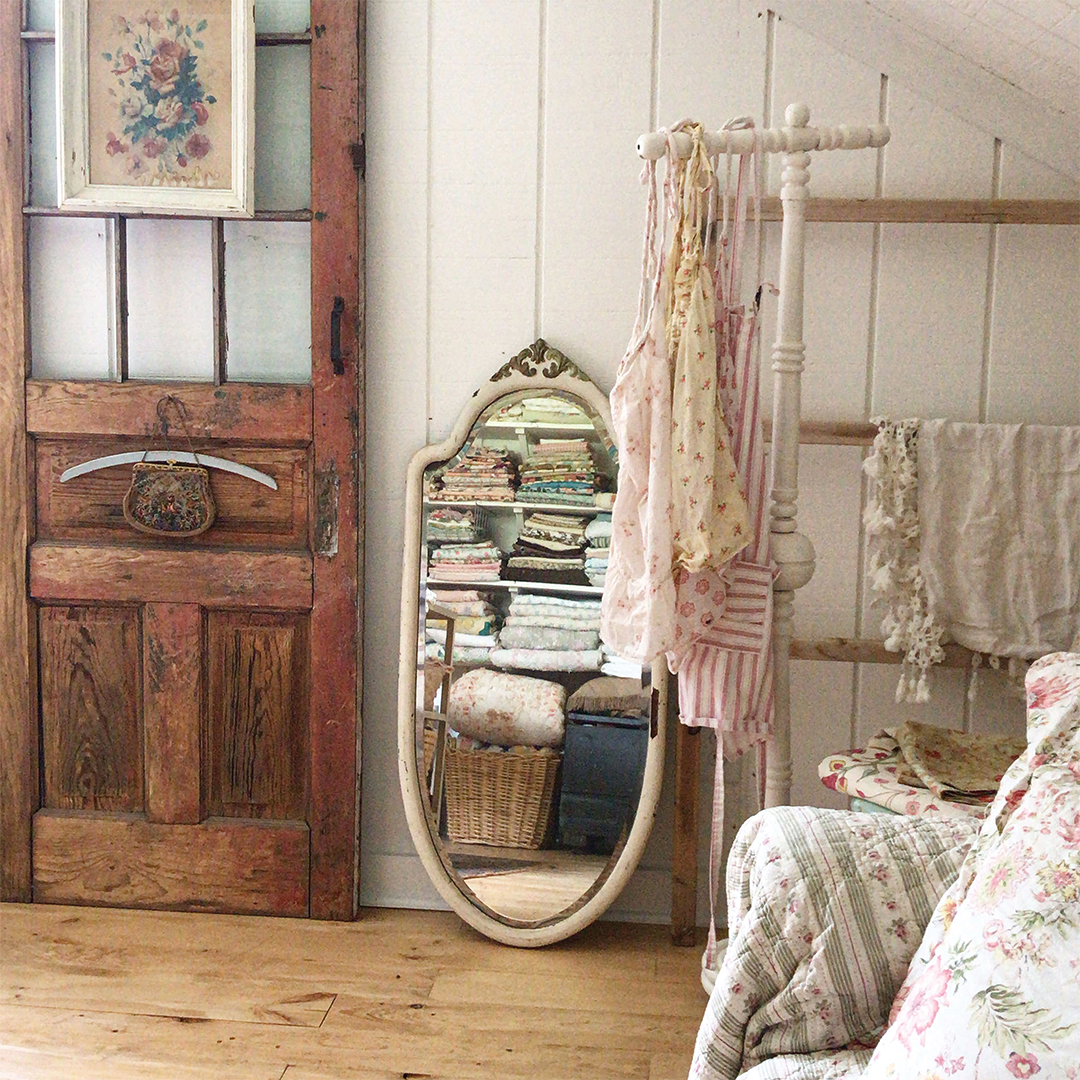 In My Studio ...
... I step through an old creaky door into a little world of prettiness. What used to be a dark attic storage space is now a quiet retreat filled with collected treasures. I close the door behind me, turn on the warm, soft light of an old rescued chandelier, and breathe in the feeling of contentment that quickly envelops me. Here, old and chippy meet soft and floral, and anything is possible. My imagination is free to run wild or to simply rest and be refreshed. A cup of tea, stacks of beautiful fabric, and pretty bits gathered over the years do wonders for my soul. I gather ideas, bundle fabrics, and pull this and that from baskets and bins as inspiration flows. Satisfied for a time, I step through the creaky door back to the blessing of my daily routine. I smile knowing that this little world of mine will be here when I return."
— AMY FREEMAN OF @FLOSHYMAECOTTAGE ⎟ IN HER STUDIO SPRING 2023
Creating Movement
The Movement was created out of necessity — my necessity to heal myself. In 2014, I was lying flat on my back on the floor, barely able to move. I had two bulging discs in my back from my teenage cheerleading years. Any time my back would act up, that is where I would be for an entire day. I had dabbled in yoga but never seriously. At that moment, between the physical pain in my body and the emotional pain of recently losing a loved one, I knew it was time to stop dabbling and time to commit. I needed change. I needed to move.
... And there it was … a room in a historic landmark where every beam in the ceiling could tell a story, opening up like blank pages in a book to help me tell mine. The story I wanted to tell in creating this space was one of healing and nourishing. I wanted to build a community for like-minded people and give them a place to escape — a place where they could release energy and breathe a little deeper and easier.
Growth not only happens with our studio plants but also through our classes, which are designed to encourage personal growth for each individual, both physically and emotionally. We offer everything from yoga to barre and pilates, as well as more intricate outlets like live music flow yoga, nutrition circles, and healing sound baths.
I want people to be well in every possible way, so it is my goal to make sure there is always something for everyone to feel connected to.
— CHRISSY FRASCELLA OF @THEMOVEMENTBYCF ⎟ IN HER STUDIO SUMMER 2019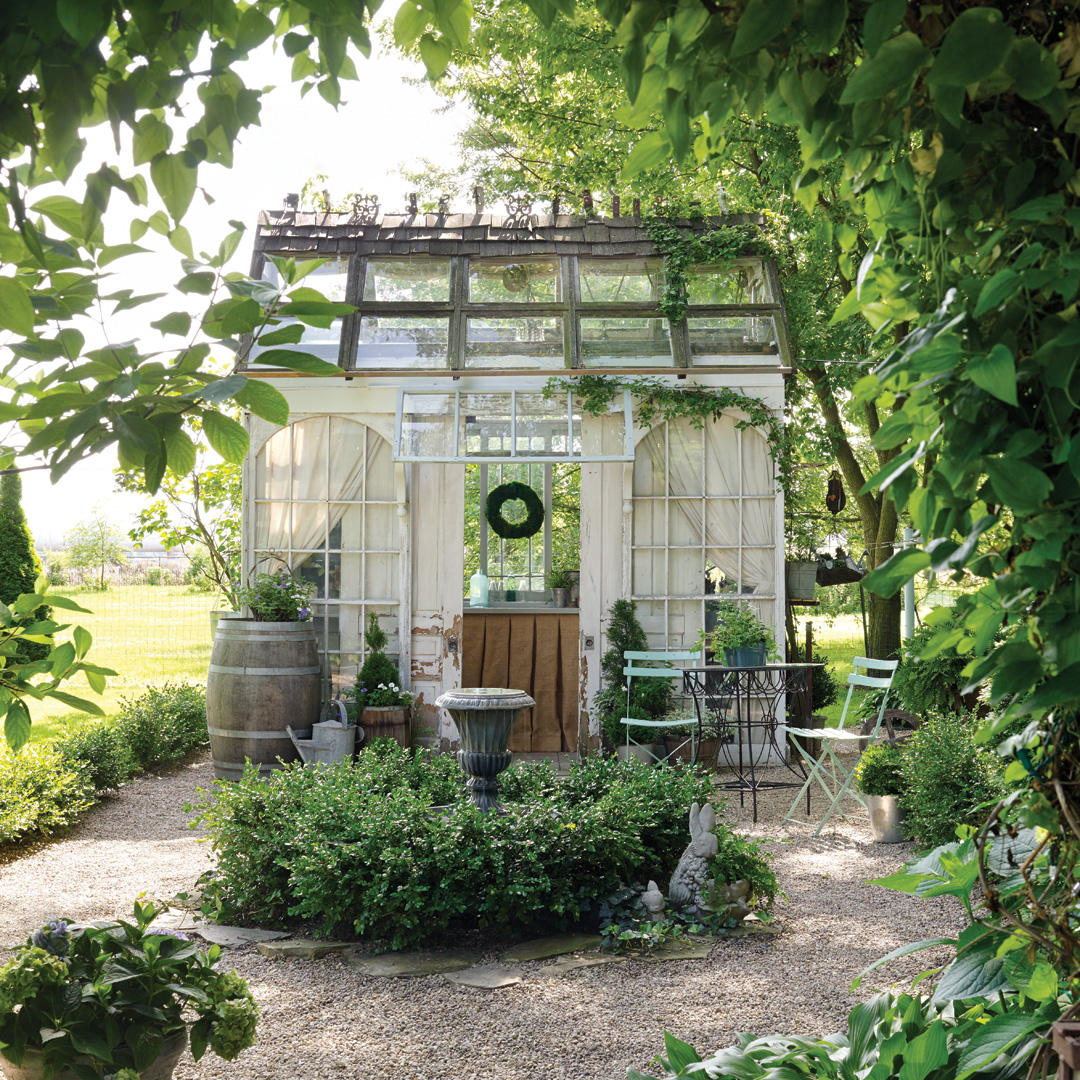 Just Tinkering
Even though Tinkerhouse looks to be quite old, it's only been nine years since my husband and I built it. I collected some of my reclaimed materials from local shops, but most of it came from the renovation of our 181-year-old family home. It was going to be a pretty little shed to keep my tools organized, but I knew very quickly it was destined for much more...

Creativity runs deep within me, as I hail from a family of putzers, tinkerers, and artistic thinkers. I can't recall a time in my life when I wasn't creating something. Keeping my hands busy keeps my mind engaged, so it has also been a great way to deal with my ADHD. As a child, I had a dollhouse my dad built for me and I was always making curtains, furniture, rugs, and such for this tiny world where I played. I guess you could say Tinkerhouse is my adult dollhouse, as I still make these things but now I do it for a living!
When I am in need of inspiration, I walk to my potager (French kitchen garden) with scissors in hand to cut a bouquet of flowers or a bunch of berries.
— DONNA REYNE' JENKINS OF @DONNA_REYNE ⎟ IN HER STUDIO SPRING 2019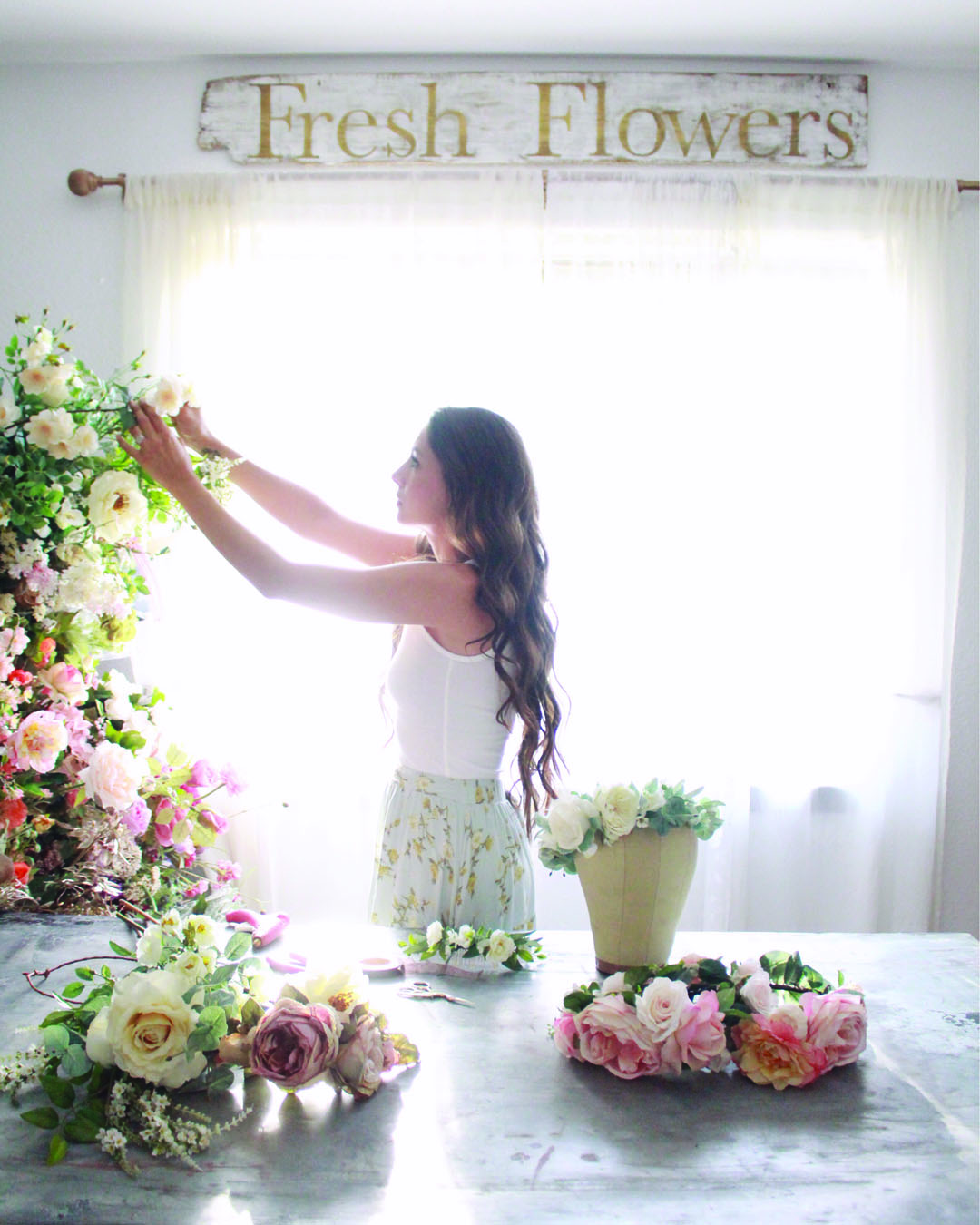 In My Studio …
… I create flower crowns, combs, and veils for brides all over the world. I work on a large antique table alongside my floor-to-ceiling flower tree where I keep most of the stems I use. My favorite time of day is between 5 a.m. and 6 a.m. when the house is quiet, the sun is slowly rising, and I head into my studio with a hot cup of coffee ready to put my hands to work. As a mom of two children and a wife of nine years, this space has given my thoughts ease of movement, clarity, and calm. It is also a space where my children can watch me create and I can help them explore their creativity. I hope this becomes a legacy for my children, encouraging them to follow their dreams.
— KAYLA LEPPELMAN OF @LOVESPARKLEPRETTY ⎟ IN HER STUDIO SUMMER 2019
We hope you enjoyed these snippets from the pages of In Her Studio! Save up to $20 off and receive FREE shipping when you treat yourself to a subscription.
You might also like ...