What seamlessly blends artistry, writing, and personal reflection? Art journaling goes beyond creating aesthetically pleasing pages. As a form of self-expression with multiple therapeutic benefits, it provides a safe and supportive space to explore your thoughts and emotions.
Whether you're just starting out or an experienced artist, there are countless art journaling ideas for you to explore. In this blog, we'll delve into some of those ideas and provide vivid examples from the pages of Art Journaling magazine.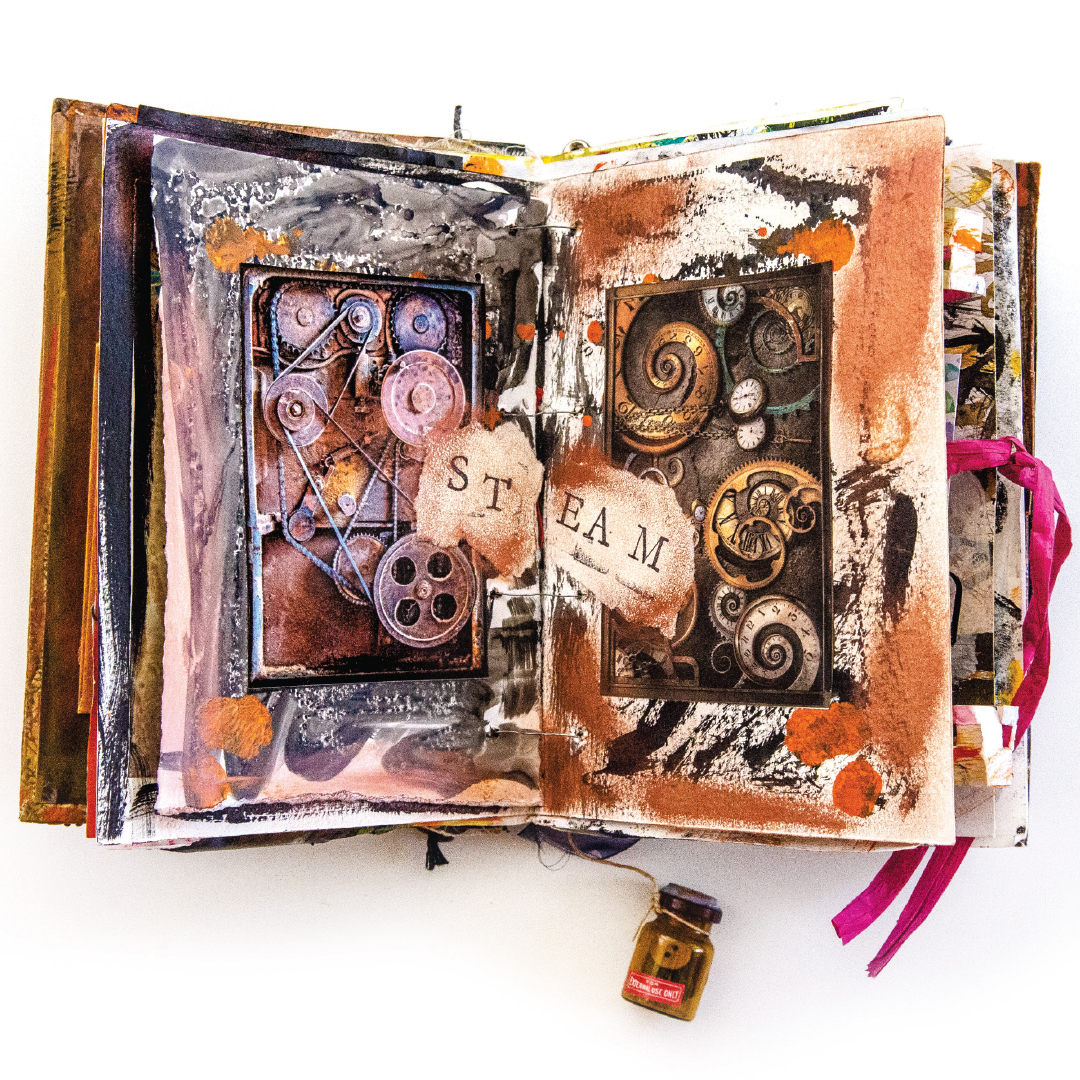 KISMA REIDLING⎟ ART JOURNALING SPRING 2023
1. Steampunk Journal
A steampunk journal is an imaginative exploration of the retro-futuristic aesthetic, characterized by its fusion of Victorian-era elegance with industrial, steam-powered technology. Inspired by the works of writers like H.G. Wells and Jules Verne, steampunk offers a creative playground to experiment with elaborate brass and copper embellishments, intricate mechanical drawings, and vintage-inspired typography. With gears, cogs, and clockwork motifs, you can construct a visual narrative that blends science fiction, fantasy, and historical reimagining.
To add the rust throughout her journal, Kisma Reidling used a simple recipe for faux rust by Sarah of The Farmwife Crafts. She used this technique to "rustify" the nuts and bolts of the adornments and the wire binding. For items that would not rust, like paper, Kisma used Ranger Patinas in Rust, Ochre, and Onyx, which grace all but one page in the journal. You can learn more about her art journal and techniques in Art Journaling Spring 2023.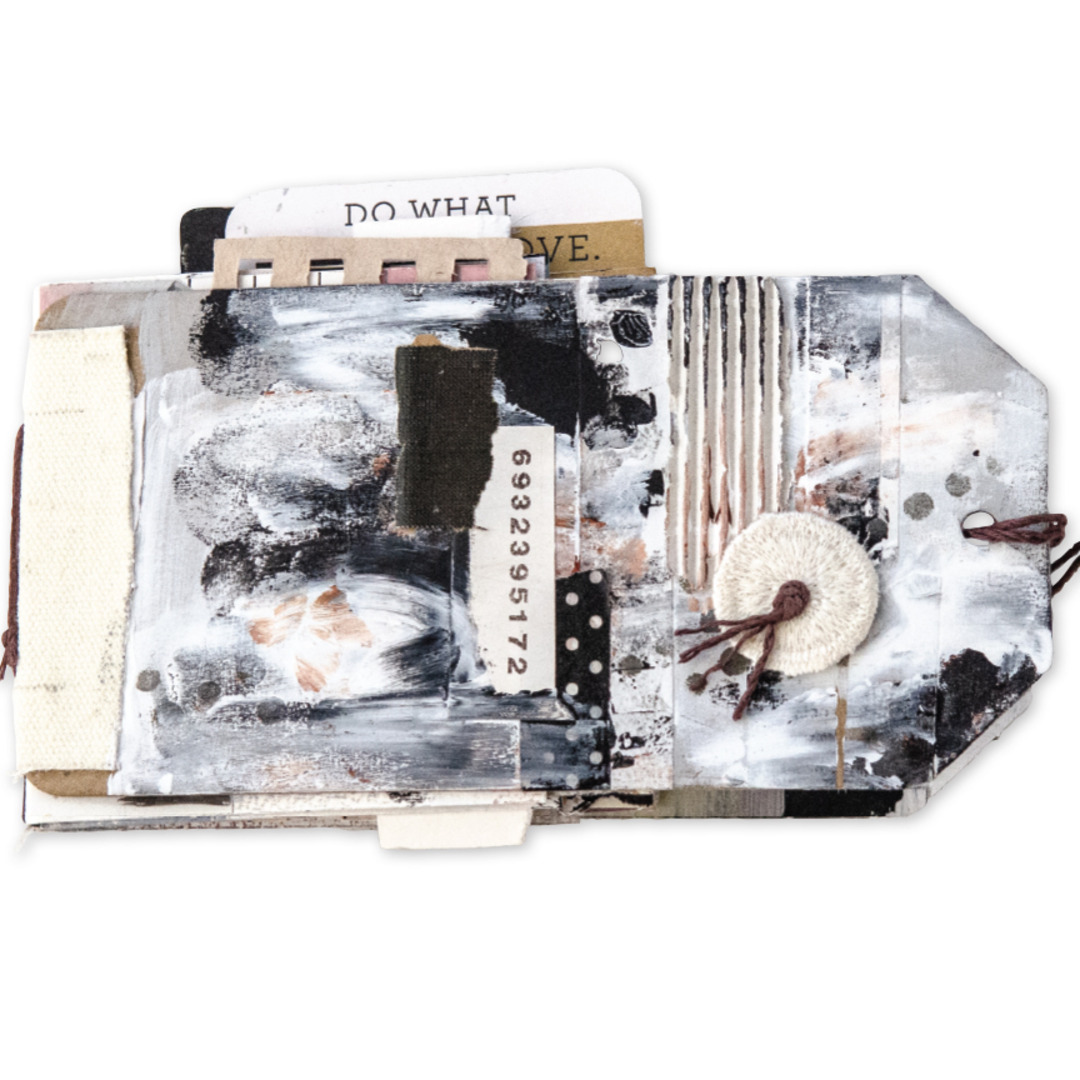 LOUISE MUZIO⎟ ART JOURNALING SPRING 2022
2. Tag Journaling
Tag journaling presents a playful approach wherein you create tiny works of art on tags. Typically made of sturdy cardstock or chipboard, tags provide a versatile canvas to experiment with various mediums, including acrylic paints, collage materials, and decorative embellishments. You can explore themes such as personal reflections, favorite quotes, or abstract compositions, infusing each tag with a distinct aesthetic and narrative that contributes to the overarching themes of the journal.
The starting point for Louise Muzio's journal evolved from the covers. Two thick cardboard tags were strong enough to cover small signatures of pages. So, with the help of a simple needle-and-thread binding technique, her art journal took shape. With this journal, Louise stuck to neutral paper offcuts for the pages and chose a limited palette of colors and collage resources. These limitations made the creative decision-making less overwhelming and gave the finished journal a cohesive aesthetic. Discover the rest of her artwork in Art Journaling Spring 2022.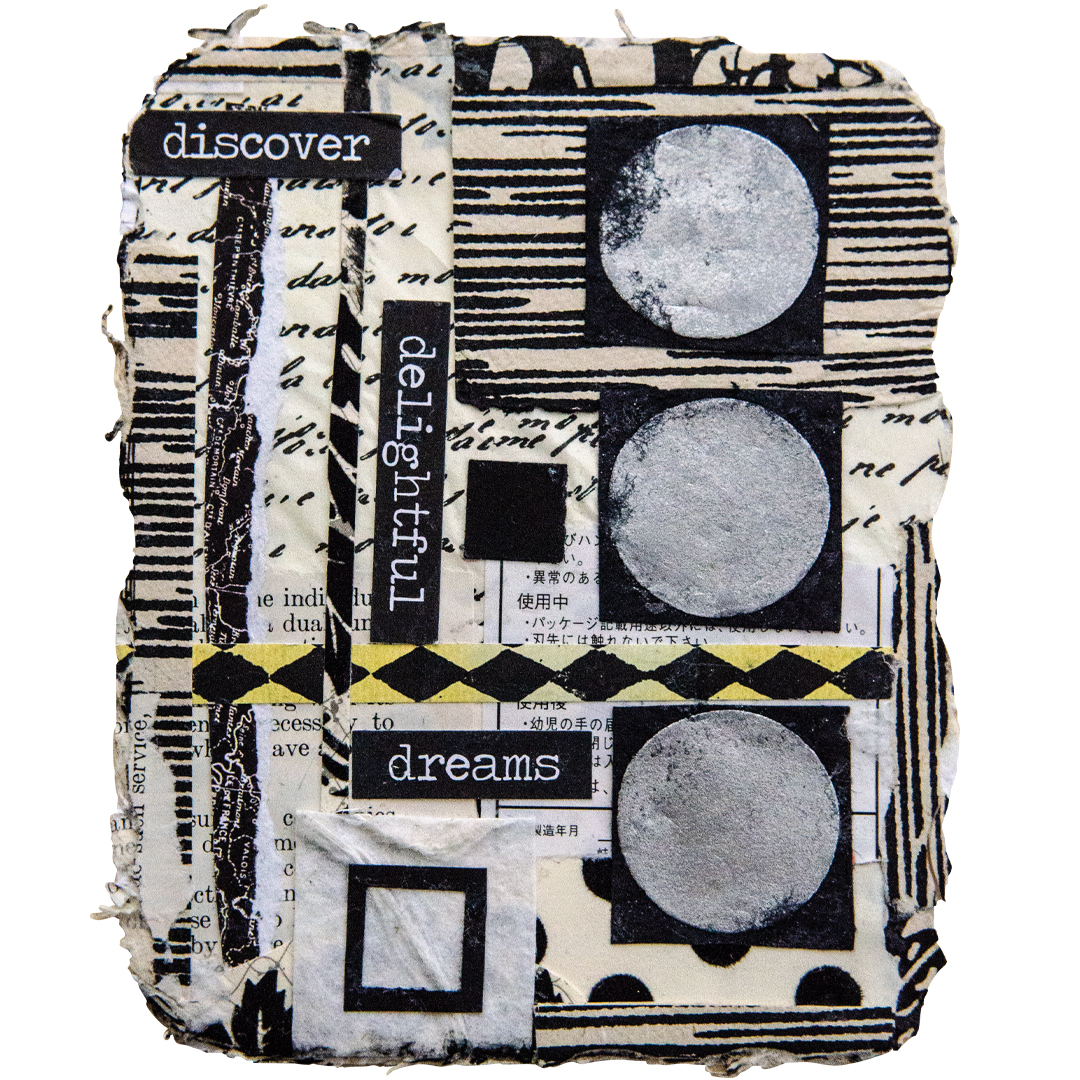 SHERRY LONDON POLLACK⎟ ART JOURNALING AUTUMN 2023
3. Abstract Journal
Abstract journals are your platform to explore the realms of non-representational art using techniques like acrylic pouring, mixed-media layering, and spontaneous mark-making. Through abstract journaling, you can cultivate a deeper understanding of the interplay between color theory, composition, and emotional expression, allowing them to communicate complex thoughts and feelings through the language of visual abstraction.
"Abstract collage was new to me. I only knew I was captivated by collages that included geometric shapes and wanted my designs to look spontaneous and open on the page. After watching a few online collage videos, I decided the process looked fun and probably wouldn't take much time." – Sherry London Pollack.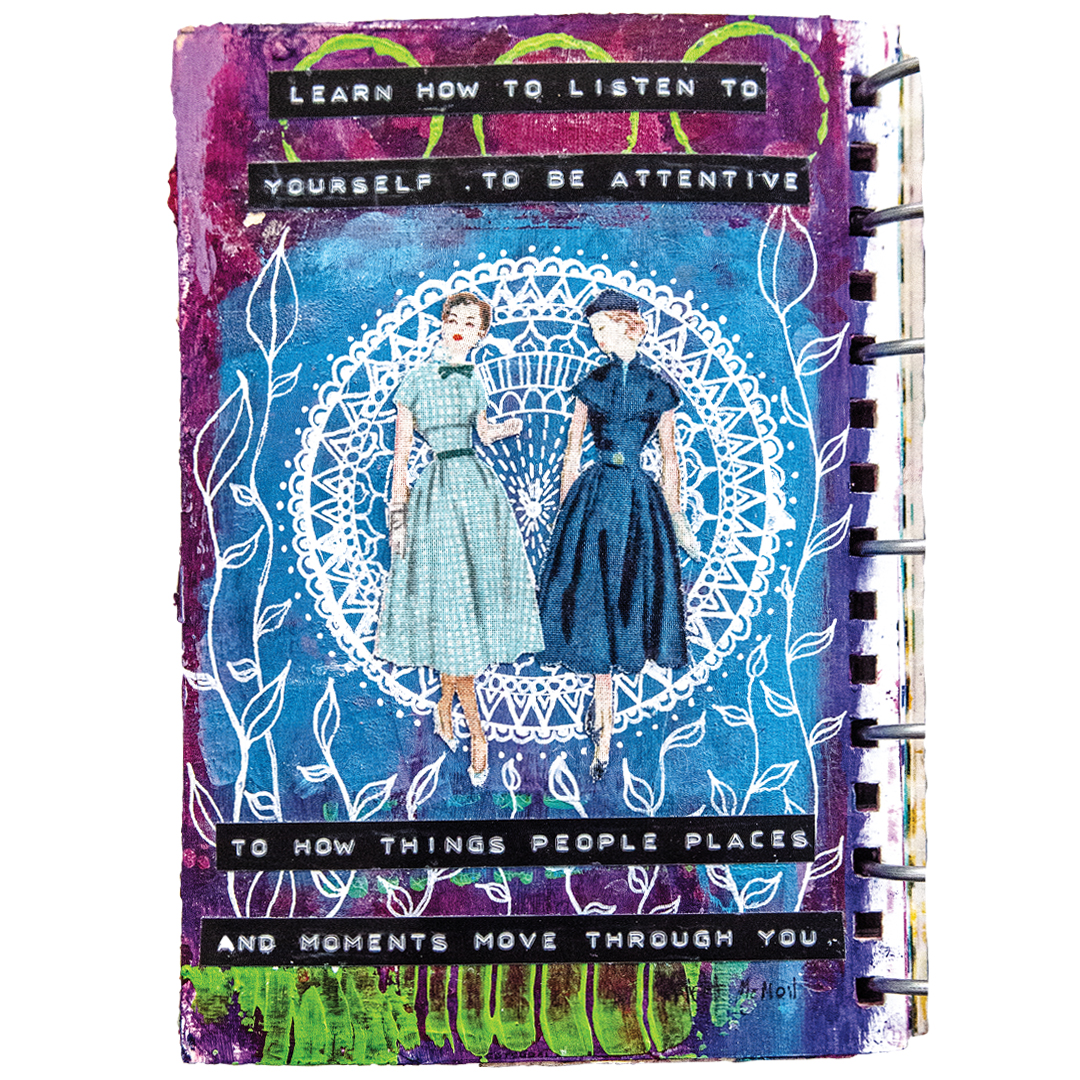 NARAH KIMBERLY MINARDI⎟ ART JOURNALING WINTER 2022
4. Mandalas
Mandalas, originating from Sanskrit for "circle," hold deep spiritual and cultural significance, symbolizing harmony and unity. These circles can take various forms, from simple geometric designs to more complex and detailed patterns. To bring your mandalas to life, you can experiment with different materials, such as watercolors, colored pencils, or fine-tipped markers. As a result, you may find this process to be both therapeutic and meditative.
Mandalas and fabric with vintage images formed a great deal of the finished product of Narah's journal. She used an extra-fine white Posca acrylic paint pen to draw most of the mandalas. To create the structures for the minor details in the designs, Narah used a combination of circle templates and a compass. More of her work can be found in Art Journaling Winter 2022.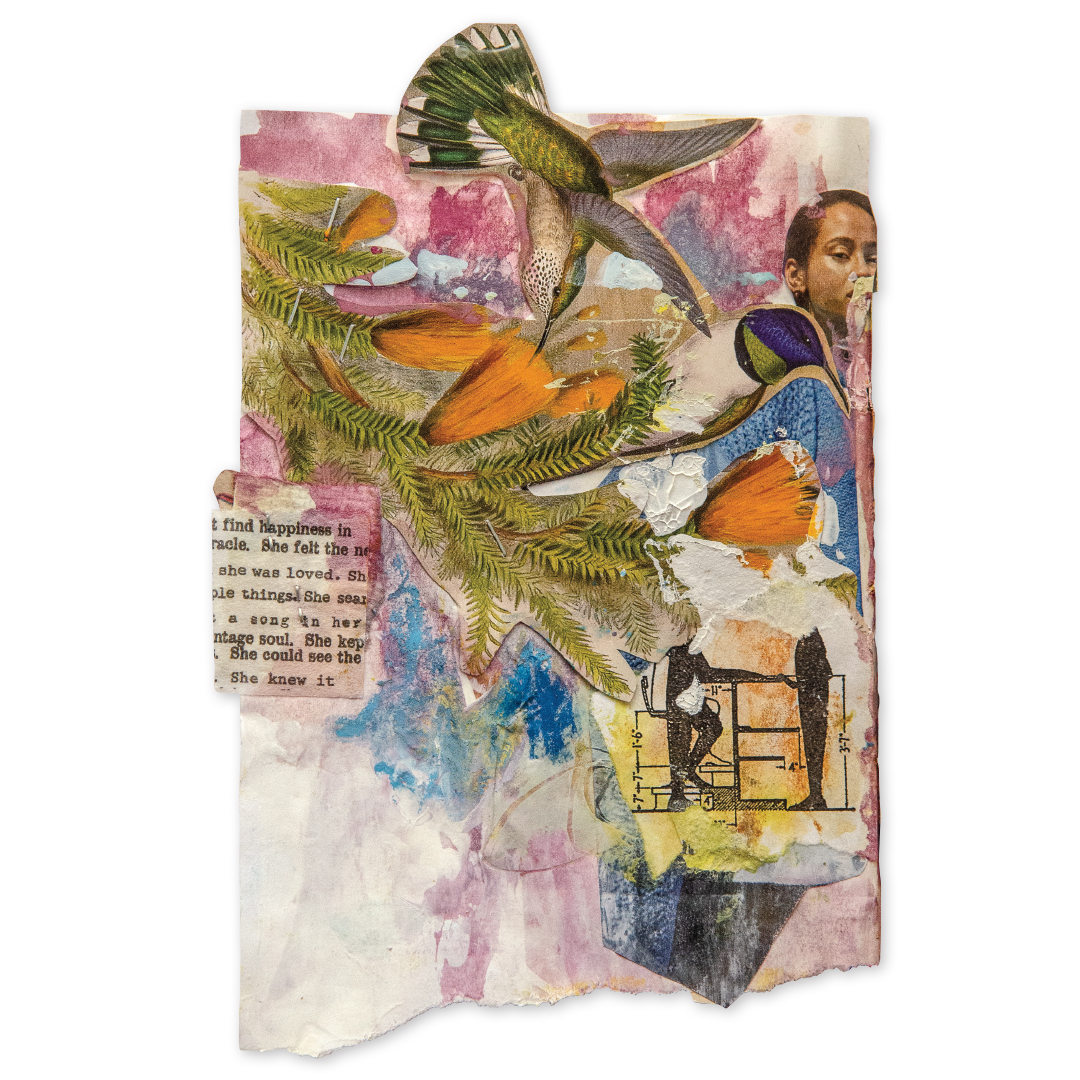 TINA WALKER⎟ ART JOURNALING SPRING 2022
5. Junk Journal
The concept of a junk journal embraces the art of repurposing and upcycling found objects, transforming everyday ephemera and discarded items into visually captivating and eclectic works of art. From vintage postcards and fabric scraps to ticket stubs and newspaper clippings, a junk journal is like a treasure trove of memories and curiosities. When junk journaling, experiment with various collage techniques, adding layers of texture, color, and found objects to construct a visually rich and emotionally evocative journaling experience.
For instance, Tina Walker's first junk journal revolved around collage, with added paint, marks, and book text. She let the scraps tell the story and lead her where she wanted to go. Since the pieces were literally scraps and recycled bits, she didn't need to worry about using them. It was a stress-free way of using up and extending her supplies.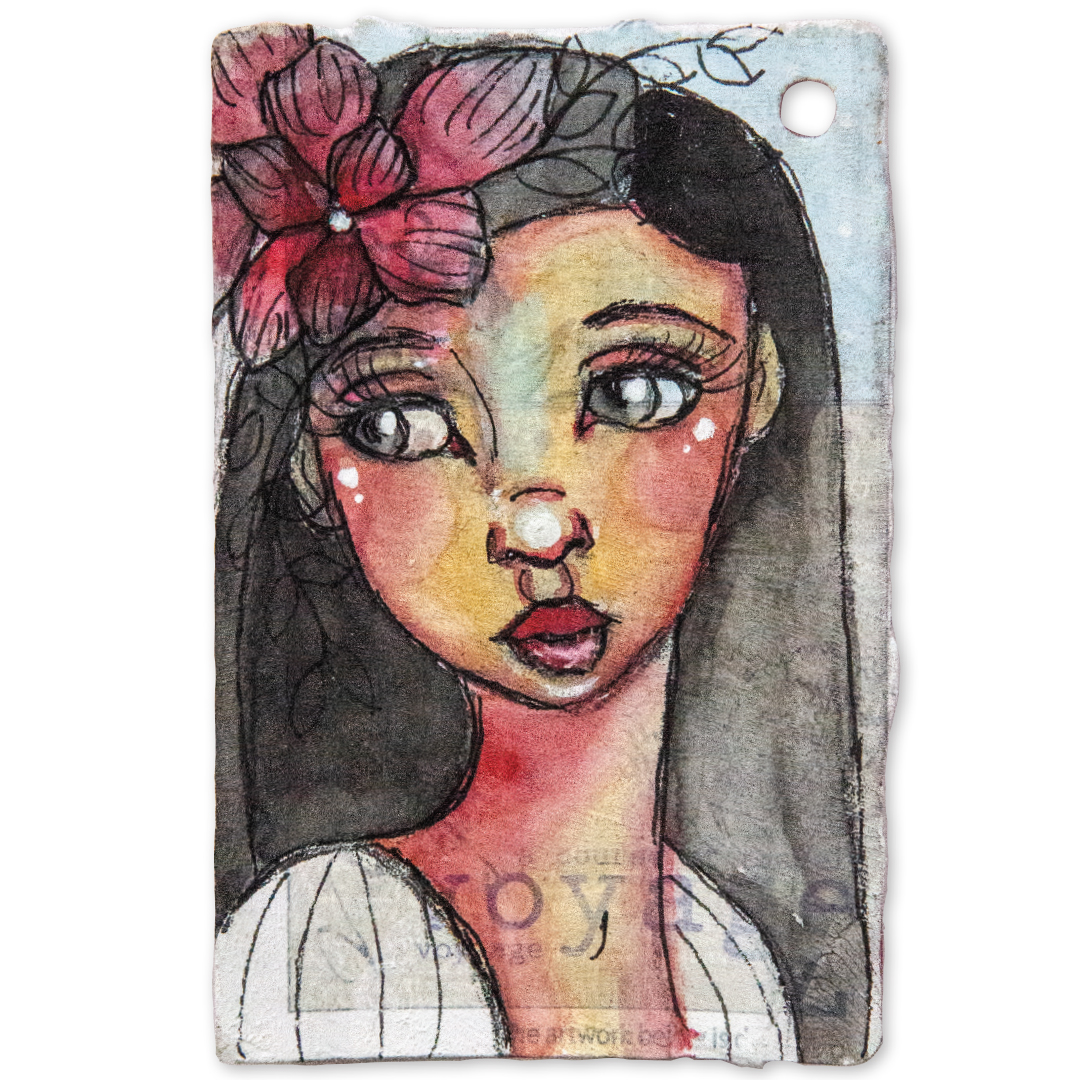 HOLLIE SAWYER⎟ ART JOURNALING WINTER 2023
6. Face-Themed Journal
Whether through realistic portraiture, stylized character sketches, or abstract interpretations of the human face, a face-themed journal explores the nuances of human emotion. With facial symbolism and metaphor, you can construct visual narratives that delve into themes of identity, introspection, and interpersonal connection.
This project of Elizabeth Tichvon drew inspiration from the 100-Day Project, in which people worldwide commit to 100 days of creativity. Elizabeth glued collage pieces onto a playing card using a matte medium. She then painted over the collage with white gesso. Once that had dried, she watercolored and outlined the portraits with a black pen, focusing on the darkest areas and shadows. Explore more of her 100-page journal in Art Journaling Winter 2023.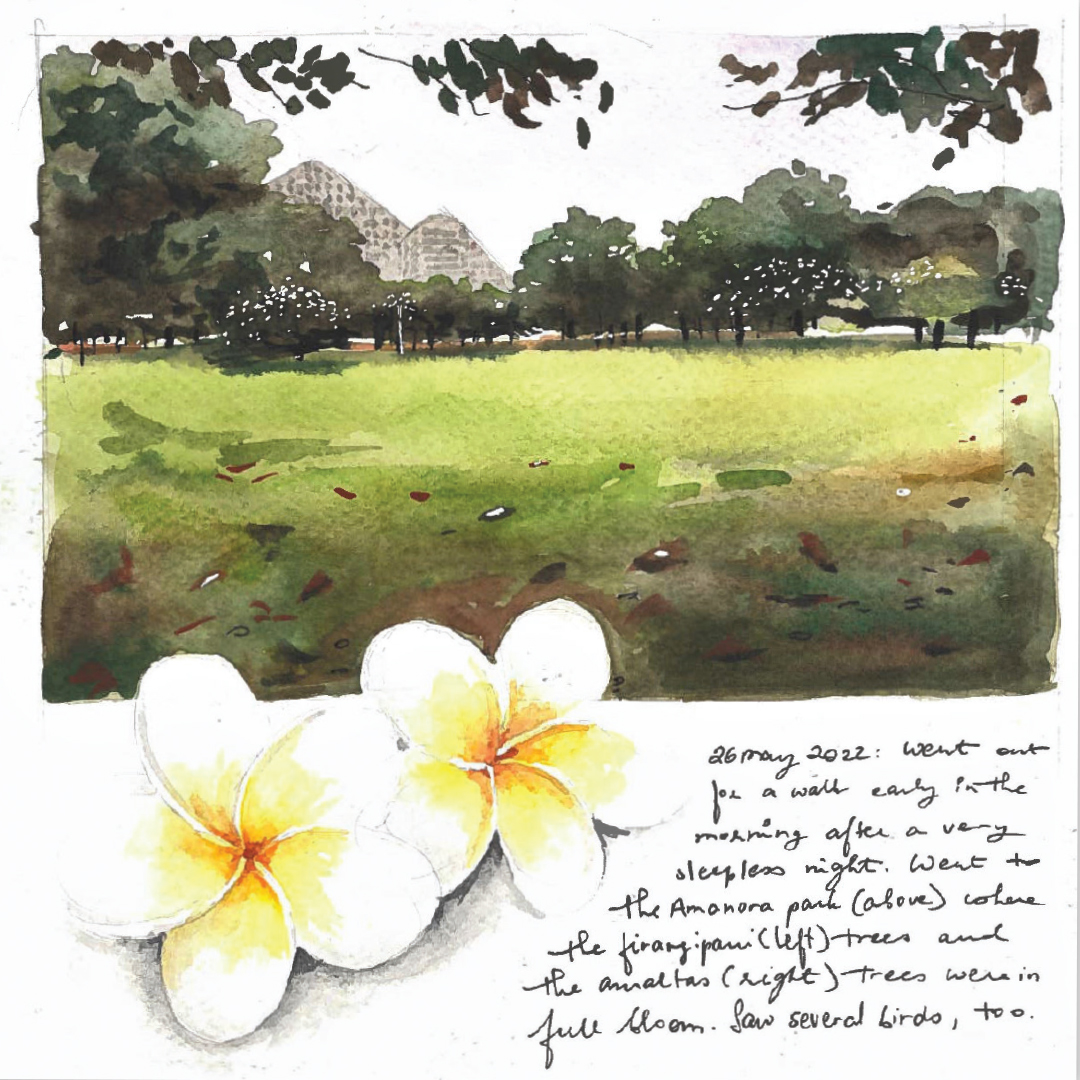 SNEHA ABHYANKAR⎟ ART JOURNALING SPRING 2023
7. Travel Diary
From intricate sketches of iconic landmarks to vivid watercolor depictions of breathtaking landscapes, a travel diary art journal encapsulates the essence of different cultures and destinations. To weave a compelling narrative, include photographs, ticket stubs, handwritten anecdotes, and other meaningful ephemera. Remember to adapt your approach to suit the mood and ambiance of each location.
"I like to capture personal and meaningful moments of my life in my art journals. My art journal serves as a visual diary of my life, with each spread dedicated to a specific day or memory. My spreads are inspired by the places I have visited, the big and small experiences that have shaped my life, and sometimes even places I dream of visiting." – Sneha Abhyankar.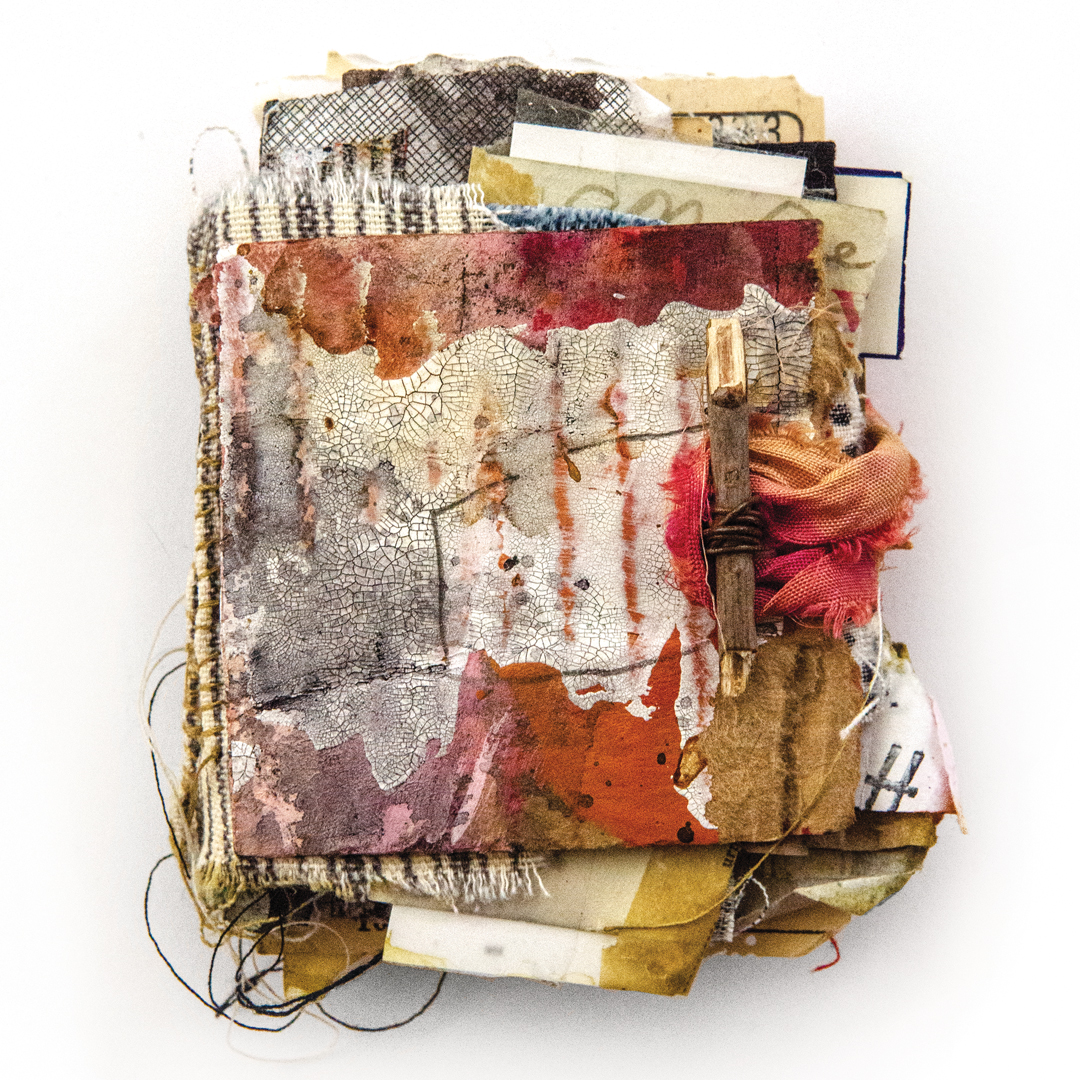 KRISTIN PETERSON⎟ ART JOURNALING WINTER 2023
8. Miniature Journal
Miniature journals offer a unique and compact canvas for experimenting with various artistic techniques and themes, from micro paintings and intricate calligraphy to diminutive collages and ephemera. These journals exemplify the adage that "good things come in small packages." Because even within the confines of such a small-scale canvas, there are still abundant creative possibilities.
As per Kristin Peterson, her bite-sized journal was perfect for to-go journaling. The small size was also great for stealing a few minutes just for herself. Even on a busy day, it was easy for her to go to the studio, quickly glue a few pieces onto a page, and have a sense of creative accomplishment.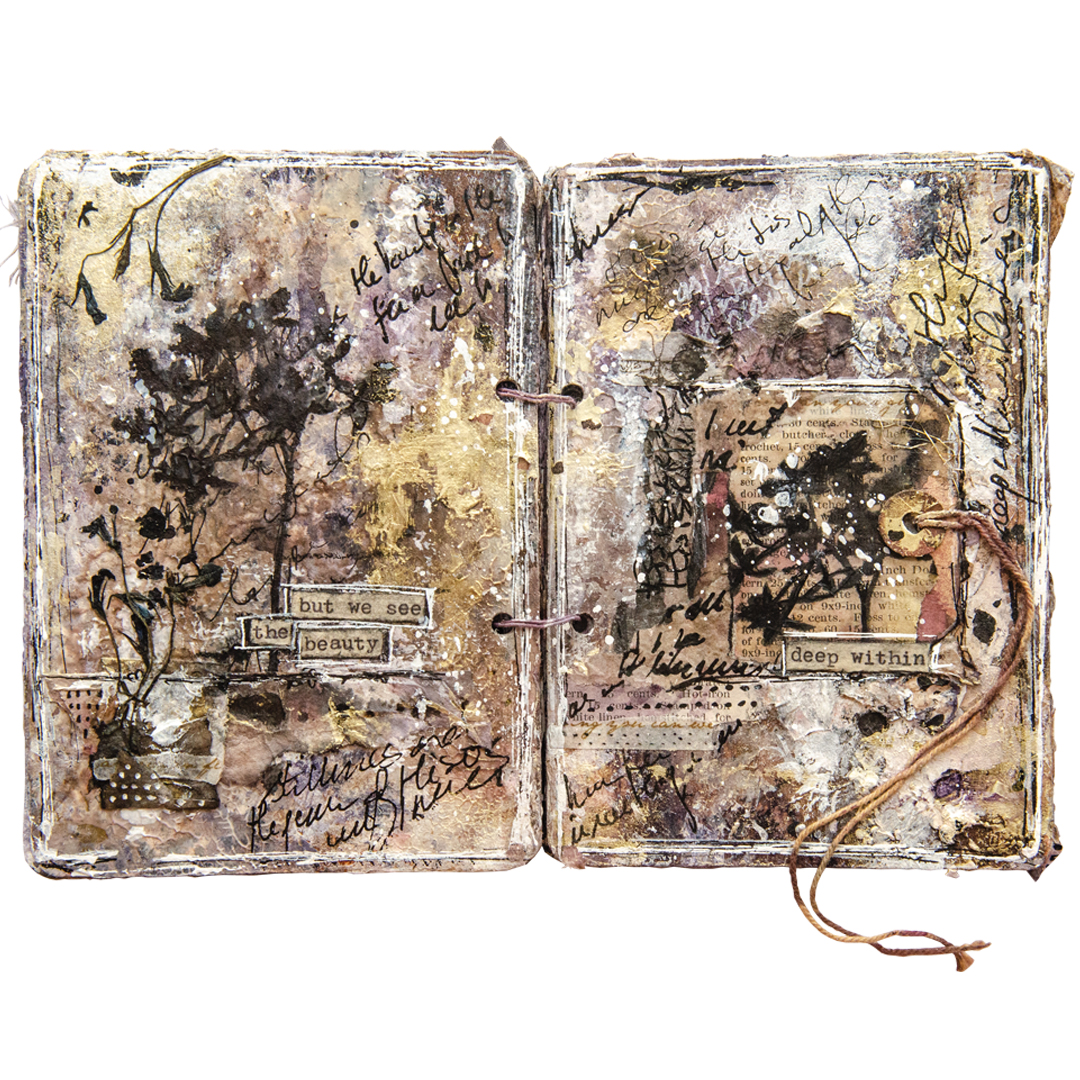 LYNNE MONCRIEFF⎟ ART JOURNALING WINTER 2021
9. Nature-Inspired Journal
A nature-inspired journal can serve as a visual diary, capturing the beauty of the outdoors through sketches, watercolor paintings, and pressed flowers or leaves. As you create your nature-inspired journal, you can go beyond traditional depictions of landscapes and flora. Try adding depth and texture to your mixed-media compositions using natural materials like sand, twigs, and dried plants. Furthermore, eco-dyeing and natural pigments, like earth tones and botanical dyes, can lend an authentic and earthy quality to the artwork.
Stamped wildflowers (Darkroom Door) appear on each page of Lynne Moncrieff's journal. She created variation by stamping some wildflowers onto pieces of stained book text or shipping tags, while others were stamped directly onto the journal page. Such steps bring interest to the journal overall and maximize the use of each rubber stamp. See how Lynne created her wildflower journal in detail in Art Journaling Winter 2021.
Getting Started: Setting Up Your Art Journal
Now that you've had some ideas for your next art journal – let's prepare the foundation for your creativity.
Choosing the Right Journal
Select a journal that resonates with you. Consider factors like paper quality, size, and binding. Whether it's a traditional sketchbook, a handmade journal, or a repurposed notebook, your choice should reflect your style and artistic preferences.
Gathering Essential Supplies
Gather necessary art supplies, including pencils, pens, markers, watercolors, acrylics, and collage materials. Experiment with different mediums to discover which ones best convey your artistic vision. Don't forget to diversify your techniques with brushes, sponges, and palette knives.
Creating a Ritual
Establish a creative ritual or routine to help you get into the flow of art journaling. Whether dedicating a specific time each day or setting up a cozy corner with your favorite beverages, creating a conducive environment can inspire and enhance your creative process.
Related: 30 Art Journaling Tips From Mixed-Media Artists
Art Journaling Prompts for Self-Exploration
When staring at a blank journal page, sometimes we need a little help moving past "square one." Here are some art journaling prompts to help you get started.
Emotions in Colors
Explore the power of colors to convey emotions. Pick a color palette that reflects your current emotional state and use it to create abstract patterns or shapes. Then, let the colors flow freely.
Visualize Your Aspirations
Transform your dreams into vivid representations. Use mixed-media to depict your aspirations and create a visual storyboard. Add motivational quotes or affirmations to amplify the impact of your visual storytelling.
Collage Your Memories
Collect keepsakes that hold sentimental value and incorporate them into your art journal. Blend photographs, ticket stubs, postcards, and other memorabilia with illustrations and writings.
Mindful Doodles
Engage in mindful doodling to channel your thoughts and emotions onto the paper. Let your hand move freely, allowing the pen to create intricate patterns, shapes, and lines that reflect your innermost musings.
Related: 35 Inspiring Books To Supercharge Your Creative Practice
Mixed-Media Techniques to Try
Layering Techniques
Experiment with layering different mediums, such as watercolors, acrylics, and pastels, to add depth and dimension to your artwork. Build layers gradually, allowing each medium to interact and complement each other for a multidimensional effect.
Textures and Collage
Incorporate textured elements like fabric, tissue paper, or natural materials to add tactile dimensions to your journal pages. Combine these textures with collage elements to create visually captivating surfaces that evoke a sensory experience.
Mono-printing and Stenciling
Explore mono-printing techniques to create unique and expressive textures on your journal pages. Use stencils to add intricate designs and patterns. Also, experiment with various materials such as leaves, feathers, and lace to create imprints and textures.
By now, we hope you have a better idea of how your next journal will take shape. If you seek more inspiration and guidance, check out our Art Journaling magazine. Peek inside, and you'll find 144 pages filled with detailed photography of art journals, insightful articles, and innovative techniques you'll want to try for yourself. Click here.
You Might Also Like...