Art Journaling magazine always contains a wealth of advice from the artists who generously share their work within its pages. From practical tips to inspiring ideas and even motivational messages, these pieces of advice can help you choose art supplies, break through creative blocks, and so much more. Read on to benefit from a wide array of helpful tips from the artists of Art Journaling.
30 Tips From the Artists of Art Journaling
Practical Art Journaling Tips
1. If a page gets too cluttered or chaotic, use a plastic card to scrape a neutral color over most of the page, letting just little bits of the colors below show through. — Monica Yother
2. Art sprays often clog. With most, soaking the nozzle and tube in very warm water can break up the blockage; however, that is not always the case. When an art spray clogs, I unscrew the top and use it for dripping and splattering the medium instead. — Narah Kimberly Minardi
3. Never use gel medium with a wet paintbrush to glue paper together. Using a dry brush will save you the headache of air bubbles and warped paper. — Carrie Todd
4. Masking tape may seem boring on the surface, but it's great for adding subtle texture and takes paint well. — Kim Collister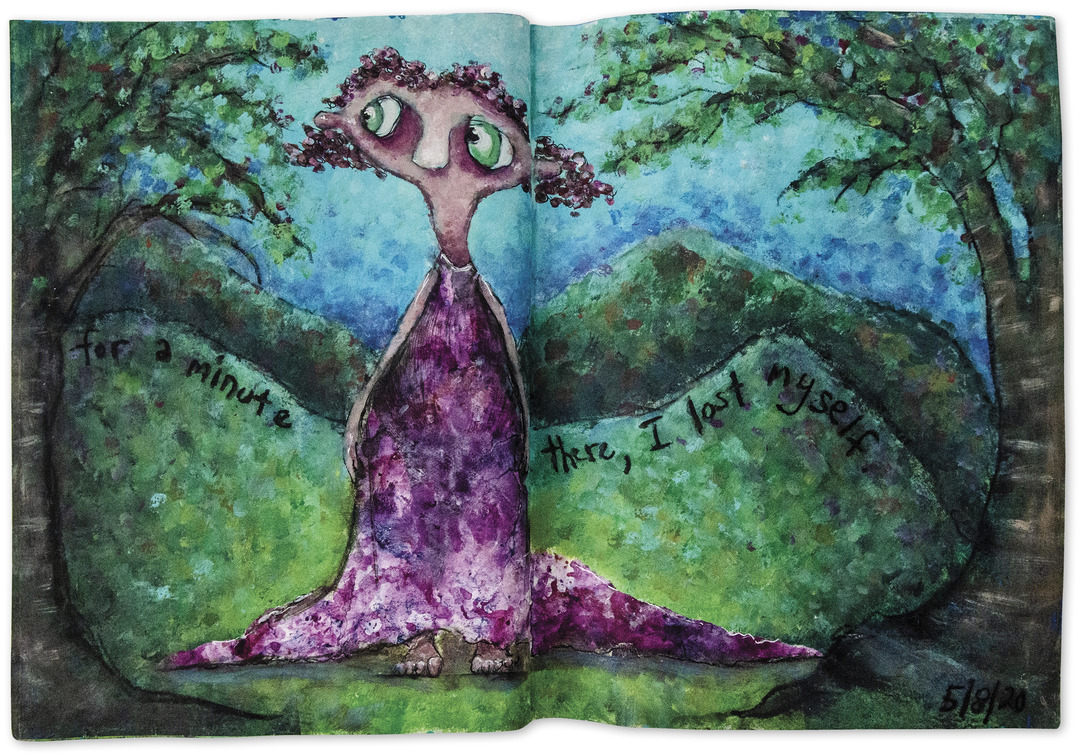 5. Pre-paint the journal (at least two or three pages) so you don't get over-paint on your finished pages. — Leslie Wood
6. To successfully use fragile old papers as the pages in your art journal without having them disintegrate, first apply them to a stronger substrate using a decoupage medium, and then create your pages. Seal the tops of the papers with more decoupage medium. — Elizabeth Tichvon
7. I like to outline my focal points with a black Posca fine-liner to make them stand out from the page, and I add white highlights with a white Signo gel pen. Be sure everything is dry before doing this, or you will wreck your precious pens. I usually try to wait overnight. — Lisa Thill
8. Collect fallen leaves and tuck them inside a journal/book to press them for future use in your art. — Lynne Moncrieff
9. If you have a book full of images that are precious to you, scan them so you can keep the originals safe and sound in the book. You can then resize, print, and use the images as many times as you like. — Dianne Fago
10. Use deli paper to lift off extra paint from your substrate so it can later be used as collage material. — Diana Hernandez
Inspiring Art Journaling Tips
11. Take lots of photographs, and print even the most random of them (I took photographs of pink suitcases in an antique shop, an ugly couch discarded on the side of the road, and even leftover confetti on a sidewalk). Print the photographs on printer paper so you can be creative with techniques, like ripping. — Amber Walker
12. Try limiting your supplies. Choose only five things and see what you can create with them. Sometimes limiting what you have can help reduce indecisiveness. — Lisa Goddard
13. If you want to incorporate used tea bags, let them dry before trying to empty them, as this makes it much easier. — Lulu Laberlue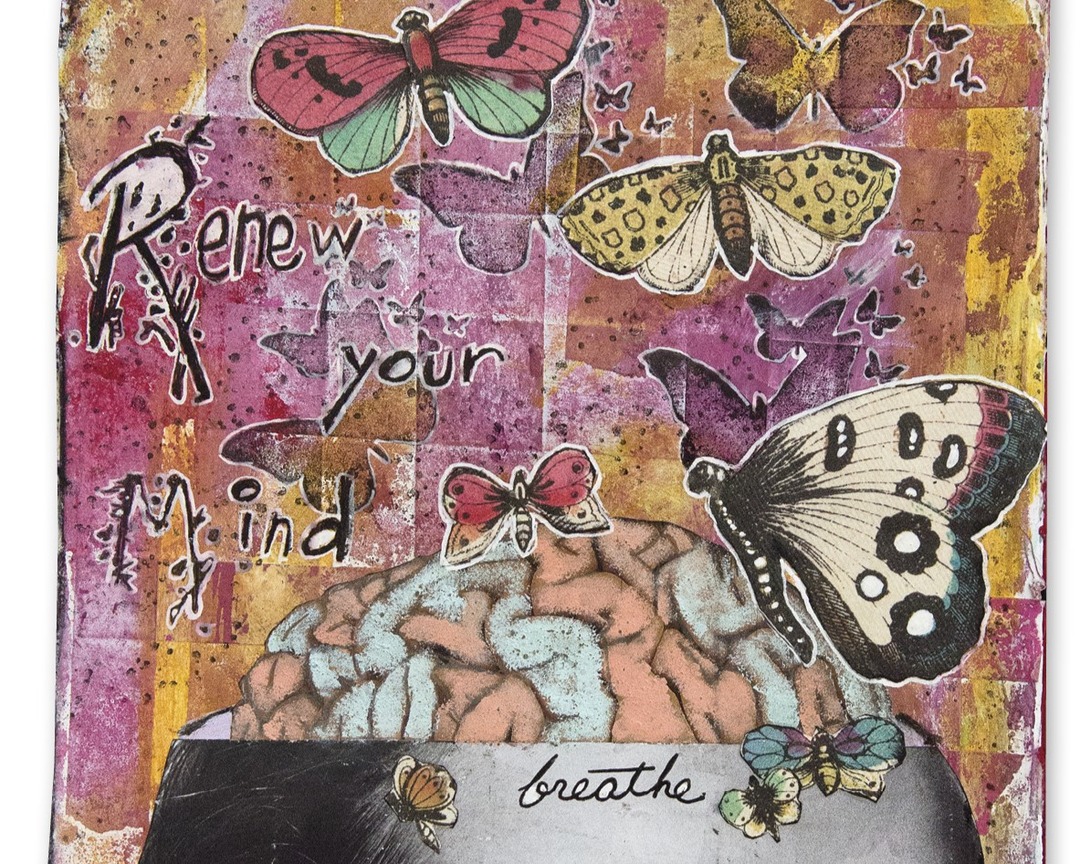 14. An easy way to choose a successful color scheme is to pick paint colors from a printed napkin or patterned paper. Stick with those colors throughout your spread, only adding black and white as accents. — Karen Campbell
15. Find a sketchbook that will fit in your pocket or purse so you can pull it out while waiting in line, having coffee, or doing any other activity. — Lydia Velarde
16. Start a journal of color ideas so you don't always use the same go-to colors. Glue in colors cut from architectural, design, fashion, and food magazines. Look for three or four different colors or shades that go well together. — Carol A. More
17. Draw or collect maps to add to your art journal. These can be used as is or as a backdrop for collage. If the colors are too bright, tone them down by applying a thin, watered-down layer of white gesso; this will give the page tooth and texture to paint on but still enable the image to show through. — Jacqueline Newbold
18. Size and shape do matter. If you are having trouble finishing all the pages in your art journals, try using a different size or shape of the journal; this can really affect how you add content inside. — Cathy Bluteau
19. Dimensional fabric paint is great for adding texture and it comes in several colors. They can take several hours to dry, so preplan if you plan to use them. — Marie Aguiar Kisok
20. Uniball Signo pens flow nicely and have an opaque look to them. Use them for drawing details or writing. They do take a few minutes to dry, so watch out for smudging! — Nicole Warrington
Motivational Art Journaling Tips
21. Don't be afraid to leave a work unfinished, living with it awhile and feeling it out; or, push a piece further than you usually do to see what happens with those extra layers. These exercises will teach you loads about when a piece feels done and what's important to your aesthetic. — Melanie Pearson
22. Get inky, painty, and messy, and just go for it — even when you don't know what you are going for! — Michelle Sanders
23. Using quotes in my art journal helped lift me on the darkest days. Search for quotes based on how you are feeling on that particular day of journaling. — Nadine DeRose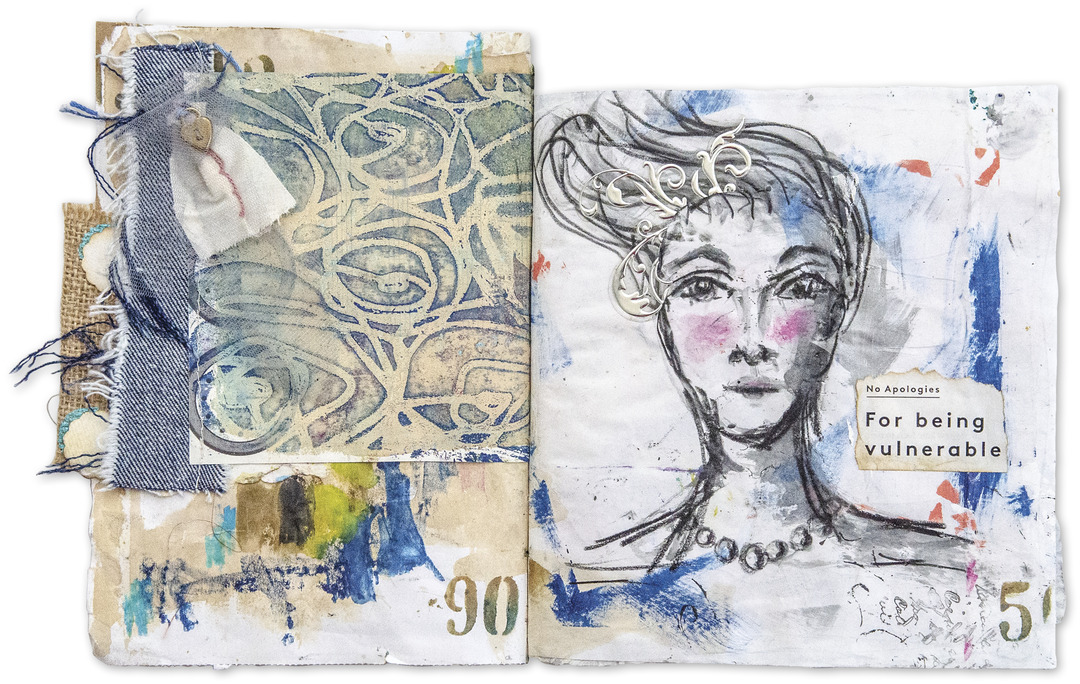 24. In order to have tons of fun art journaling, you need lots of bits and bobs. Become a gatherer — scour thrift stores and yard sales. Use your imagination when you see an old lace tablecloth or a bedazzled pillow cover. Simple things like sepia-colored textbooks, maps, old letters, and oddly textured papers can become treasures. — Ann Gajowski
25. Go through your old supplies and organize them for inspiration. You will be surprised how often this can spark your creative flame. — Leaca Young
26. I think it's important to take a class or two throughout the year. I try and focus on classes that are taught by artists whose work I am attracted to. I find I almost always discover something new during class to explore more in-depth. It's a great way to stay fresh and re-energized. — Nina Fickett
27. Don't be afraid to mix paints. Acrylic and watercolor can and do coexist happily. — Kristi Nazzaro
28. Trust that you cannot make a mistake and that there are no rules in art journaling; if you follow this practice, you will grow an image vocabulary with your psyche, and as those images reappear in your life, you will know you are on the right track. — Caterina Giglio
29. I close my book once I feel the entry is complete. I reopen it to understand it only after a minimum of one day has passed. If I look at it prematurely, I act critically and struggle to see what is presenting itself. — Robyn Thayer
30. Consciously claiming time for your creative practice is a big part of self-care. It can be hard to insist on that time, but it's important to make yourself a priority and help others understand that you're not going to short-change yourself. My family has learned to respect my need to break away to reset and recharge, and I hope they will adopt the same respect for their own self-care. — Nicole Sinay Torres
If you find these pieces of advice helpful, check out our Art Journaling magazine. Peek inside, and you'll find 144 pages filled with detailed photography, insightful articles, and innovative techniques you'll want to try in your own art journal.
You might also like ...