Brush off your paintbrushes and get ready to take a Somerset Workshop from the comfort of your very own home! Today, we're sharing a step-by-step tutorial by Junelle Jacobsen from her, "Whimsical Mixings of All Mediums" installment.
Do you get all silly at the antique fairs, too? I love the wonderful collections of history and treasures found at those fairs. I always have a few favorites to look for – one being really old blue Ball mason jars.
This project began with simple sketches – a mix of large and small jars, some with flowers and labels added, and some lined up on a pantry shelf; I ultimately decided to go with a mix of all of them. Using book paper and pretty colored lids, I decided how I wanted the canvases to look. I love the way book paper looks, and will probably go back to my original idea in another piece; but being in a painterly mood, I pushed on to create a couple canvases full of messy layers.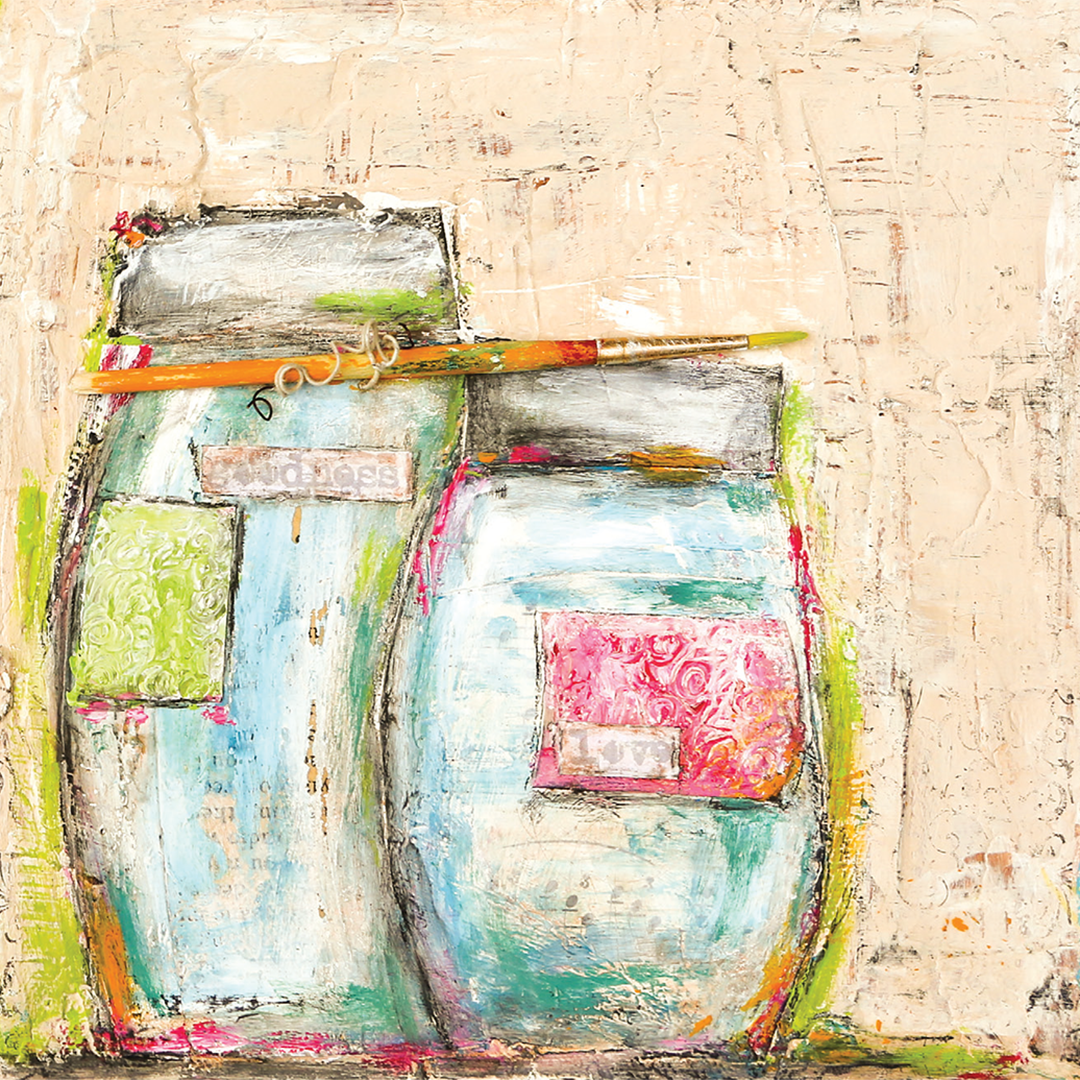 Finishing the project, I realized I was nurturing the idea of having all of these vessels of goodness, mercy and hope in my heart. I loved the idea of not seeing if they were empty or full so I could question my heart when I saw them. The two canvases are interesting when displayed on a shelf for others to see and experience as well.
Regardless of the original starting point, our art reflects so much of our daily experience, what we are thinking of, and hopes for what lies ahead.
STEP-BY-STEP INSTRUCTIONS:
| | |
| --- | --- |
| 1. Use your sketchbook to inspire a new look at your creative passions. Sketch something simple and meaningful that you love. | 2. Cut out simple shapes from a variety of papers, including book pages and assorted paper scraps. |
| 3. Arrange the papers onto two separate canvases. Decide the size of composition and make adjustments by cutting down paper or adding layers. | 4. Decoupage the papers onto the plain canvases. |
| | |
| --- | --- |
| 5. Mix gesso with light modeling paste and apply to each canvas with a palette knife or plastic card. Use your fingers to work around the jars; this will leave the canvas with a plaster look and feel; let dry completely. | 6. Apply a thin layer of brown ink or watered-down paint to the background. Allow the paint to seep into the cracks; let dry. |
| 7. Create a mixture of cream and white paint, and then apply to the canvas with a palette knife or plastic card. | 8. Apply layers of blue paint to the jars with your fingers in a variety of shades to add texture and depth. |
| | |
| --- | --- |
| 9. Apply two layers of gray paint onto the lids. | 10. Create labels from patterned paper, and adhere with decoupage medium. |
| 11. Add a light layer of light modeling paste mixed with paint onto the label. Add textured circles using a skewer. | 12. Add definition to the edges that were lost under the paint with a brown artist crayon. Smudge with a liner brush. |
| | |
| --- | --- |
| 13. Add more definition with a Stabilo pencil. | 14. Soften the lines with your fingers. |
| 15. Add bits of pink paint with your fingertip. | 16. Apply green paint with an angled paintbrush. |
| | |
| --- | --- |
| 17. Add simple, sweet words and small heart elements. I chose, "abundance," "joy," "peace," "mercy," "goodness," and "love." | 18. Soften the white paper with brown/gray artist crayons and water; let dry. |
| 19. Highlight the jars with a white pastel stick. | 20. Break the ends off a couple of old paint brushes, and sand. |

21. Poke a hole into one of the lids with a straight pin, pushing through the layers of paper.





22. Thread a thin piece of wire through the poked holes.





23. Tightly twist the wire to fasten the paintbrushes onto the canvas. Leave curls of wire on top.



TOOLS & MATERIALS:
Acrylic paint: assorted colors
Artist crayons: brown/gray (Caran d'Ache - Neo-color II)
Canvases: 8"x 8" & 8"x10" (2)
Chalk pastel: white
Colored marking pencil: black (Stabilo)
Decoupage medium: matte
Gesso
Light modeling paste
Paintbrushes: old, small (2)
Paper scraps: assorted
Sandpaper
Scissors
Sketchbook & pencil
Stain: thin brown paint/ink
Straight pin
Texture tools: palette knife, plastic card, punchinella
Vintage book pages
Wire: thin
Wooden Skewer
Work strips
We hope you enjoyed this detailed tutorial! For even more inspiration, we recommend these Mixed-Media Magazines to help get those creative juices flowing.