Tree Book Project with Hand-Carved Stamps by Guest Artist Lynne Moncrieff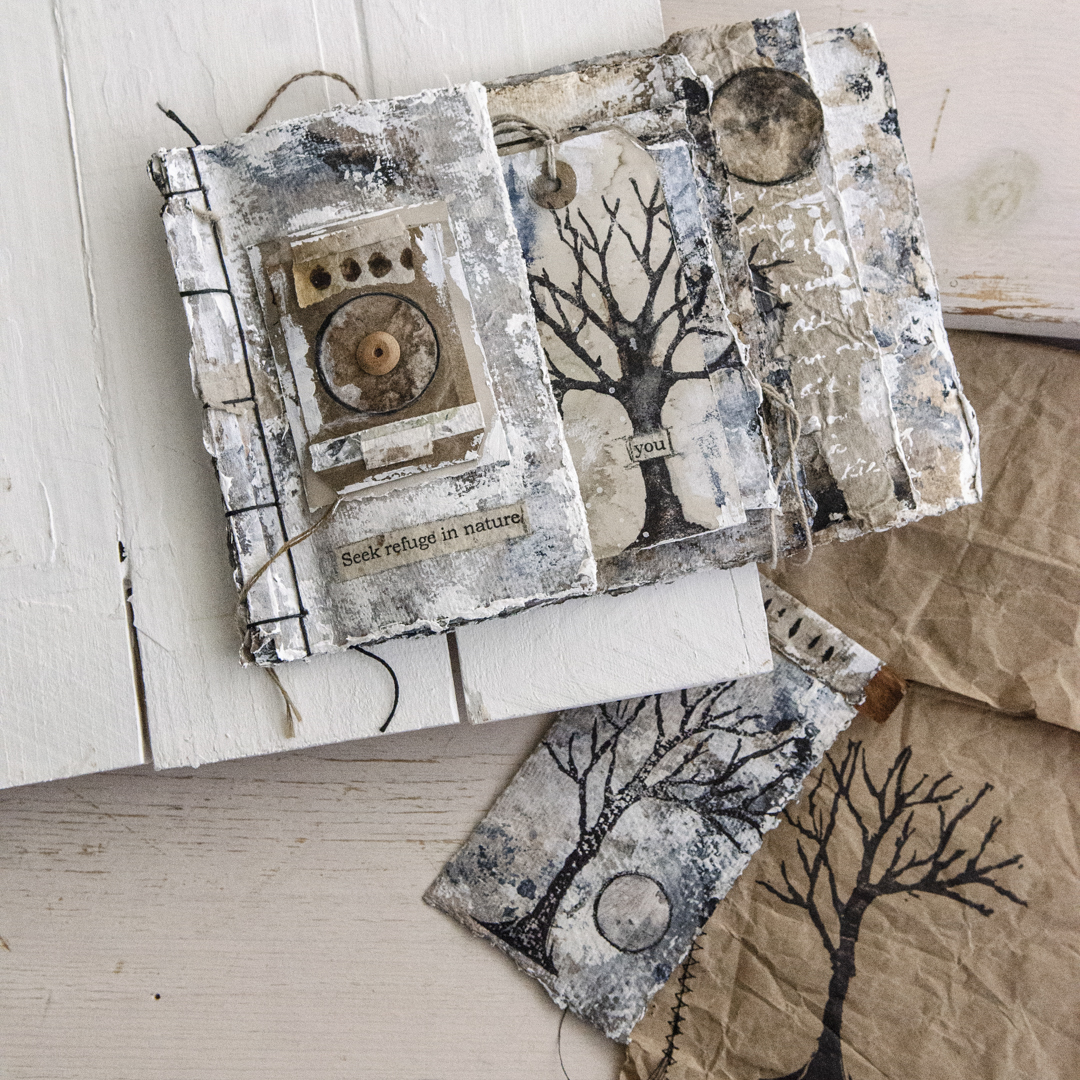 We are thrilled to invite talented artist and frequent Stampington contributor, Lynne Moncrieff to the blog today! She is sharing a beautiful stamping project along with instructions on how to make your own version. Welcome, Lynne!
Towards end of 2019, I set myself a project to hand-carve a collection of trees. I enjoyed the process so much, I carved 9 trees but for this book, I worked with three of the original hand-carved trees also working with my words/phrases from the That's Crafty The Language of Trees stamp sets.
This is a book reflective of the relationship between ourselves and nature and what we can learn from nature. Whether living in an urban setting or deep within the countryside, nature has so much to teach us.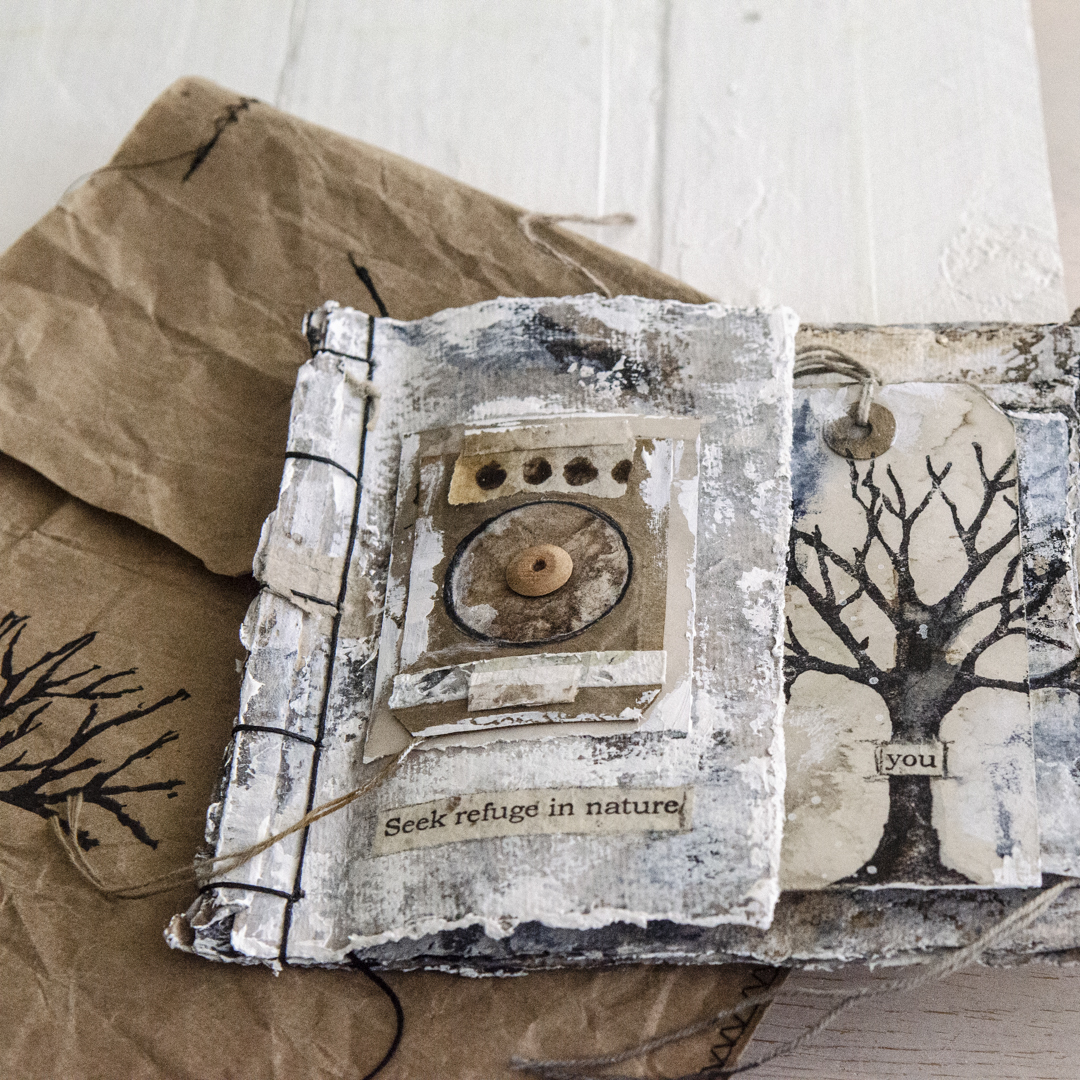 This book, in many ways, represents a stroll through a woodland, with hints of blue/grey representing the sky and circles appearing throughout which could hint towards the sun or moon. Wee clusters of stained papers are a nod towards the uneven ground and mark making hinting at rainfall. The stamped trees are inked up in their entirety but also in areas, only inking up branches to stamp onto used teabags/stained tags, etc. The journaling with Fluid Titanium White in fineliner applicator bottle, are my free-flowing thoughts on nature, my relationship with nature.
From the media application and use of heavy body acrylics, the rusted elements, fragments of papers and textiles and the actual binding, I wanted this book to be textural both by touch and visually. The staggered pages allowed me to further enhance this aspect, showing a wee peek at the next page with the Japanese Stab binding technique allowing me to work with individual pages in this way.

Materials:
Cotton Rag Paper (Khadi)
Gesso Clear and White (Liquitex)
Matte Gel Medium (Jacksons Art Supplies)
Pearl Inks: Tree Bark, Black (That's Crafty!)
Heavy Body Titanium White
Paynes Grey Acrylic
Fluid Titanium White Acrylic Translucent Raw Umber (Golden)
White, Black Satin Acrylic (Sennelier)
A4 Circles Stencil (That's Crafty!)
Black Watersoluble Pencil (Stabilo)
Jet Black Ink (Archival)
Fineliner Bottle
Eco dyed shipping tags, teabags, etc.
Rusty Washers
Walnut Ink Crystals (That's Crafty!)
Unperforated Teabag Paper (That's Crafty!)
Liquid Acrylic Wax (That's Crafty!)
Black Wax Thread
Wooden Button
Hand-carved tree stamps - The Language of Trees Stamp Sets 1 & 2 (That's Crafty)
Process: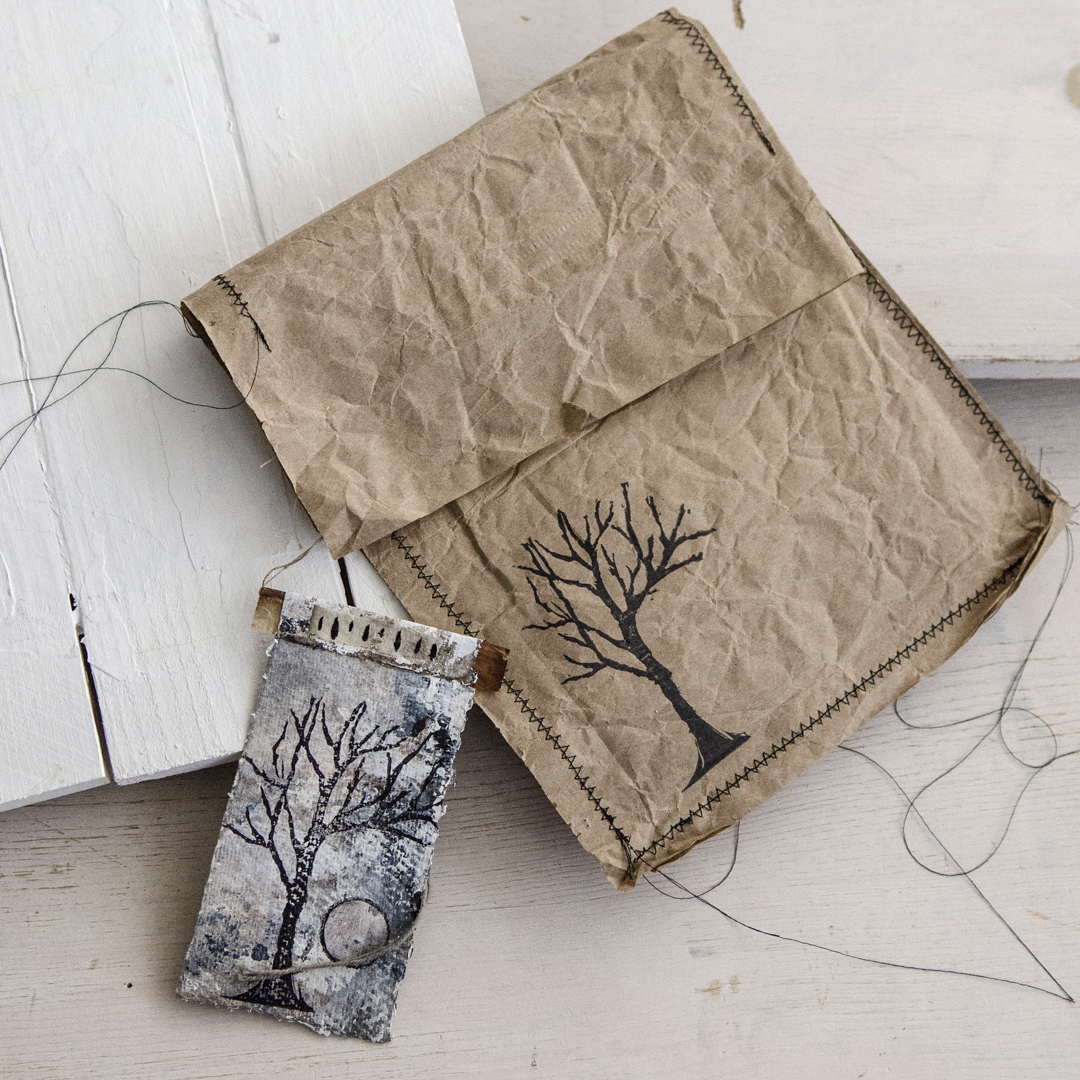 Seven pieces of cotton rag paper, in varying sizes. White Gesso applied randomly to both sides of each panel followed by walnut ink sprayed, allowing to drip. Once dry, applied with fingers and palette knife white and black acrylics, creating texture when applying. Before paint is completely dry, spraying more walnut ink and blending Paynes Grey. Layers continued to be built in this manner with addition of heavy body acrylics.
Once dry, with Fluid Acrylic Titanium White in Fineliner bottle, journaling added to both sides of five panels and only to front side of final panel, no journaling added to smaller cover panel. Staining unperforated teabag paper with walnut ink, Black Pearl Ink. Once dry, stencilling various sized circles with Stabilo pencil, before cutting out, applying Liquid Acrylic Wax to circles.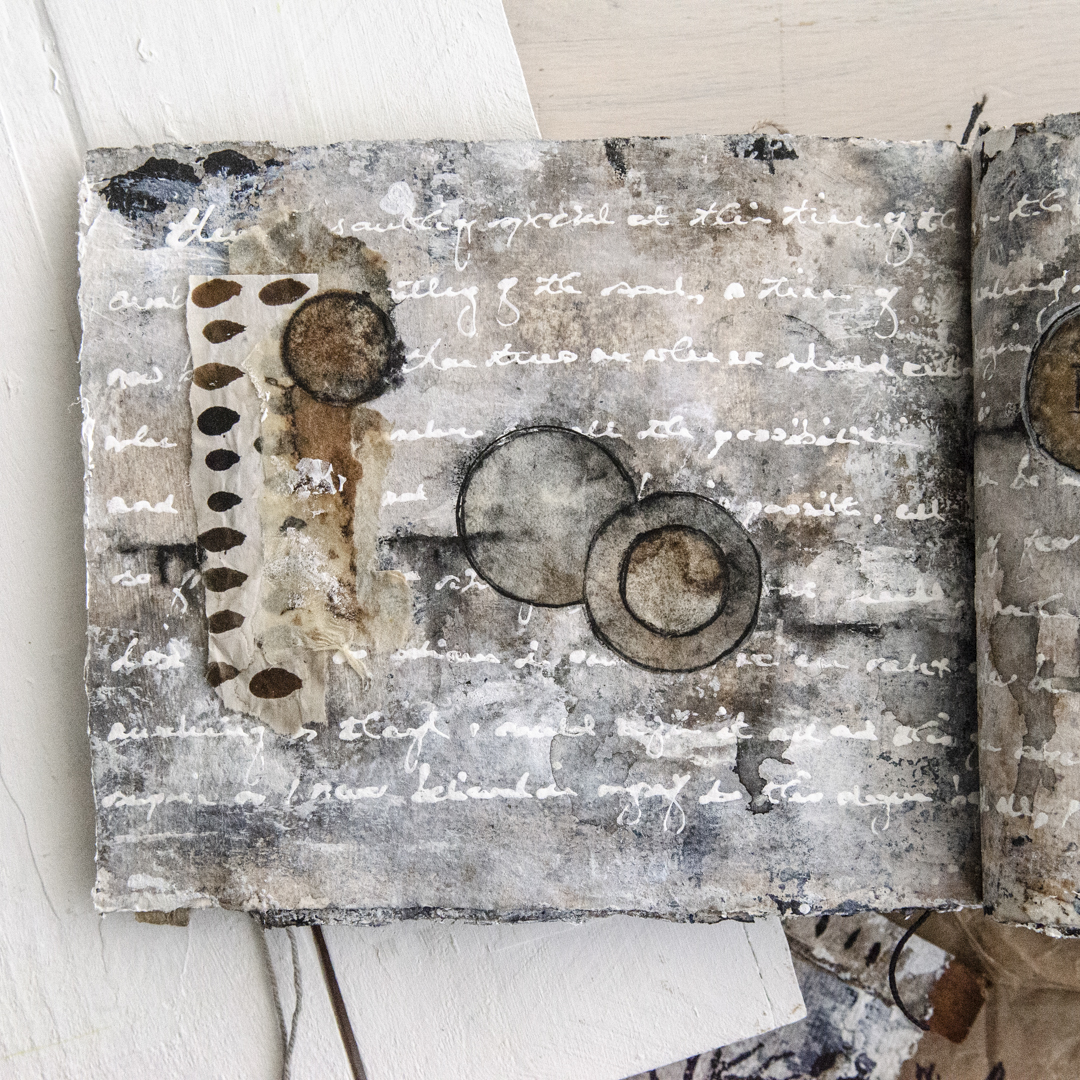 Once dry, smudging Heavy Body Titanium White. Circles stenciled onto pages with Stabilo pencil, misting with water to blend pencil marks. Placing stamped words or smaller circles of prepared teabag paper into stenciled circles for variation.
Onto cover, create small collage of layered papers, with wooden button detail and stamped words. Create staggered book with various sized prepared pages. Pages feature carved trees stamped onto stained tags or round teabags (with contents disposed of). From front to rear cover are stamped words from my stamp sets. Stamped onto scraps of handmade paper, flowing throughout the book, creating interest with placement of a words on stamped tree trunk or inside stenciled circle.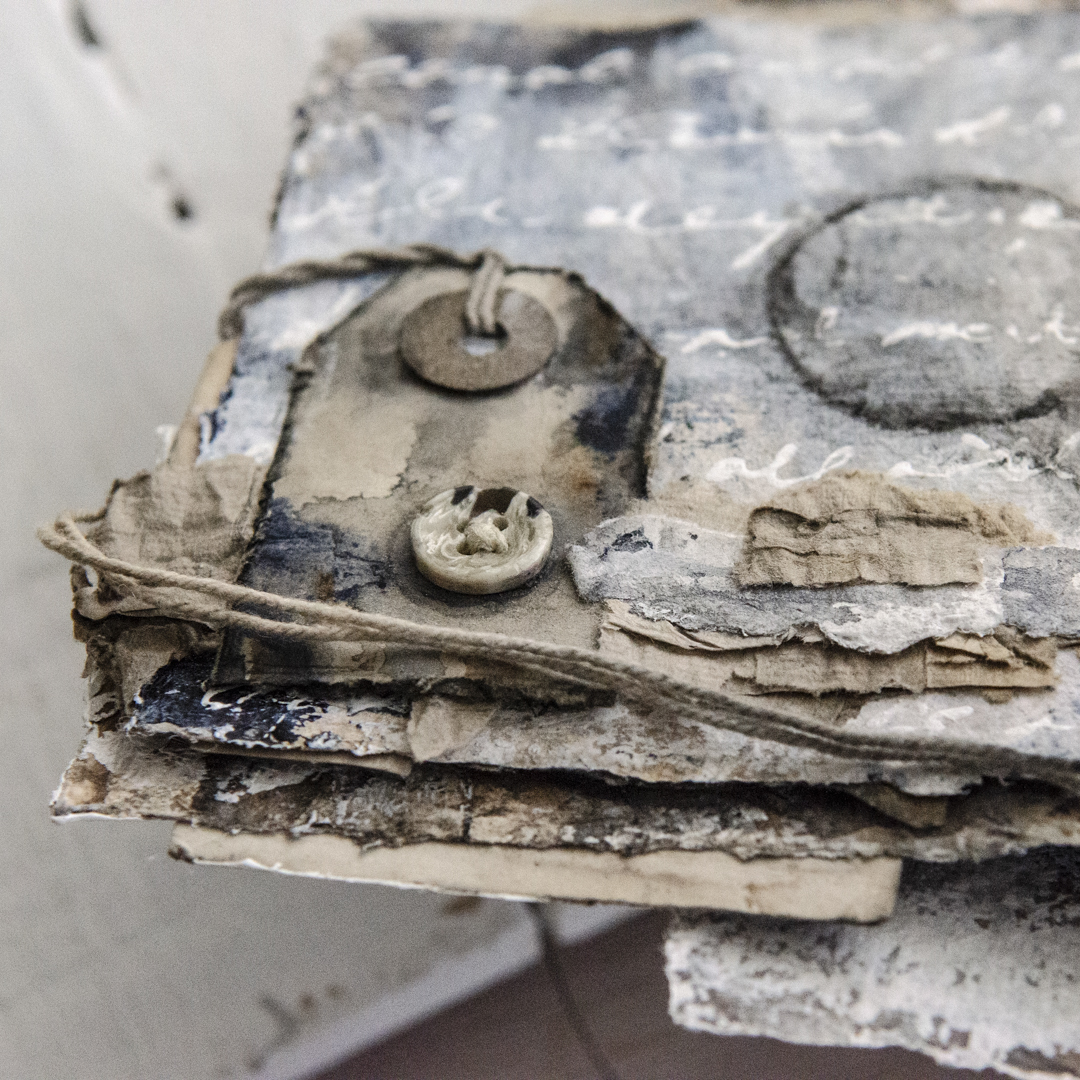 Marks also appear throughout, either Pearl Inks or black fineliner pen or Stabilo pencil. Scraps of previously eco-dyed papers, harmonious to color palette of blue/grey, rusty brown, black and white were added to bring texture to the book along with rusty washers which bring more circles to this book.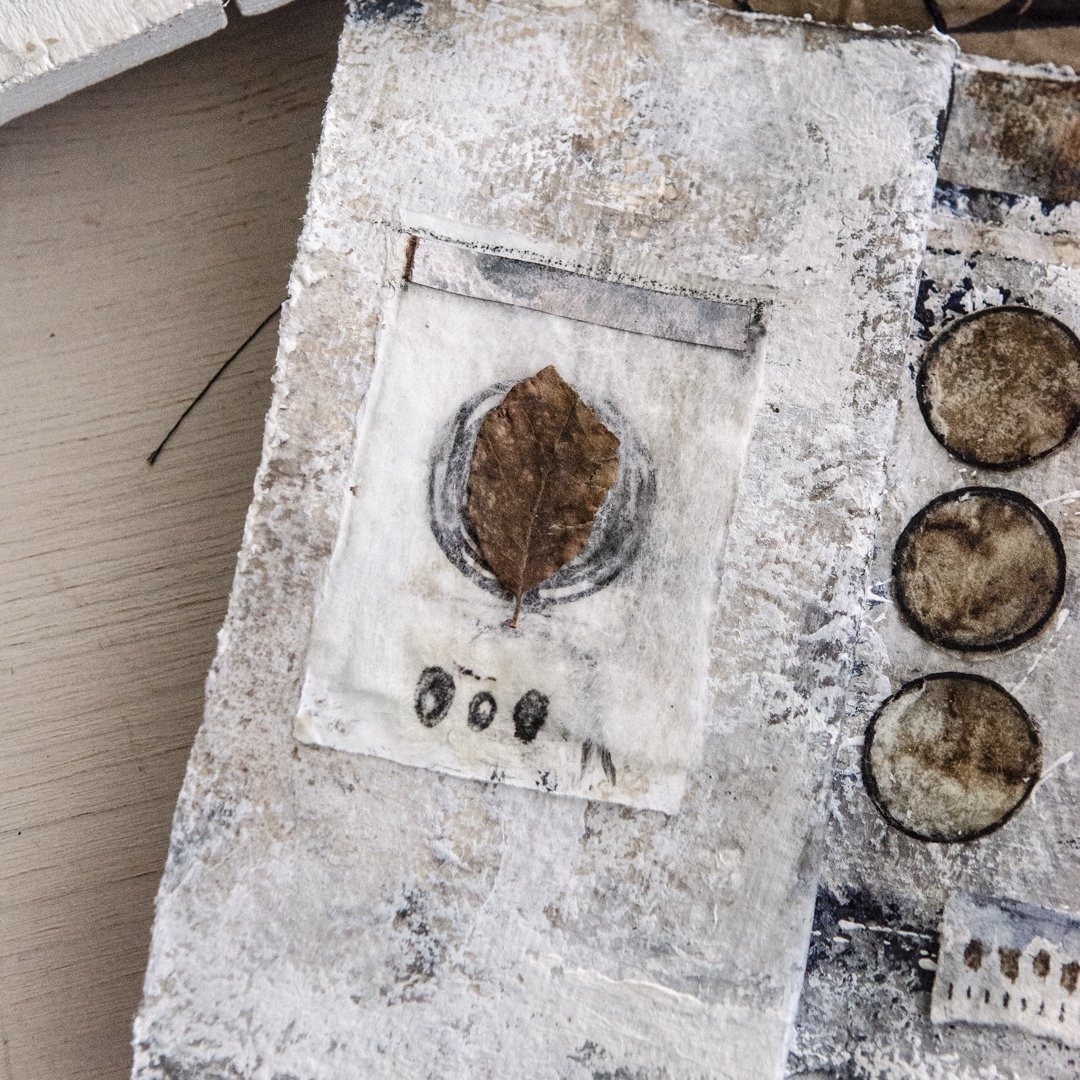 Japanese Stab Binding with black, wax thread, accommodated the loose pages, staggered to show peeks of the pages still to be turned.
Seek refuge in nature
As nature will nurture you
Let the wind catch your breath
As you bend and sway
In the gateway to contentment
Silence, wisdom, serenity,
Find yourself amongst the trees
We are sisters of the earth
Lynne Moncrieff lives in Scotland, creating stamped art and beyond and relishing this creative life including designing stamps for That's Crafty! Lynne welcomes visitors to her blog: lynnesbowsandbelles.wordpress.com. You can also find her on Facebook at: facebook.com/lynne.moncrieff and Instagram at: instagram.com/stampingandbeyond