Bubbles of Beauty Project by Guest Artist, Margriet van Schaik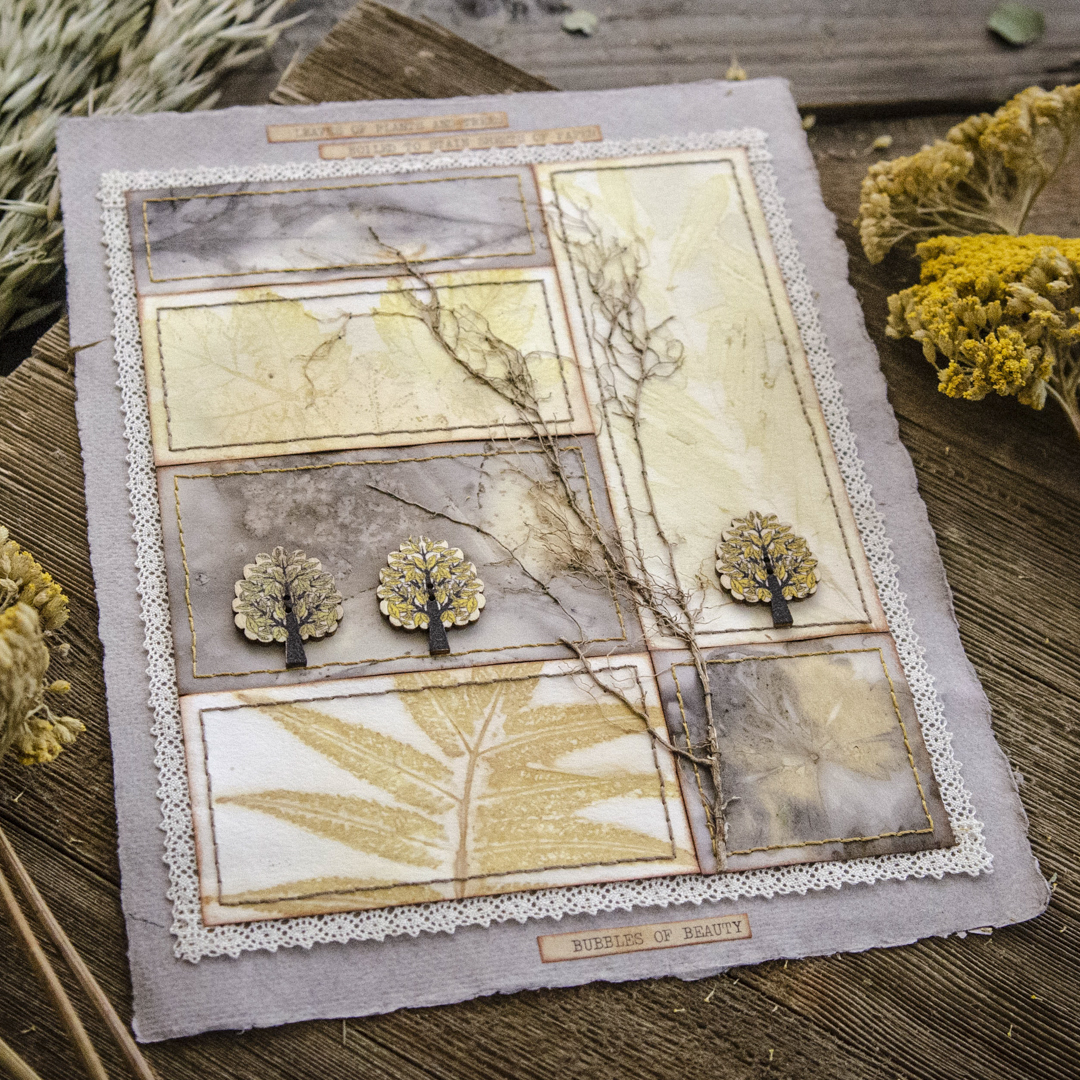 We are pleased to welcome artist, Margriet van Schaik to the blog today! She is sharing an inspiring mixed-media piece and discussing how she created it. Welcome Margriet!
Creating compositions is what I like to do. Using different coloring techniques, adding components such as photographs, finds from nature, and then playing around until there is a creation that makes you smile or trigger an emotion.
We recently moved to a house that belonged to an old couple and needed extensive renovation. Even though we had great help, we spent quite a lot of time and energy to clear and renovate the house. All my art supplies were of course stored away. Unpacking my supplies was really nice and also provided an opportunity to reorganize all items and so I got to see again all my treasured handmade papers. But, still being busy renovating and trying to organize the garden, I lacked the energy and could not find the inspiration.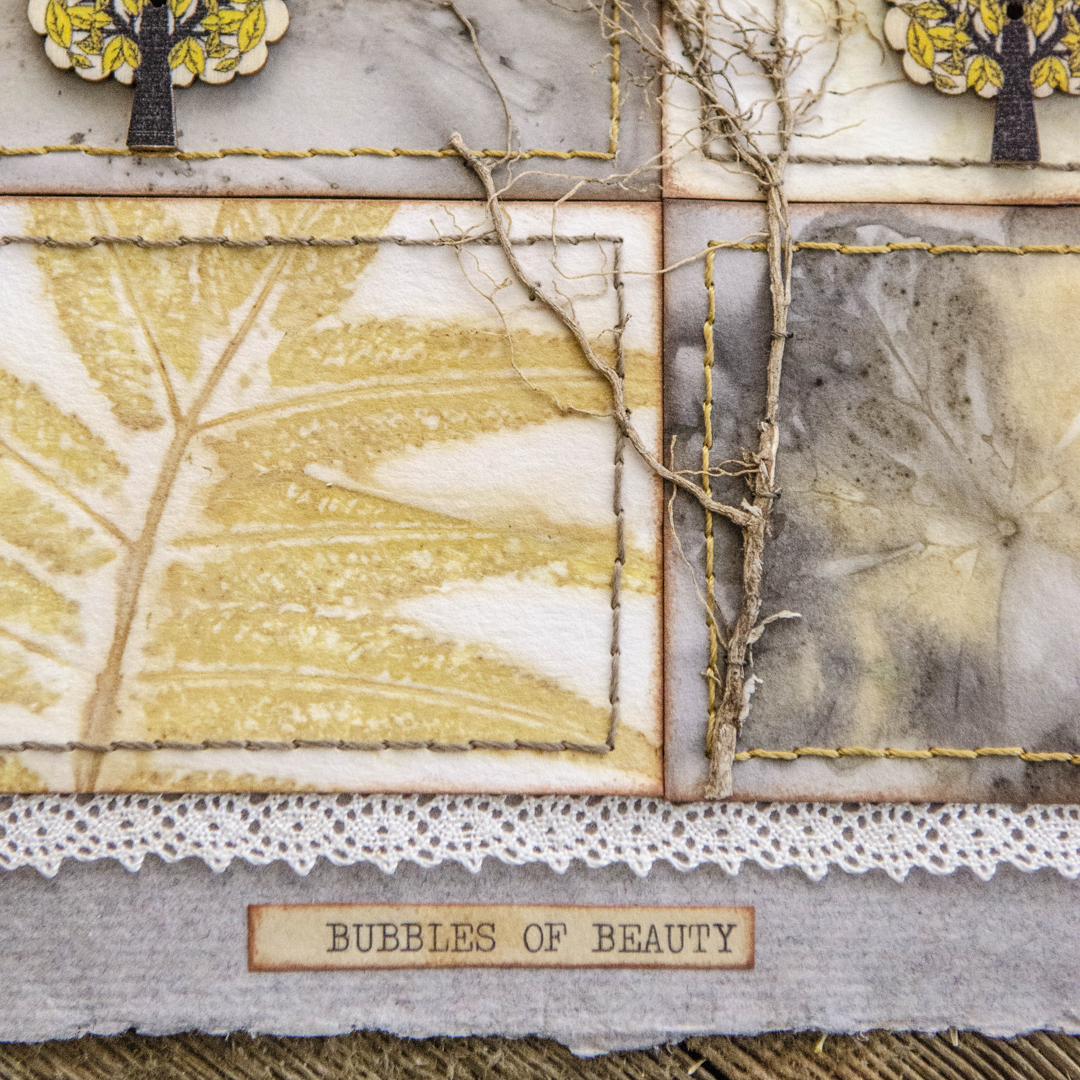 Then I noticed in an issue of the Somerset Studio the upcoming theme "cut & paste." I pondered about those words and the eco-dyed leaf papers I made earlier came into my mind. I had made a bunch of cards with these papers, however, I could cut and combine several papers to create a whole new paper. Once that idea settled in, the energy started to flow. I started to cut pieces from the eco-dyed leaf prints. Prints with and without rusty elements added to the water.
When I was happy with the combination of prints, I hand-stitched each piece with yarn to frame the leaves. Then I glued the pieces to a sheet of paper. Now I had to think of a way to pull all those pieces together. In our new garden, I had found and saved some beautiful twigs, bark and, while digging out a dry bush, some gorgeous roots. One of those roots could connect all the leaf prints. While sewing the root to the paper I thought of the wooden buttons I once bought at a curiosity market on a holiday. I did not need them at that time but found them very attractive. The tree-like buttons were made for this project.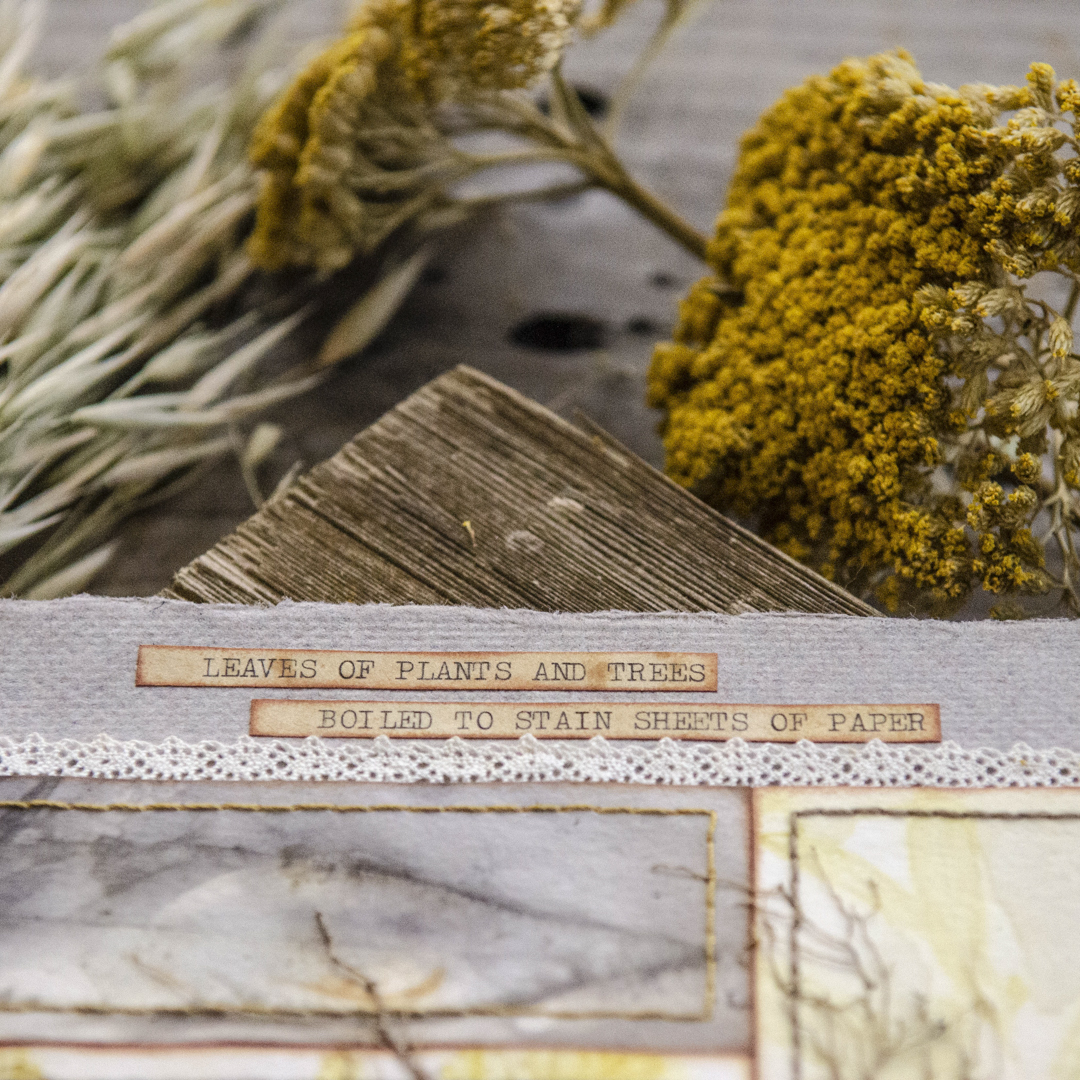 Next, I looked for a sturdy background paper and choose a piece of 'Zaansch bord'. This paper is handmade from cotton rags by a Dutch Mill called De Schoolmeester. I thought this kind of paper made a good combination, however, I was not happy how the leaf pieces stood out from the background. So, I framed it with a lace border and then adhered it to the Mill paper.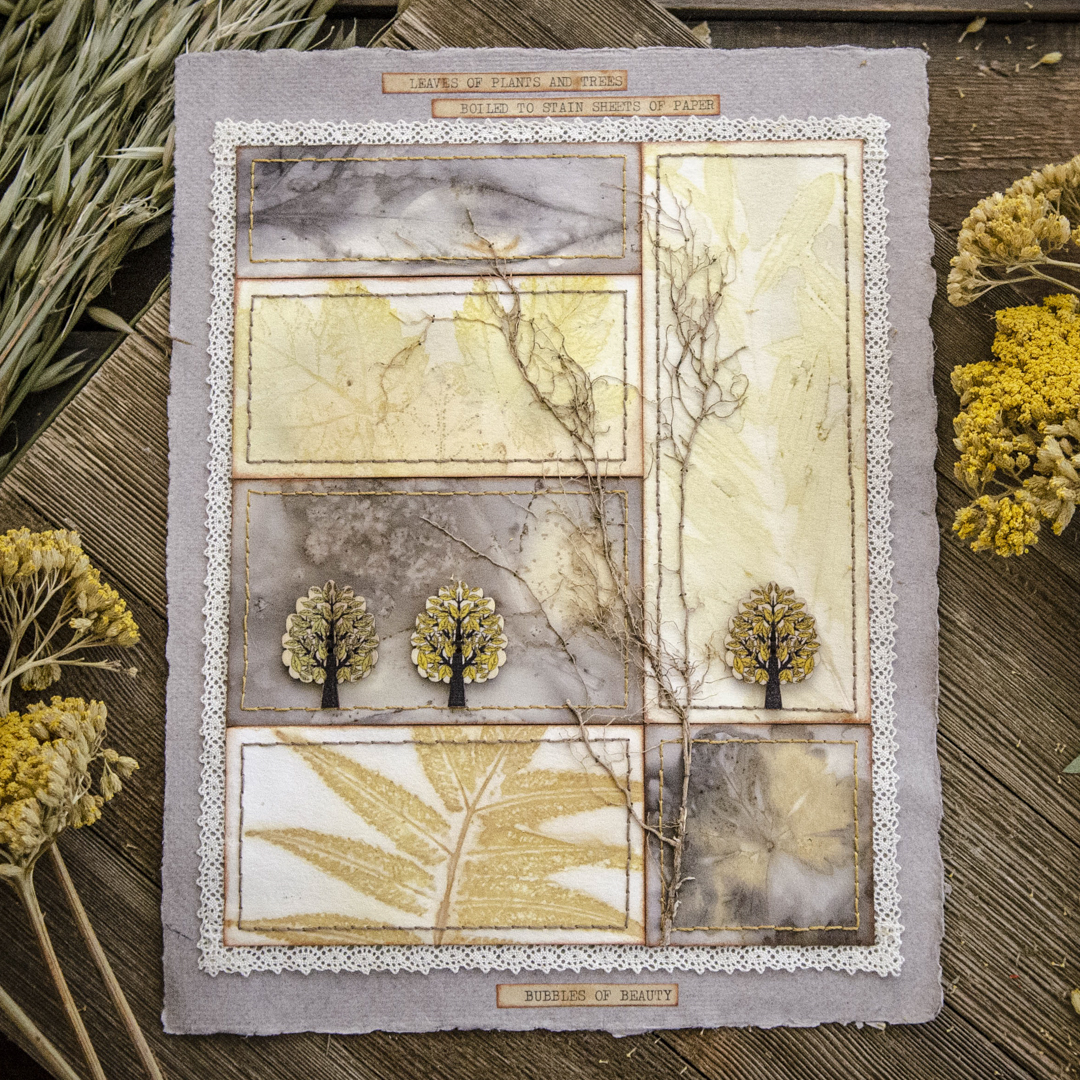 The last thing I had to think of was a title. Because the artwork developed like a story, I thought of the very short stories I like to read, a haiku. I searched for an existing haiku about leaves, but could not find one that fit my artwork. So, I tried one to make myself. The first two sentences came quite easily as they tell about the process. After a while, I found the last one. I love how three words express your feelings about what you want to create: Bubbles of beauty, it makes you smile and it makes you happy.
Margriet invites you to reach her at: margrietvs@icloud.com