Artful Thanks: A Gift Box of Gifting Supplies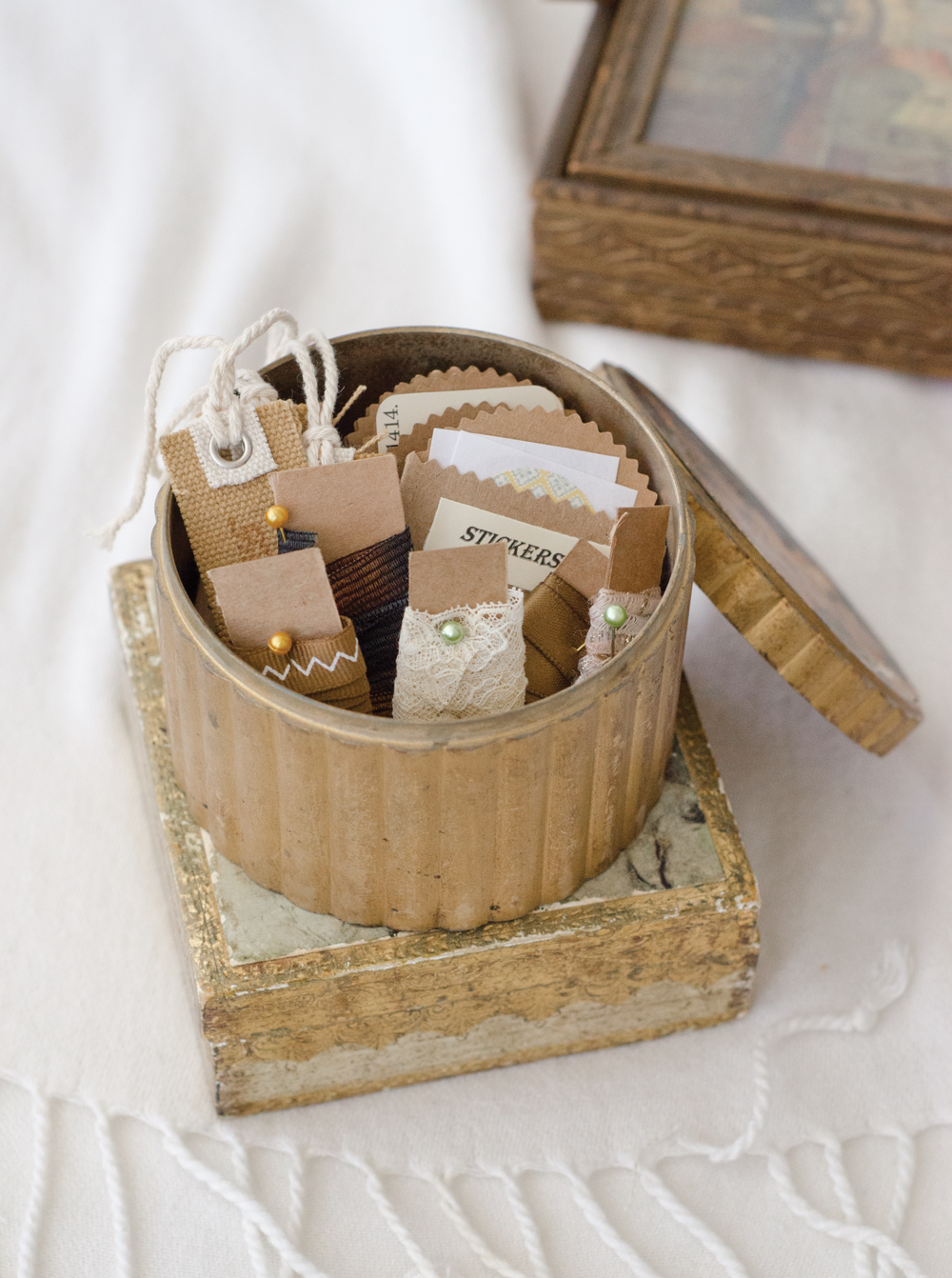 This project was originally published in A Somerset Life Summer 2016
Oftentimes friends or family help us out in such extraordinary ways that sending a card or flowers is not quite enough to show our appreciation. I'm talking about the "watered your potted plants and tended to your chickens and dogs for two weeks while you were on a European vacation" type of thanks. Yes, my friend did all of this and picked up my mail everyday as well! The potted plants on my porch and patio looked great when we got home, and our animals were fine too. In appreciation of all her work, I created and gave her an Italian-style wooden box filled with supplies for making cards that she could use to express her own appreciation for others. She really loved it, and I've even received thank you cards she created by using the kit. It's all about spreading "thanks" like confetti!
Technique
Round Italian Box
Create a template of a round thank you card. Cut out circles that are the same size as the chipboard piece, adhere one on the back with a lace cross, and stamp sentiment. Adhere one of the vintage stamps onto several layers of coordinating paper, attach it to a printed tag, and tie it to the covered chipboard circle.. Add extra chipboard pieces in the bottom of the box that can be used to make additional cards. Stamp the fabric tags with "To" and "From to use for future gift-giving. Place the various scrapbooking supplies and vintage stamps in a mini-envelope and label each one with its content. Wrap ribbon around pieces of cardstock and place it in the round box along with the mini-stamp and inkpad.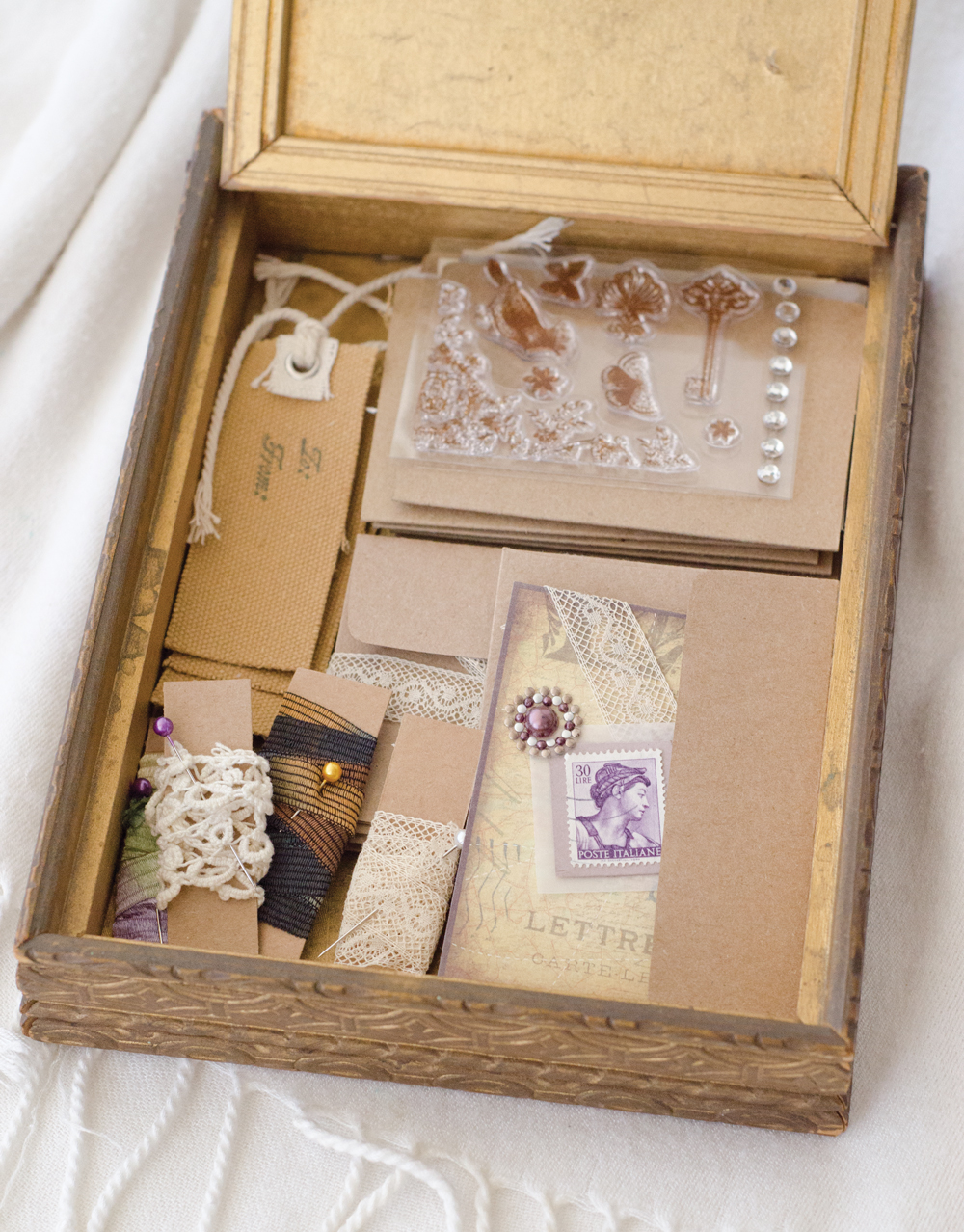 Small Square Box
Punch a floral image in each of the outside flaps of the envelopes. On one of the envelopes, adhere a color coordinated "Merci" sticker. Wrap the rest of the envelopes in lace. Place the vintage stamps and scrapbooking supplies in the vellum envelopes and label each one with its contents. Wrap ribbon round cardstock pieces and place in the box with the mini-inkpad, envelope seals, "thinking of you" stamp, and envelopes.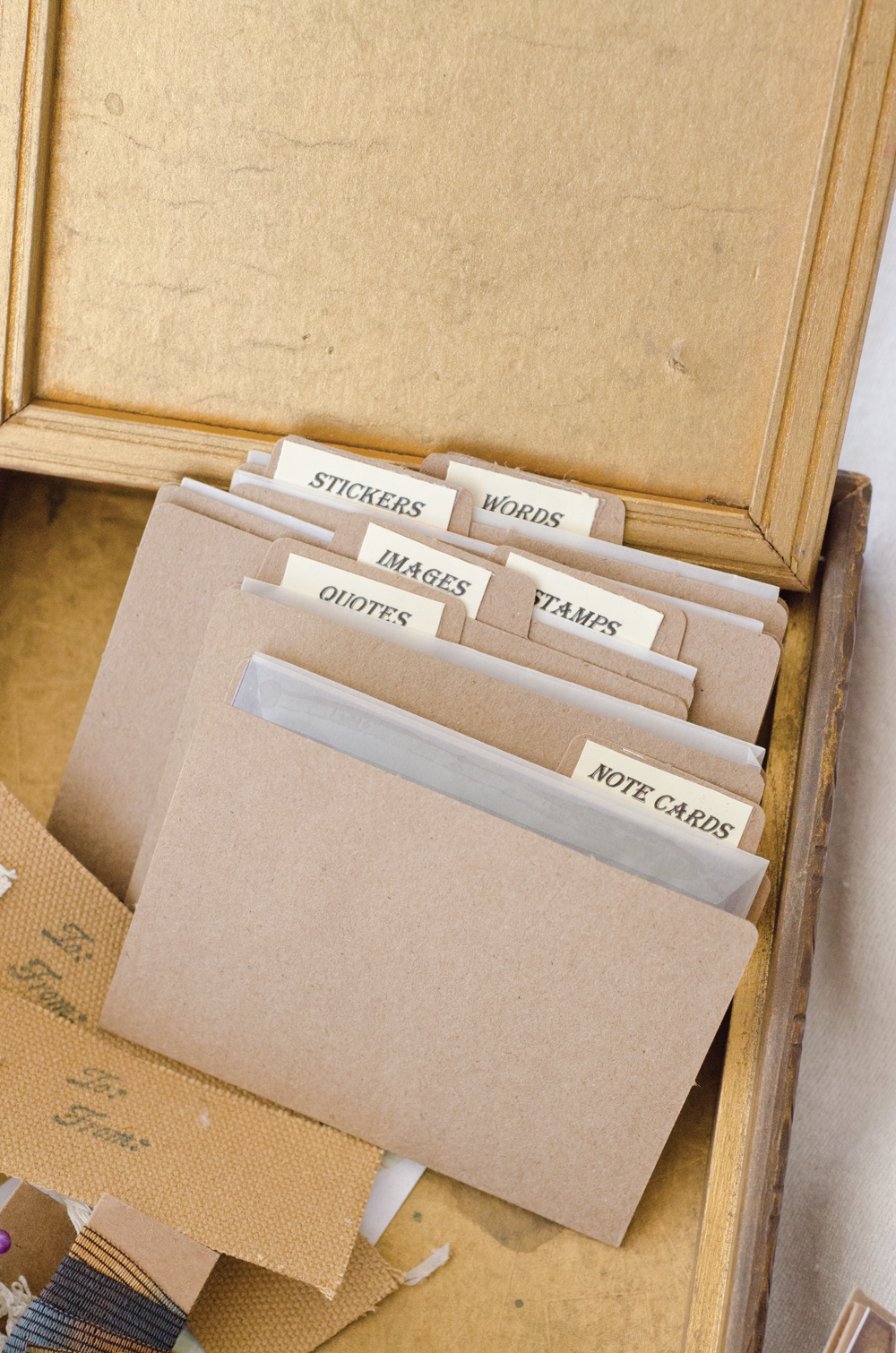 Large Venice Scene Box
As with the other boxes, place the vintage stamps and scrapbooking supplies in the vellum envelopes, but because there are more supplies, place each envelope in a mini-file folder and label them. Stamp the fabric tags with "To" and "From" and place them in the box along with the mini-inkpads and ribbons/lace wrapped around the cardstock. Wrap the small kraft cards and envelopes in lace. Next, create an example card by adhering a small strip of lace across one of the cardstock images and then adhering it to the top of a note card. Layer pieces of vellum and coordinating cardstock under a vintage stamp and adhere it onto the note card. Finally, add a small pearl sticker to the card and place everything into the box.
Sharon Lee Louk creates unique gifts, altered clothing, jewelry, and home decor from gently used and vintage pieces. Her repurposed items are available at The Rusty Chandelier in St. Joseph, Missouri; My Sister's Closet in Weston, Missouri; and at regional vintage shows. Visit her on Facebook to see where she will be next.