Advice from the Artists: Turning Your Passion into a Business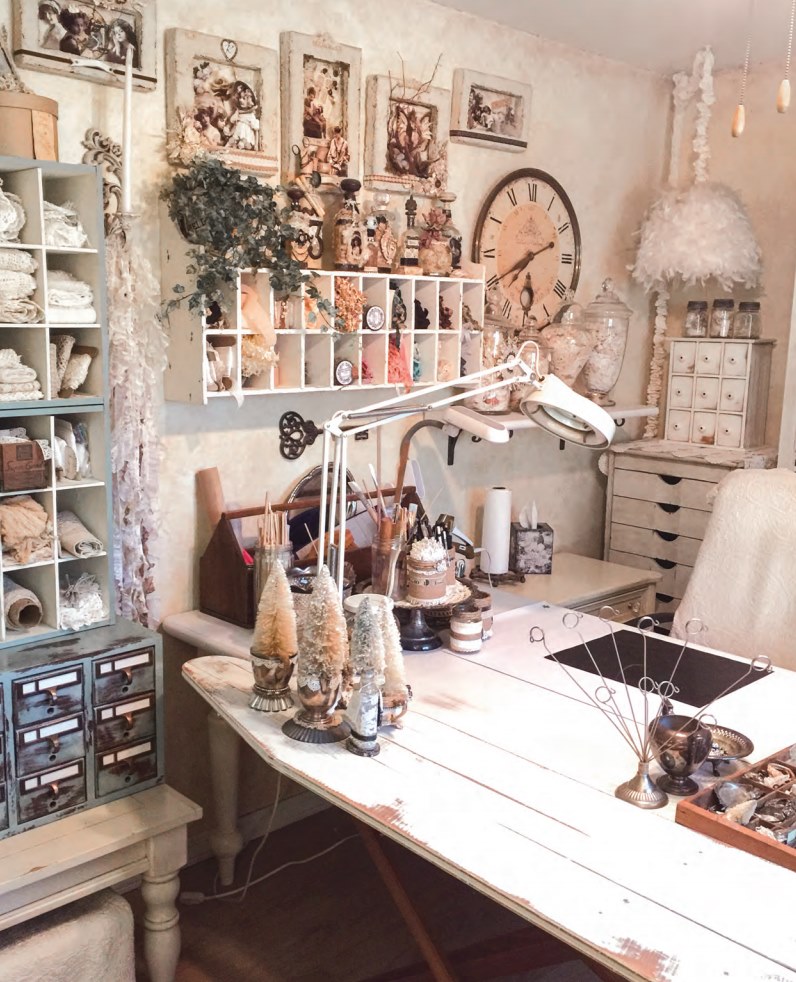 Photo of Karen Valentine's space featured in In Her Studio Winter 2021
Our publication, In Her Studio Magazine, is dedicated to inspiring creatives. Amongst its pages, artists give us a tour of where they create and tell the stories behind developing their spaces, from the traditional to the unusual, the intimate to the extraordinary. We recently asked our In Her Studio community for their best advice on turning a creative passion into a business and have compiled their responses below. We hope these pieces of wisdom provide encouragement and inspiration as you continue to embark on your creative journey!
Advice from the Artists: Turning Your Passion into a Business
"My best advice is to stick with it and not give up. I've learned to let my passion for art flow and let go of the worry. Worry puts up a wall and blocks the energy that helps you create. Keep going even if you feel it's a 'fail'. Learn from it, start again and be proud of yourself for starting whatever project you are working on. You can do this!" - @heavensentcreationsmn

"In the beginning you must not put pressure on your creativity to validate and support you. You will likely crush it. Create from joy until it starts to bear fruit. Then begin to market it but beware of turning it into something that causes you stress. (Have a day job or another form of support until you find the balance)." - @lfceramics

"My best personal advice would be to have your own project/painting to work on while creating for others. It can help free your mind of so much clutter, making it easier to focus on work for your business. Other than selling your creations, I think the biggest factor in turning a hobby into a business is setting boundaries with others and with yourself. With a hobby, you can create without limit. With a business, not as much." - @watered.down.art

"Always create from your heart, the rest will follow." - @where.the.roses.weep

"Practice your work as often as you can --- It's the only way to grow as an artist. Don't fear mistakes --- rephrase them as experiments along your journey. Build curiosity and never stop doing what you LOVE!" - @janajart

"My two cents is to not be intimidated by new ventures..if you're drawn to something new, try it out and see if it's your thing." - @truant.co

"I'm brand new in my business, but have been on my way to starting for years. I always knew I wanted to work creatively. I had just launched when I had no choice but to leave my other 'secure' job. Things didn't and still aren't going they way I planned, but they never do and that's not a bad thing at all. To other small business owners starting out: you will stumble and if you're like me there will be tears, but you keep going. With every small victory I forget what isn't working and focus on what is." - @simplysignedstudio
"My best advice is be fearless with creating as if you are certain your wings will grow after you jump." - @keysallison

"I had to leave my job after a breakdown and found that painting brought me out of such a dark time. I was adamant that I couldn't go back to a corporate job again, so I put my all into making my art and my creativity a business. It's been just over 3 years now and I absolutely love it! My advice would be to find that thing that makes you want to get out of bed in the morning and make that your dream. Try new things, see what interests you, get inspired, learn from others, go outside, watch as your creativity blossoms when you're doing something that you were born to do. Share your gift with the world and even when you have bad days, you know you've got your passion there waiting for you to bring you out of it again." - @edieroseashley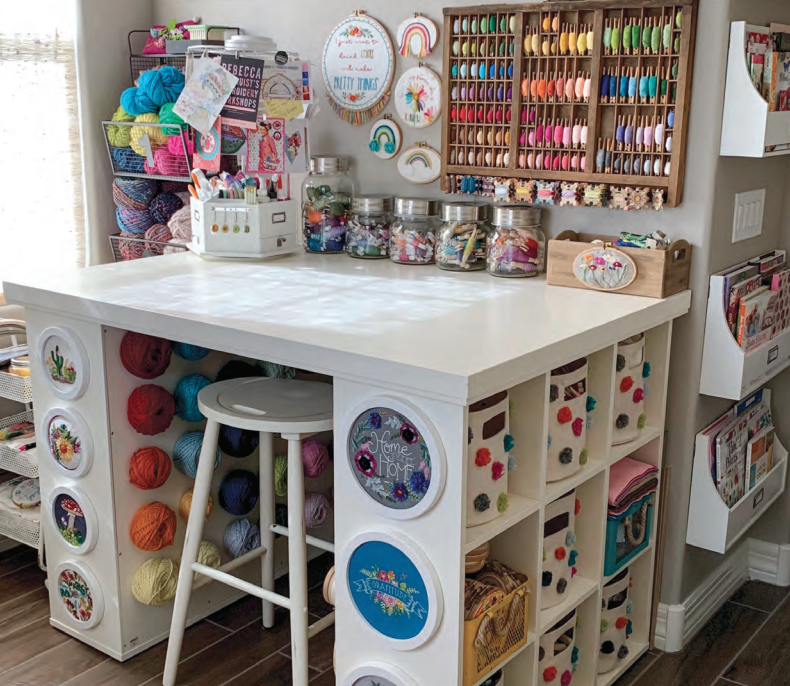 Photo of Lora Zawisa's space featured in In Her Studio Winter 2021

"I followed the crumbs! I followed my heart, didn't try to control what I couldn't, just did what I felt guided to and allowed it to flow. It felt good so I kept doing it, becoming more inspired, and soon doors started opening. It wasn't easy though. Each door was like a challenge to overcome a deep rooted fear or limiting beliefs. It's been 18 years of following crumbs and overcoming challenges. But you know what? I'm grateful for all of it! Gratitude for the journey will ensure you never give up." - @oceanartstudio

"Be in love with your craft, look at it as an adventure and trust your intuition. For myself it was living and wearing what I created, while keeping a mindful balance between passion for it, development and personal projects as to not blur those lines of inspiration. Patience, it doesn't happen overnight but it's rewarding to be able to evolve and propel your vision. In time your craft will speak for itself, and others will take notice. My motto, Passion, Patience and Propel." - @lunabunnystudio

"I leaned in to my passion for creating and didn't watch what others were doing. As you grow it's even more important to stay focused on your strengths and create more then you consume! Allow your creativity to shine through & encourage others to follow their creative desires!" - @alongcamestephanie

"I am an impressionist paper collage artist working with magazine paper. When my kids were babies I worked at the dining room table during nap time. Now I have a beautiful home studio. My best advice is to step into your creative work every day, even if it's just organizing materials. You'll get into a routine of making your craft part of your daily practice and you will blossom!" - @sharaoliman

"I turned my passion into my business purely through a love of what I do and hard work. I would advise aspiring artists to keep going and stick to what you love doing the best because that is always the work that shines. No one gets there overnight, it's definitely a long road but the journey is so worthwhile." - @kulutextiles

"I've been in business for a decade, but I spent so much time in the early years letting self-doubt and fear get in my way. As I started to build on one small success after another, the self-doubt started to wane and I started to feel more confident in my footing. My best advice would be to come at your business from a 'what could go right' mindset instead of a 'what could go wrong' mindset. You will be so much better off for it (and happier) in the long run. Now, go be bold and awesome--the world is waiting for your special gifts!" - @selfesteemthroughart
For more inspiration, take a peek inside In Her Studio available on newsstands and inherstudiomagazine.com!