Washi tape is one of our favorite decorative art supplies! You can use it to adorn gift packaging, greeting cards, or even your keyboard. See below for a few fun projects to spark your creativity...
1. Decorate envelopes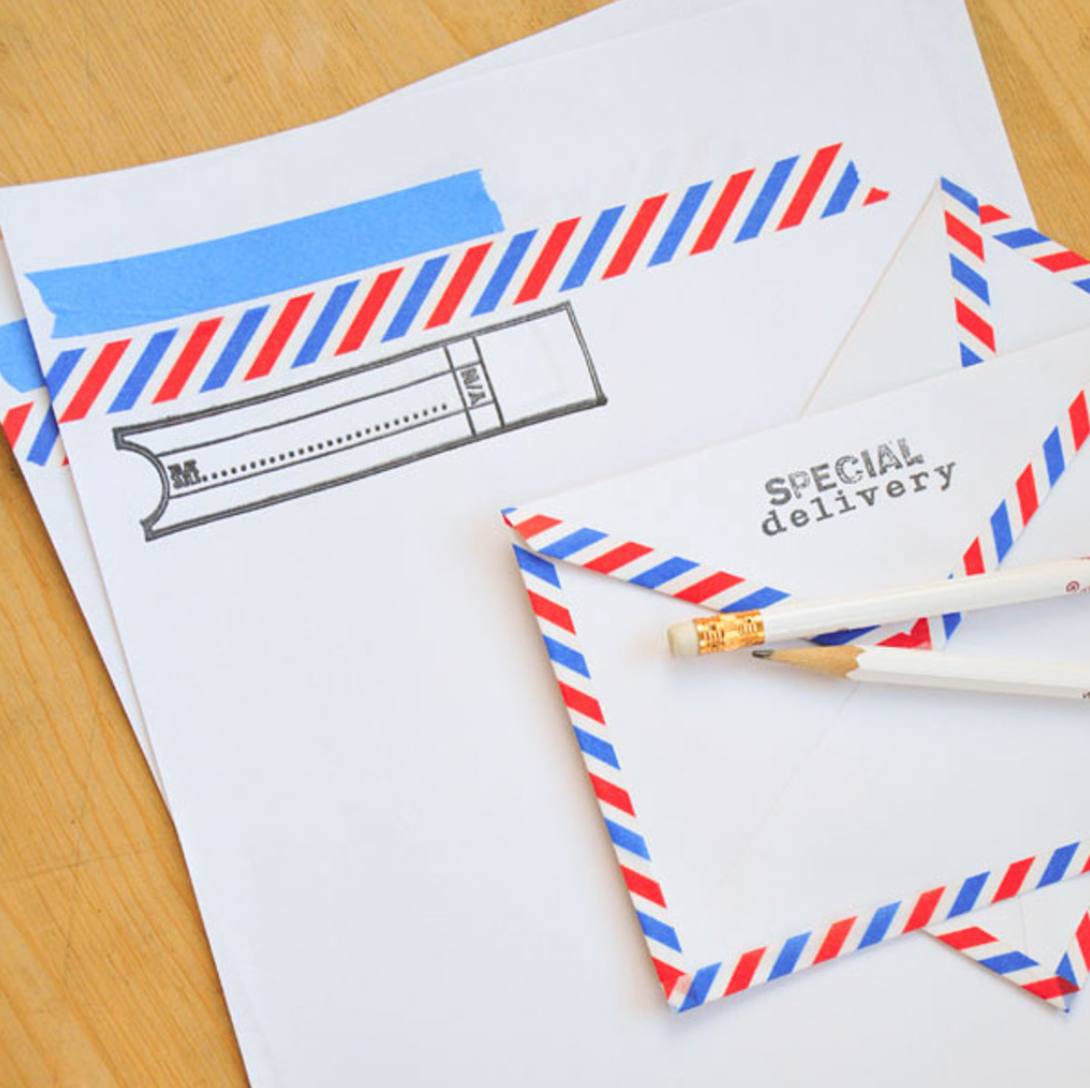 Airmail themed projects are always so timeless and fun. To embellish the envelopes, start by lining the edges with folding strips of washi, snipping off the excess tape. Do the same on the triangular part/flap on the back of the envelope.

Stamp airmail themed words onto the back of the envelopes. Using the same airmail tape and some blue washi tape embellish the top left side of some sheets of plain white paper.

Stamp a rectangular ticket shaped design onto the paper, just underneath the strips of washi tape.

Create multiple pieces and use them as a stationery gift set, or here and there for special notes for friends and family.
Please note: if you plan on using these as real envelopes through the postal service, we recommend you contact your mail carrier for the requirements and specifications on airmail-themed envelopes.
2. Give your keyboard a makeover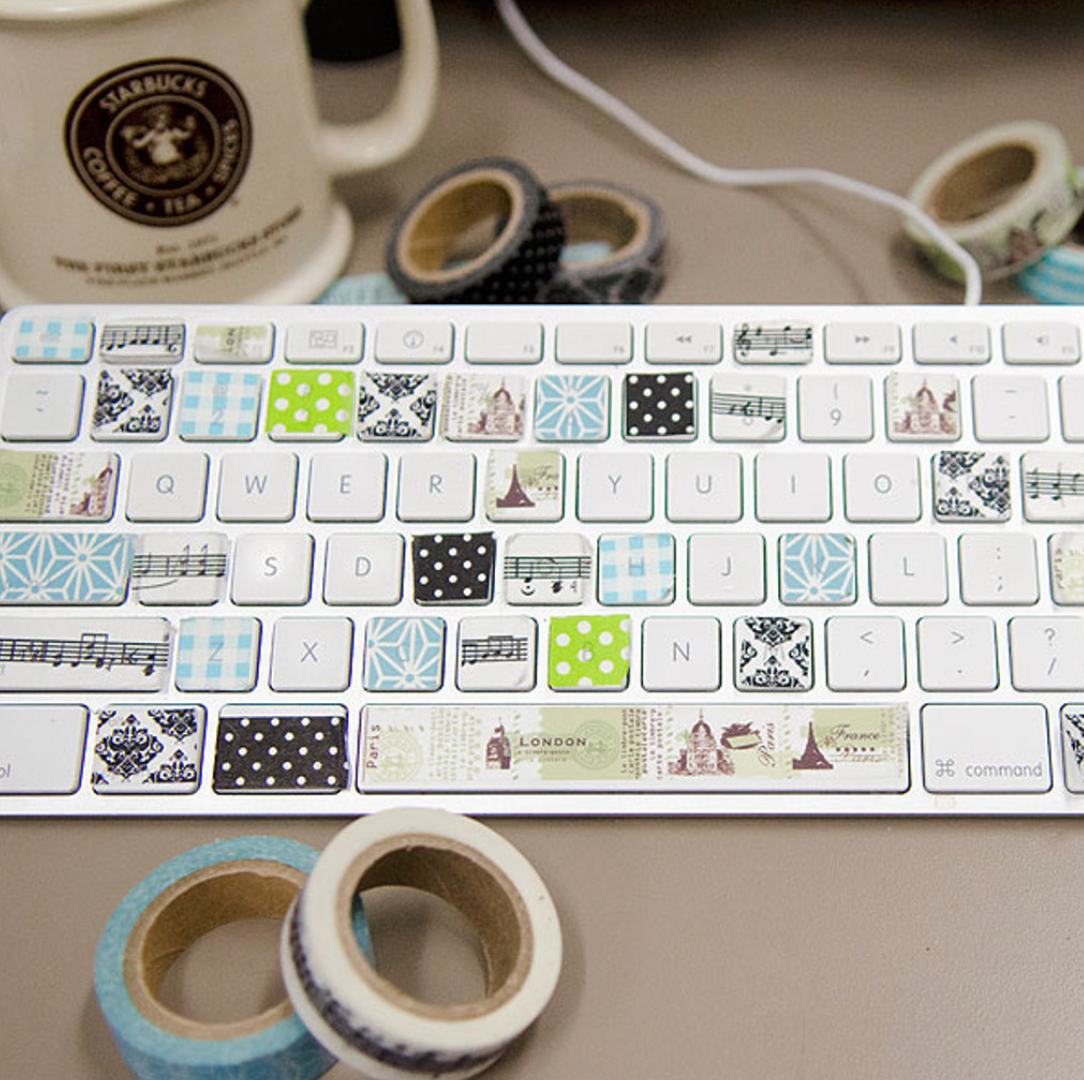 This fun and quirky décor idea will add life and color to your keyboard and desk area – at home or in the office. It's quick, easy, and requires only a few supplies.Choose your tape, pull and cut desired amount, and stick each piece to any key you want to create fun patterns and color combinations.
3. Make a greeting card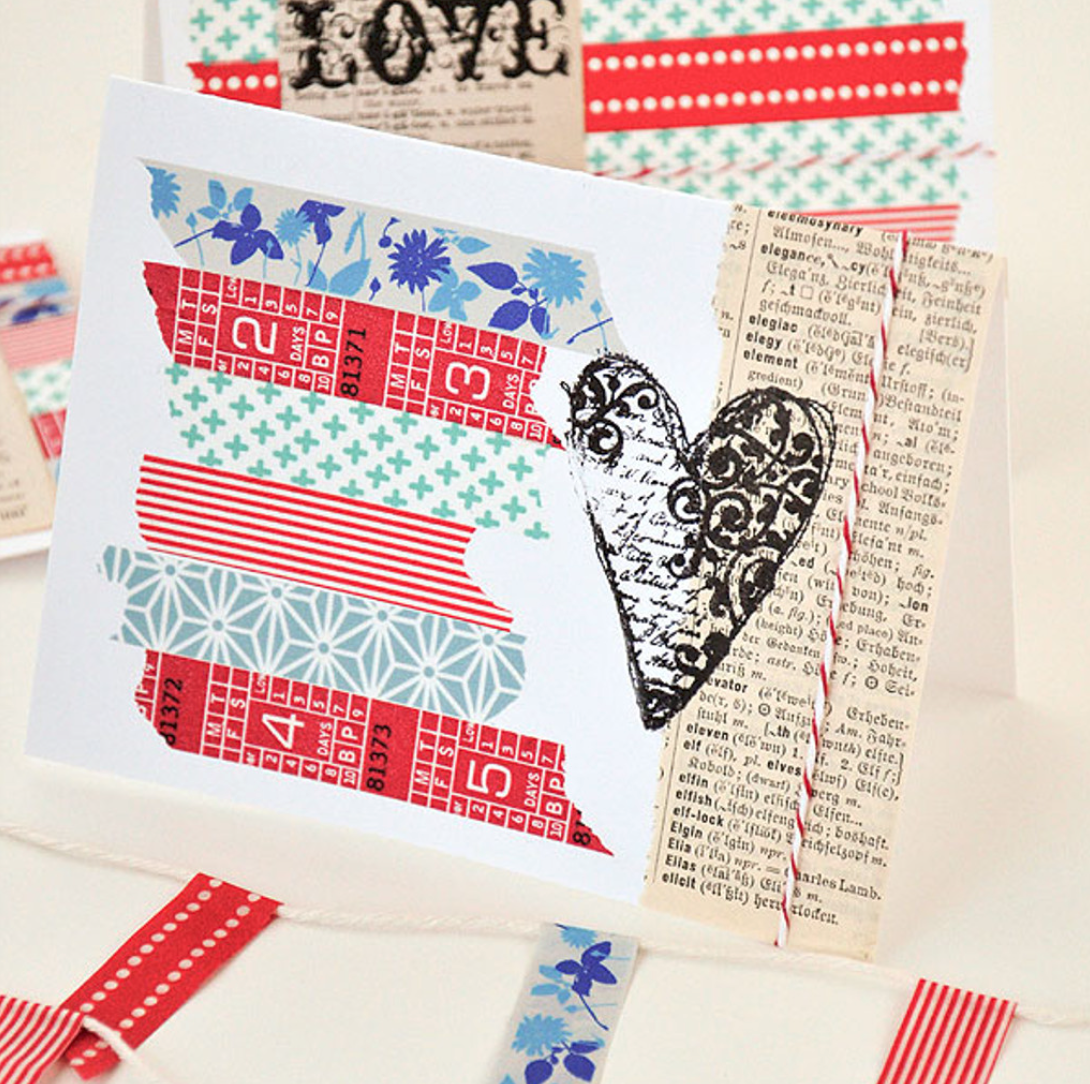 Creating unique cards is all too easy with washi tape. Use plain white cardstock to create your cards and score them down the middle with a bone folder . On each card, add torn strips of various washi tapesto create simple patterns. Stamp your favorite designs onto each card using an acrylic block and black ink. Attach small strands of twine to the front of each card. Try using either glue dots to attach the twine, or just tape the ends of the twine to the inside of the cards to secure it.
4. Elevate gift packaging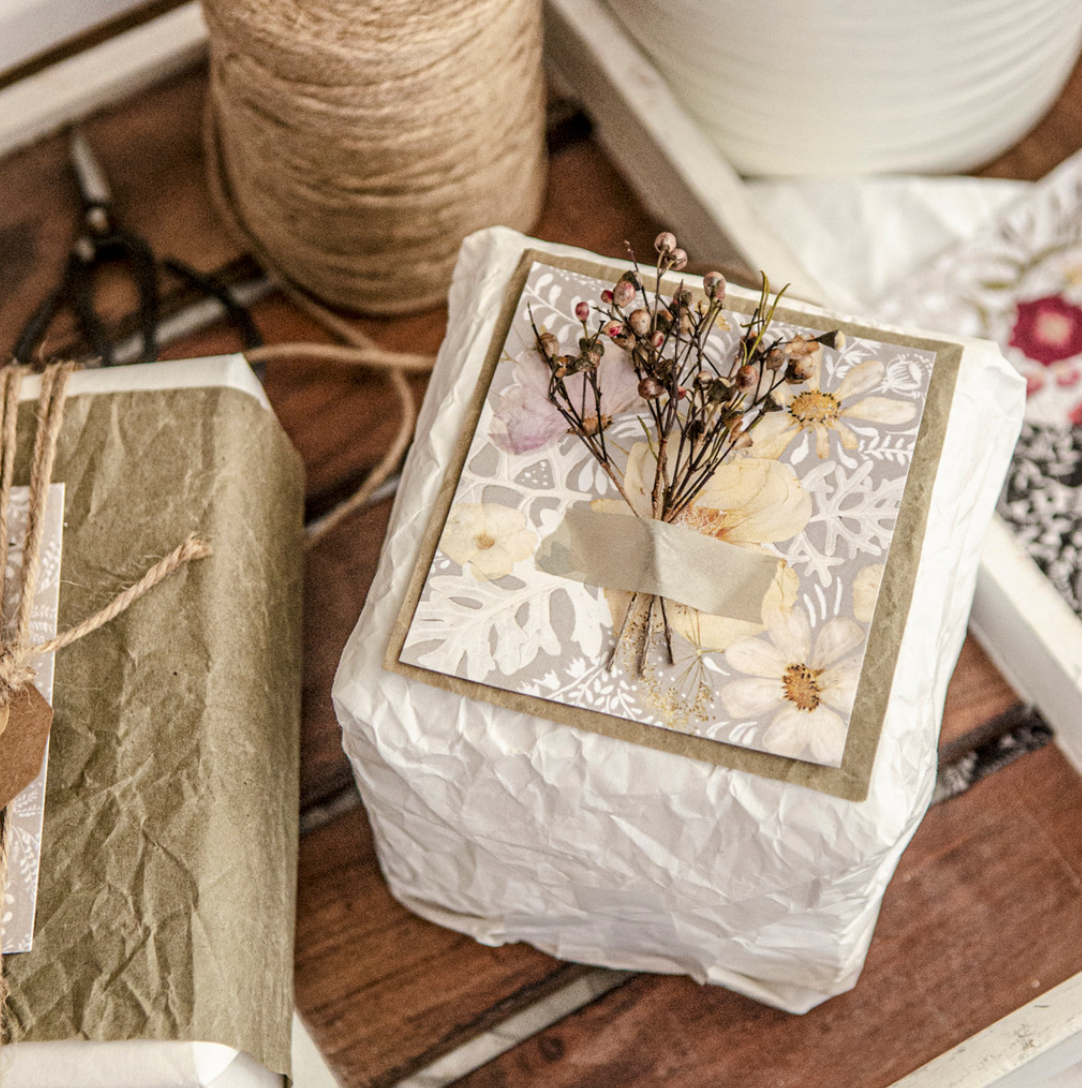 Attaching greenery to your gifts with washi tape is a fun way to elevate presentation. For this project, take a piece of wrinkled white paper and crumple it up even more for extra texture. Next, flatten it and wrap the box as you would any gift. Layer colored paper with a trimmed postcard and adhere it to the box. To finish, attach dried greenery with a strip of washi tape.
5. Put a creative spin on your planting pots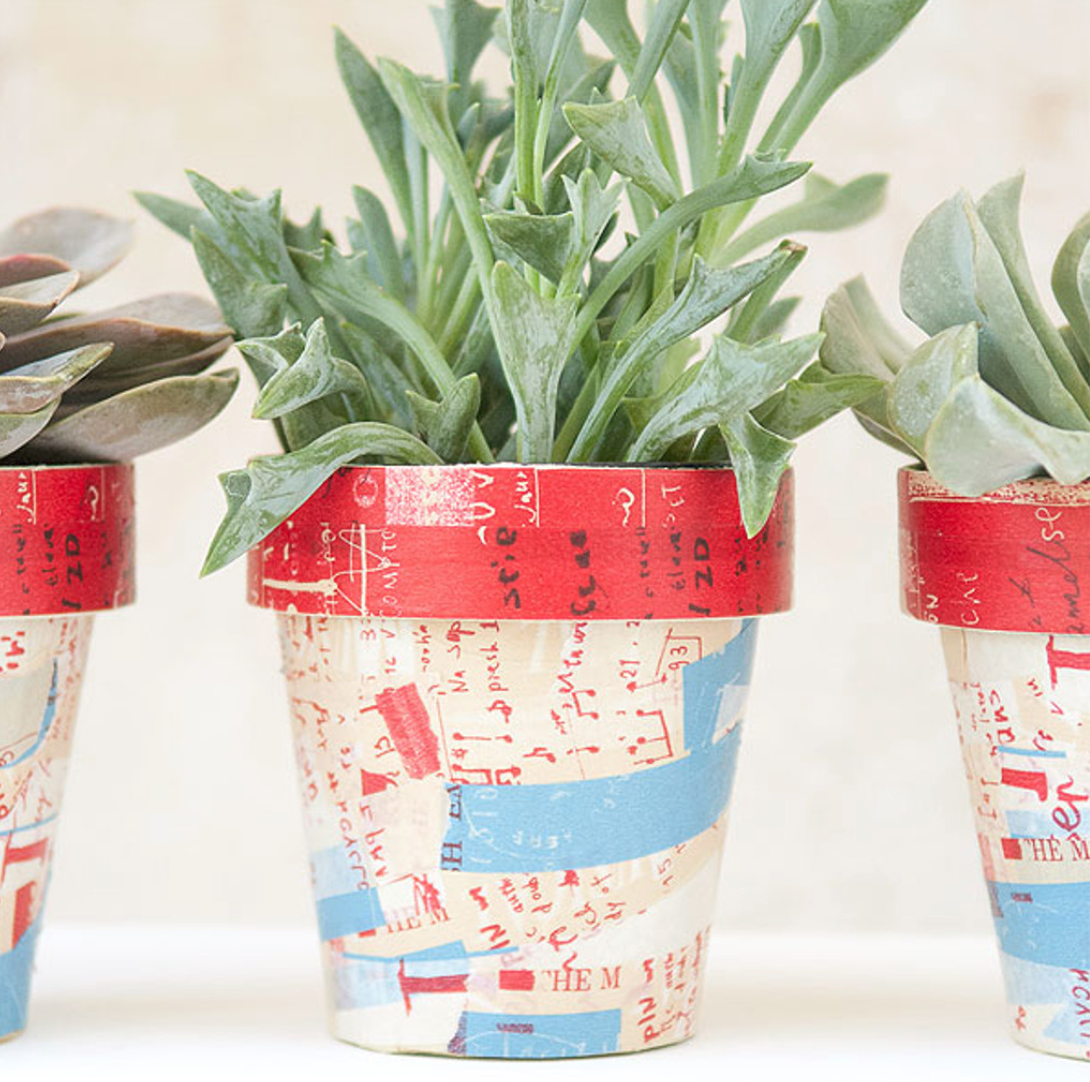 These fun pots are perfect for holding all sorts of odds and ends and can even be used to prettily display plants! To embellish pots, simply tear and tape on strips of the washi tape - it's as simple as that! If you want the pots to be a little more durable, give the inside and outside a coat of collage pauge to seal the surface and make it stronger.
What is your favorite way to use washi tape? Share your creative ideas in the comments below!
Washi tape featured in lead photo is available for purchase here