Quick and Creative Upcycling Ideas: 3 Ways to Dress Up Glass Jars
Creative people can easily come up with new upcycling ideas using everyday items, and this extends to items that are on their way to the trash bin. We all go through a mountain of glass jars in the kitchen every year, so instead of throwing them away, why not reuse them for art supply storage?
As blank slates that can be dressed up in any style, glass jars are a treasure trove of possibilities. They can hold and store a multitude of tools and materials, helping any type of artist keep her creative space clean, organized, and stylish.
Here we share 3 ways to dress up glass jars that have appeared in GreenCraft Magazine. Each of these upcycling ideas can be customized to fit your style or the materials you use for your creations, so think "outside the jar" and make these your own!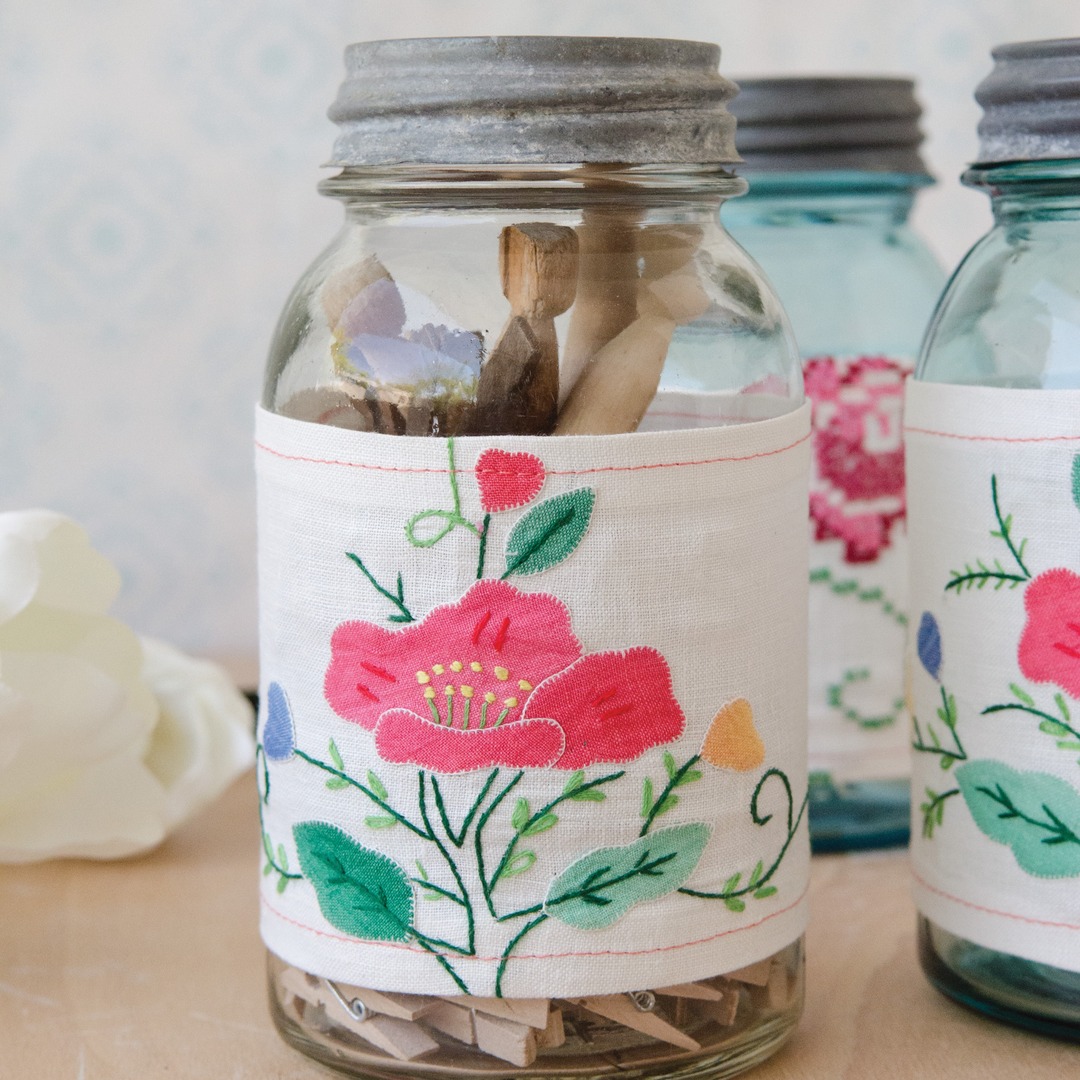 JANE OETTERER⎟ GREENCRAFT AUTUMN 2018
1. Vintage Linen Jar Sleeves
Jane Oetterer has a love for nature and all things vintage. As Jane shares, "I was looking for a new use for tattered or stained vintage linens. Jar sleeves were the perfect way to combine glass and fabric." This sewing project couldn't be simpler. The sleeves are perfect for complementing your vintage collections stored within the jars, and they provide some cover for jars that are filled with the not-so-aesthetically-pleasing supplies.
To create the jar sleeves, choose vintage linens with narrow, long designs (about 5" x 15"); embroidery, applique, and vintage cloth calendars work great. Cut a strip of fabric wide enough to cover any words or brands embossed on the jar, plus about 1 inch. Iron the linen, and then fold ½-inch strips back on both long sides of the fabric in preparation for decorative edge trim stitching.
Choose coordinating thread and stitch both the top and bottom sides of the fabric strip. Wrap the stitched strip around the jar inside out. Using straight pins, mark where to stitch the fabric together. Make sure it's tight enough, or it will slip down the jar. Sew the ends of the folded fabric straight down, top to bottom. Cut off the excess linen, leaving about ¾ inch. Iron the remaining fabric tails flat, open opposite each other, so they lay flat when the jar sleeve is slipped into place. Turn the jar sleeve right side out, and carefully slip it over the jar.
Read more about this upcycling idea in the Autumn 2018 issue of GreenCraft. Click here.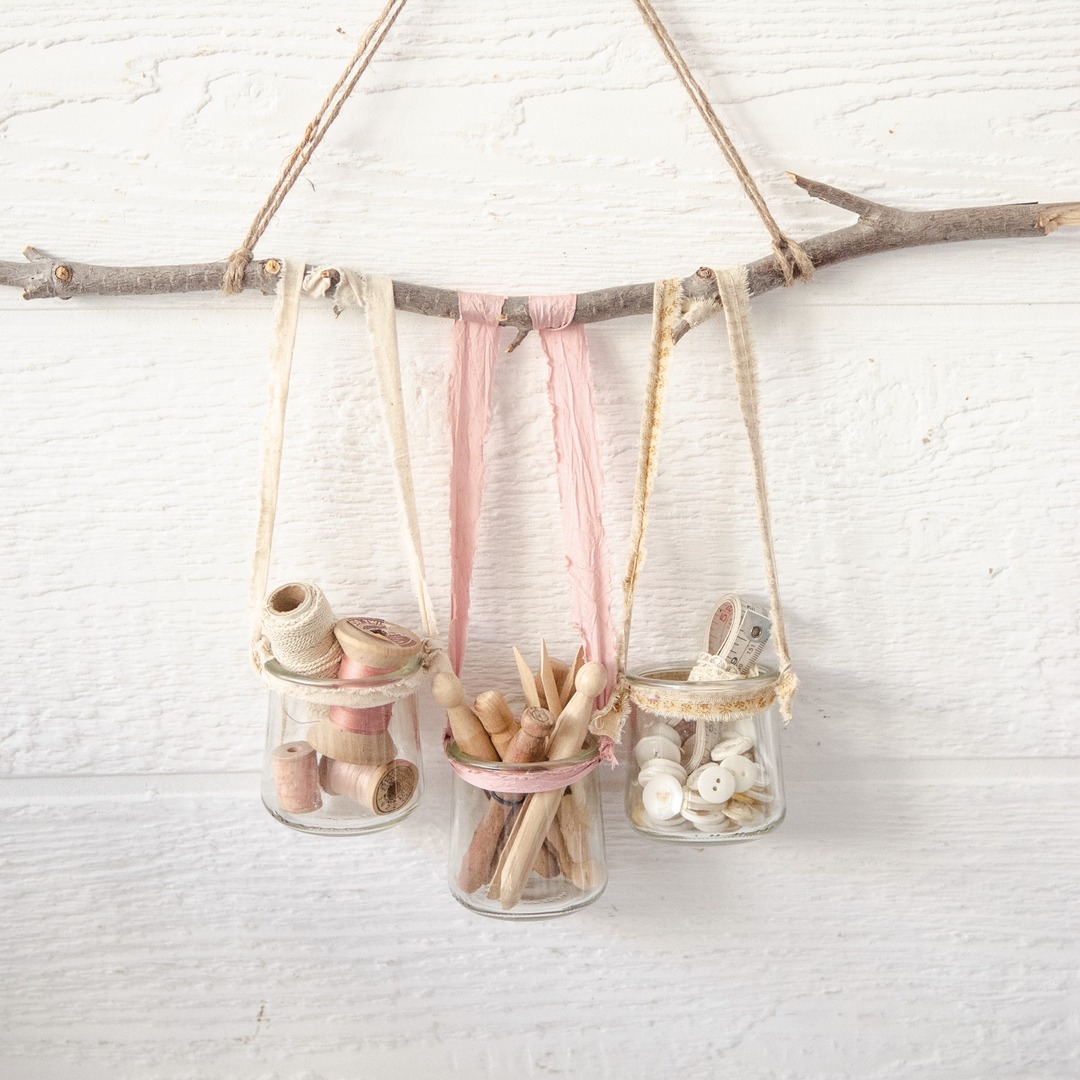 CHRISTEN HAMMONS⎟ GREENCRAFT WINTER 2021
2. Recycled Yogurt Jar Flower Holders
When Editor-in-Chief Christen Hammons first saw the line of Yoplait yogurt that is packaged in simple glass jars, she imagined they must have had crafters in mind, explaining, "Once you've enjoyed your treat, you can easily clean the jar and remove the label to reveal a glass container with an interesting shape and clean lines."
For this hanging jar display, begin by thoroughly cleaning the jars with warm, soapy water. For these particular jars, the labels easily peel off. If you're using different jars for this project, you may need to soak them in hot water to loosen any labels.
Tear fabric into long, thin strips; you can also use ribbon or jute for this, depending on what type of style you're aiming for. Wrap a strip around the lip of the jar, while securing another long strip on either side. Tie the first strip into a knot, and then tie each end of the other strip into a knot. Add hooks or nails to the branch if you'd like to hang the jars in that way. You can also use a cow-hitch or slipknot to secure the jars to the branch. Tie jute around the ends of the branch, and hang.
Read more about this upcycling idea in the Winter 2021 issue of GreenCraft. Click here.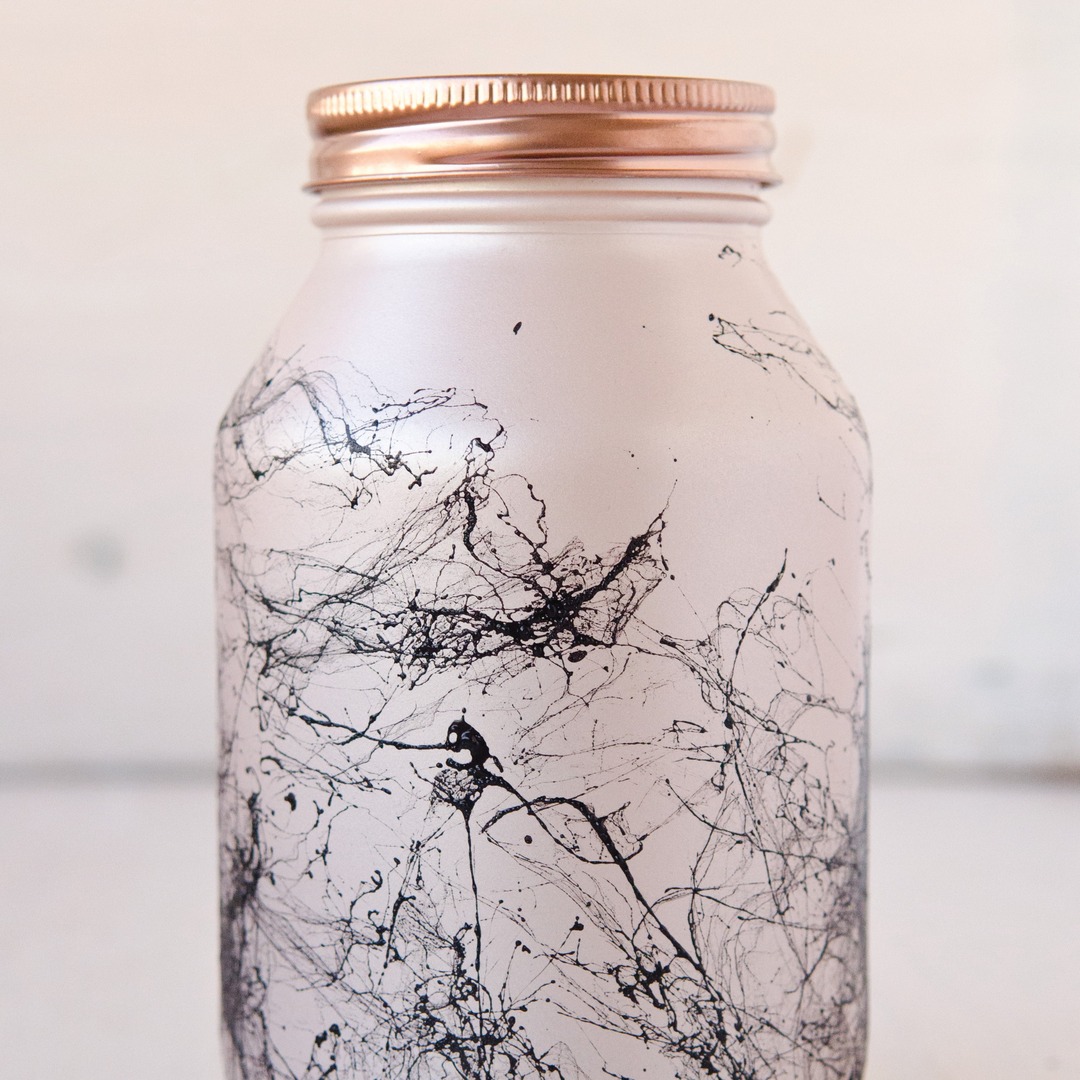 MADELINE K. MANANSALA⎟ GREENCRAFT SUMMER 2018
3. Pink & Black Marbled Jars
Madeline K. Manansala is a passionate crafter, but she is also very passionate about recycling. After realizing her town didn't recycle glass, she decided to take action, explaining, "This was far too painful for me to watch, so I am making my small contribution by upcycling as much glass and as many jars that time allows, and hopefully I can inspire others to do the same!"
To create these painted jars, if necessary, remove labels from the jars by soaking them in warm soapy water, and then scrub the labels until they're completely off. When dry, wipe down the jars with rubbing alcohol to remove excess dirt and oil, and then rinse and dry.
Apply two coats of Champagne Pink spray paint, and allow to dry. Apply black marbleizing spray paint (this takes practice). If desired, spray-paint the lids separately with metallic spray paint. Lastly, spray the jars and lids with sealer to protect the paint. You can read more about this upcycling idea in the Summer 2018 issue of GreenCraft.
For even more creative upcycling ideas, check out GreenCraft Magazine, 144 pages of stylish and sustainable DIY craft projects. From paper crafts and wearable arts to home decor and more, you'll discover hundreds of creative uses for old items and Earth-friendly materials. Click here.
You Might Also Like...