Inside every artist's toolkit, there should be gesso. It is so useful that it is an integral part of every mixed-media artist's creative process. It is typically a white paint mixed with some sort of chalk, which provides plenty of "tooth" for later layers of paint — but that is not all that this wonder mixture is good for! Here are 5 different ways to use this tried-and-true material.
1. Primer
We've all heard of this use, but it is also a great primer for unconventional substrates. The glass jars below were not the ideal candidate for these rub-ons until a layer of gesso was applied. With the gesso in place, the rub-ons adhered perfectly and provided a lovely white and gold motif. If using gesso as a primer for something like glass, be sure to seal the entire project when finished so that the gesso doesn't chip.
Other substrates to try with a layer of gesso primer: Canvas, wood, sculptures, polymer clay, art journals, furniture (including finished, polished furniture), glossy photos, tiles, Artist Trading Cards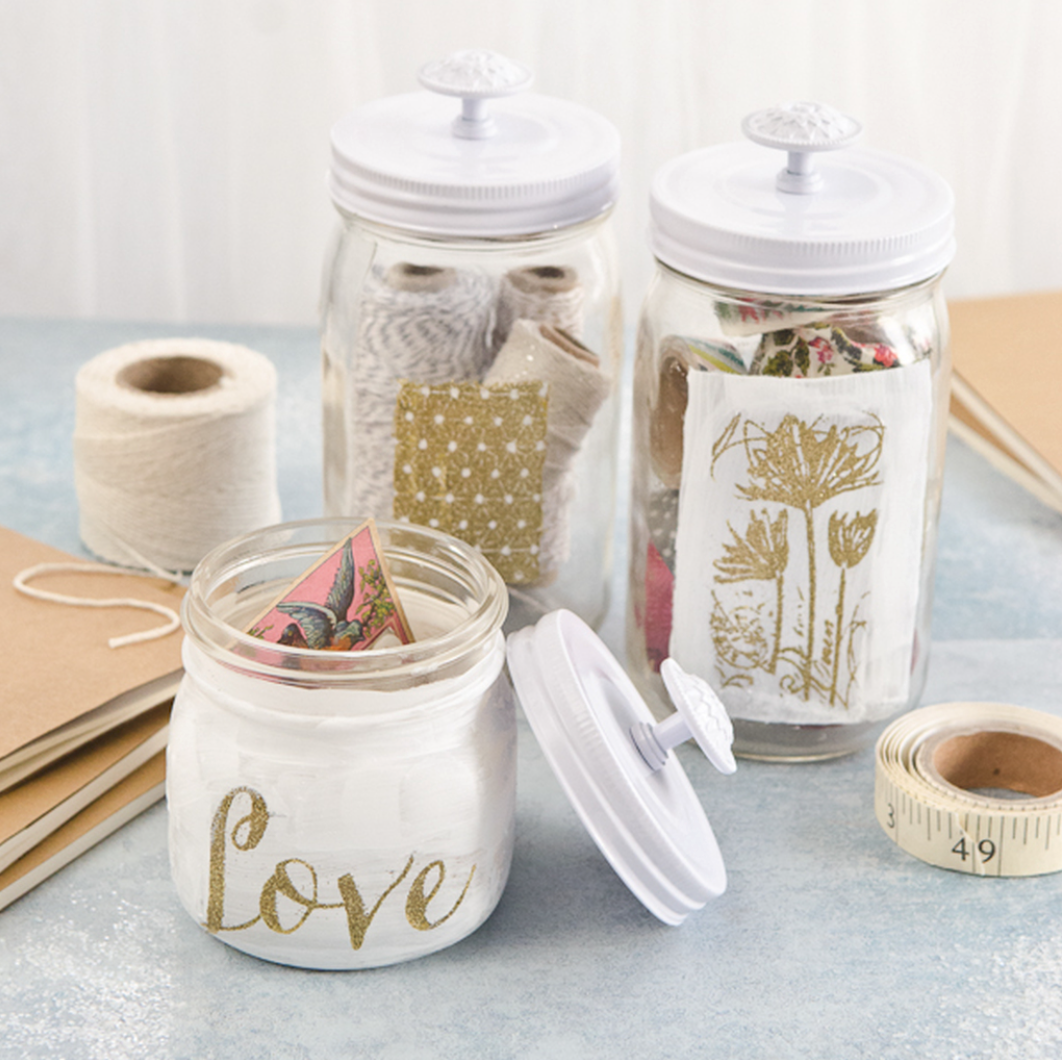 2. Dry-Brush Techniques
"Dry brush" provides a lovely painterly look to any piece of artwork. It can also add dimension to painted surfaces. For the Shabby Chic Altered Clock, gesso was applied with a dry, coarse bristle brush to create some texture on the blue chalk paint.
To achieve a "dry brush" look, begin with a completely dry brush with very coarse bristles. This will provide the brushstrokes and lines that the "dry brush" technique is known for. Dip the very end of the brush into the gesso, remove as much of the excess paint as possible, then drag across your canvas or project, letting the gesso leave thin, parallel streaks. If too much paint is applied, try brushing over the same area with a dry brush (with no paint on it). The trick to the "dry brush" technique is that less is truly more. Begin the process with the slightest amount of paint possible, then layer on more as needed until the desired technique is achieved.
Gesso provides the perfect texture to do a "dry brush" technique with because it is thick enough that it will leave beautiful lines across the page, without spreading out or absorbing too much.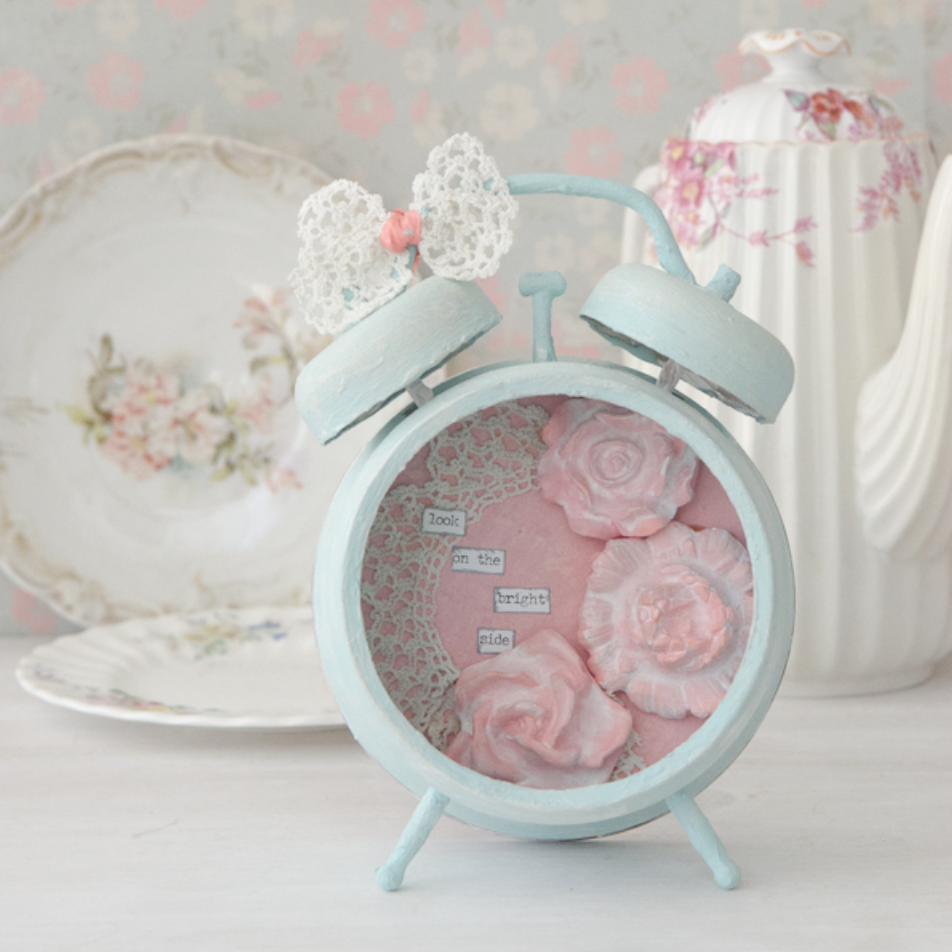 3. Whitewash
The shabby chic clock project also uses one of my favorite techniques for using gesso. The flower rosettes were first painted with a bright pink, then a very watered down gesso was applied to the surface, allowing the gesso to pool up in the cracks and crevices to make the details of each flower really pop. This technique also works great on textured backgrounds, like crinkled paper, three dimensional shapes, or textured embellishments.
4. Chalk Paint Finishes
Because gesso is typically a white paint and chalk mixture, it is a great alternative to chalk paint. For this shabby chic desk décor project, the vintage box paired well with the gesso applied to the surface. The gesso had a matte finish and was chalky enough that it didn't look too new. A few quick swipes with the sand paper provided a layer of paint that looked like it had been there for years.
Gesso can also be tinted with different paint colors mixed in. If you are looking to mellow out a paint color or create a less shiny finish with acrylic paints, mix in a little gesso to the project. Clear gesso also provides this matte, chalky finish without diluting the pigment in acrylic paints.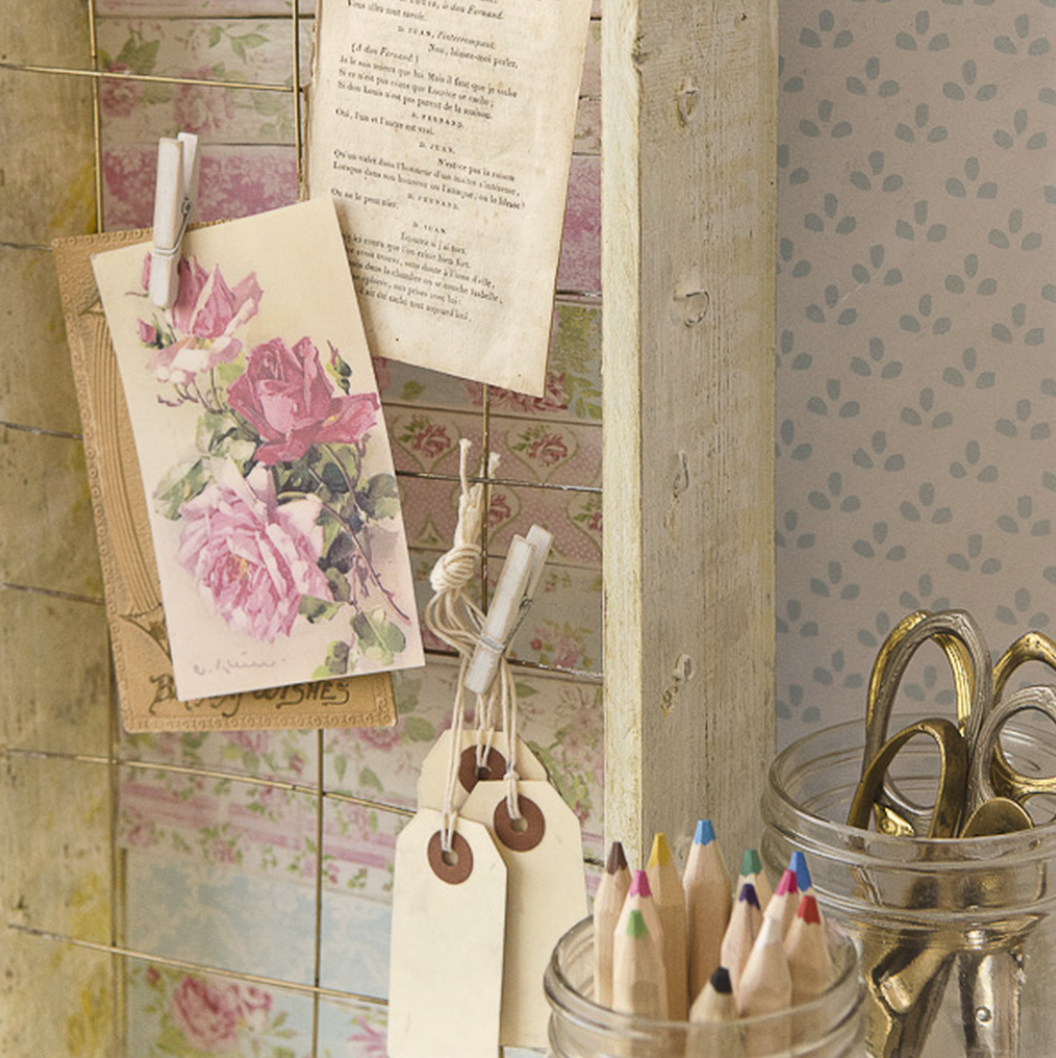 5. Prepping Backgrounds
For those of us that love to use vintage texts, sheet music, and other patterned paper in our artwork, gesso can provide a wonderful blanket to mask some of the busyness. Try brushing a very light coat of gesso over the surface to tone down the printed patterns and incorporate a busy piece of paper seamlessly into the background of your next project. On these two project ideas, the text in the background is just barely visible so that it doesn't distract from the subject matter, but it still provides a fun texture to the overall piece.